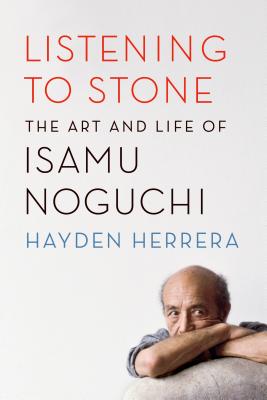 Listening to Stone
The Art and Life of Isamu Noguchi
Hardcover

* Individual store prices may vary.
Other Editions of This Title:
Paperback (4/5/2016)
Description
Throughout the twentieth century, Isamu Noguchi was a vital figure in modern art. From interlocking wooden sculptures to massive steel monuments to the elegant Akari lamps, Noguchi became a master of what he called the "sculpturing of space." But his constant struggle-as both an artist and a man-was to embrace his conflicted identity as the son of a single American woman and a famous yet reclusive Japanese father. "It's only in art," he insisted, "that it was ever possible for me to find any identity at all."

In this remarkable biography of the elusive artist, Hayden Herrera observes this driving force of Noguchi's creativity as intimately tied to his deep appreciation of nature. As a boy in Japan, Noguchi would collect wild azaleas and blue mountain flowers for a little garden in front of his home. As Herrera writes, he also included a rock, "to give a feeling of weight and permanence." It was a sensual appreciation he never abandoned. When looking for stones in remote Japanese quarries for his zen-like Paris garden forty years later, he would spend hours actually listening to the stones, scrambling from one to another until he found one that "spoke to him." Constantly striving to "take the essence of nature and distill it," Noguchi moved from sculpture to furniture, and from playgrounds to sets for his friend the choreographer Martha Graham, and back again working in wood, iron, clay, steel, aluminum, and, of course, stone.

Noguchi traveled constantly, from New York to Paris to India to Japan, forever uprooting himself to reinvigorate what he called the "keen edge of originality." Wherever he went, his needy disposition and boyish charm drew women to him, yet he tended to push them away when things began to feel too settled. Only through his art-now seen as a powerful aesthetic link between the East and the West-did Noguchi ever seem to feel that he belonged.

Combining Noguchi's personal correspondence and interviews with those closest to him-from artists, patrons, assistants, and lovers-Herrera has created an authoritative biography of one of the twentieth century's most important sculptors. She locates Noguchi in his friendships with such artists as Buckminster Fuller and Arshile Gorky, and in his affairs with women including Frida Kahlo and Anna Matta Clark. With the attention to detail and scholarship that made her biography of Gorky a finalist for the Pulitzer Prize, Herrera has written a rich meditation on art in a globalized milieu. Listening to Stone is a moving portrait of an artist compulsively driven to reinvent himself as he searched for his own "essence of sculpture."
Praise For Listening to Stone: The Art and Life of Isamu Noguchi…
"The genius of Listening to Stone is how its author, Hayden Herrera, inhabits the sculpturing hand of its subject. Rather than focus on the surface, Herrera gest 'beneath the skin,' as Noguchi would say, to the 'brilliance of matter' . . . [An] elegant account." —James Panero, The New York Times Book Review

"Masterful . . . Herrera had to synthesize a vast amount of material to produce this authoritative account." —Ann Levin, The Associated Press

"Hayden Herrera's welcome and comprehensive biography of [Noguchi] provides a definitive portrait of a figure who, by the time he died in 1988, was seen by many critics as the greatest American sculptor of the 20th century . . . Listening to Stone is a complex account of a flawed and restless visionary." —Michael Upchurch, The Seattle Times

"Herrera wisely used the biographical framework for Listening to Stone: The Art and Life of Isamu Noguchi . . . And what a tale it is! One that Ms. Herrera tells with clarity and Measured restraint. Noguchi knew all sorts of people--important artists and architects, patrons and politicians--and met them in a world-wide variety of places. At times Listening to Stone unfolds almost like a novel." —E. A. Carmean Jr., The Wall Street Journal

"A passionate stone carver and a constant traveler with a notoriously complicated love life, Noguchi constructed, with tremendous vision, skill, and turmoil, dynamic outdoor installations all around the world. But as Herrera . . . so sensitively illuminates and assiduously documents, his mixed heritage and illegitimate birth caused him endless anguish . . . Herrera tells Noguchi's astounding, many-chaptered story of 'unstoppable creative energy,' fame, and perpetual alienation with thrilling narrative drive and deep perception and reinvigorates appreciation for Noguchi's searching and evocative art." —Booklist, (starred review), Donna Seaman

"Herrera delves into the details of the life of influential and enigmatic American sculptor Isamu Noguchi in this thorough and solid biography . . . Herrera's expertise and insight illuminate Noguchi's evolving creative process, as well as the full scope of his personal relationships . . . Herrera adroitly shows that Noguchi was more than just a sculptor-he was a skilled craftsman, a heartbreaker, and a philosopher of design. This biography carves a smooth portrait of one of the most prolific and original artists of the twentieth century." —Publishers Weekly (Top Ten Art, Architecture & Photography Pick for Spring 2015)

"A comprehensive biography of a sculptor of stone and space . . . Herrera gives readers an ample, thorough analysis of his estimable art." —Kirkus Reviews

"From beginning to end, Listening to Stone is a beautifully written biography and an engrossing tale of one of the most inventive artists of the twentieth century. As she elucidates Noguchi's poetic genius and his wonderfully unclassifiable approach to art, Hayden Herrera brings to life the milieus in which Noguchi lived like no one else. From the mountainous coast of rural Japan to bohemian New York in the 1920s to Paris and Tokyo in the following decade, she vividly presents Noguchi's relationship with his settings. This is an enticing book achieved with an élan consistent with the magical work of a remarkable artist." —Nicholas Fox Weber, author of The Bauhaus Group: Six Masters of Modernism

"Listening to Stone provides a sweeping portrait of a rebel genius who was able to make a difference doing the work he most loved. Hayden Herrera helps us understand a man who, like many of his friends and associates, was branded an outlaw because he was so far ahead of his time. Listening to Stone is a monument to the man who created monuments around the world." —L. Steven Sieden, author of Buckminster Fuller's Universe: His Life and Work
Farrar, Straus and Giroux, 9780374281168, 592pp.
Publication Date: April 21, 2015
About the Author
Hayden Herrera is the author of Frida: A Biography of Frida Kahlo, Mary Frank, and Matisse: A Portrait. She lives in New York City.
or
Not Currently Available for Direct Purchase