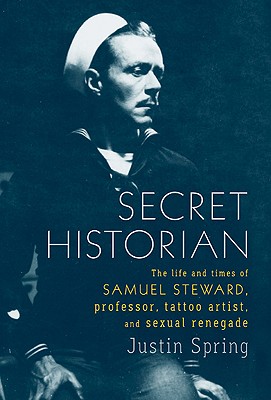 Secret Historian
The Life and Times of Samuel Steward, Professor, Tattoo Artist, and Sexual Renegade
Hardcover

* Individual store prices may vary.
Other Editions of This Title:
Paperback (7/19/2011)
MP3 CD (1/1/2011)
Compact Disc (1/1/2011)
Compact Disc (1/1/2011)
Audio Cassette (1/1/2011)
Description
Drawn from the secret, never-before-seen diaries, journals, and sexual records of the novelist, poet, and university professor Samuel M. Steward, "Secret Historian "is a sensational reconstruction of one of the more extraordinary hidden lives of the twentieth century. An intimate friend of Gertrude Stein, Alice B. Toklas, and Thornton Wilder, Steward maintained a secret sex life from childhood on, and documented these experiences in brilliantly vivid (and often very funny) detail.
After leaving the world of academe to become Phil Sparrow, a tattoo artist on Chicago's notorious South State Street, Steward worked closely with Alfred Kinsey on his landmark sex research. During the early 1960s, Steward changed his name and identity once again, this time to write exceptionally literate, upbeat pro-homosexual pornography under the name of Phil Andros.
Until today he has been known only as Phil Sparrow but an extraordinary archive of his papers, lost since his death in 1993, has provided Justin Spring with the material for an exceptionally compassionate and brilliantly illuminating life-and-times biography. More than merely the story of one remarkable man, "Secret Historian "is a moving portrait of homosexual life long before Stonewall and gay liberation.
"Secret Historian "is a 2010 National Book Award Finalist for Nonfiction.
Praise For Secret Historian: The Life and Times of Samuel Steward, Professor, Tattoo Artist, and Sexual Renegade…
Praise for Secret Historian
"Somewhere in the United States, there may be an attic containing the written remnants of a previously unchronicled 20th-century life that was even more astonishing than the one the writer Justin Spring discovered in San Francisco a few years ago. But even the most skeptical reader of his new book, Secret Historian, will have to admit that the bar is now set high. Samuel Steward, the subject of this absorbing act of biographical excavation, had many identities, including several that the subtitle of the book omits . . . Be assured that it's all for real, and that Spring, even when neck-deep in sensational material, is not a sensationalist. As a biographer, he's humble but firm—he lets Steward's vivid, energetic prose do much of the talking but keeps his own hand on the tiller and never gets giddy, even when Steward seems to be carousing his way through the entire Modern Library . . . The probity and expansive vision of Spring's work is a reminder that a great, outspread terrain of gay history remains to be mapped . . . One suspects there are many more stories of that time worth telling, and too few treasure-packed attics." —Mark Harris, The New York Times Book Review
"Can a secret sex diary furnish an artistic legacy as meaningful as Emily Dickinson's sewn-up bundles of poems, or the piles of paintings Theo van Gogh inherited after his brother's premature demise? Samuel Steward may never have imagined it, but his erotic history raises the question. A talented writer who early attracted the attention of Gertrude Stein and Thornton Wilder, he found his career blocked by a determination (so different from hers and his) to write candidly about his homosexuality . . . Steward was an obsessive record keeper, and his journals and his 'Stud File' of thousands of encounters allow [Justin Spring] to create a remarkably full portrait of a man whose life was what Edmund White's might have been had White been born three decades earlier . . . [This] extensive documentation—and the miraculous rescue of that documentation, recounted in the book's preface—left his biographer material to reconstruct an emblematic homosexual life." —Benjamin Moser, Harper's
"Justin Spring's jaw-dropping Secret Historian reads like a novel probing a lifelong rebel's courage, creativity and ultimate sadness . . . Spring has reconstituted Steward, as Phil Andros might say, in flesh and blood and all sorts of bodily fluids." —David D'Arcy, San Francisco Chronicle
"This is a rich and exuberant biography of a man who deserves to be better known" —The Economist
"A fascinating biography . . . [Steward] tackled life with awe-inspiring abandon" —Details
"Life in the closet proves boisterous indeed in this biography of an iconic figure of the pre-Stonewall gay demimonde . . . Spring's sympathetic and entertaining story of a life registers the limitations imposed on homosexuals by a repressive society, but also celebrates the creativity and daring with which Steward tested them." —Publishers Weekly
"[A] provocative biography . . . Generous excerpts from Steward's journals and unpublished memoirs fortify an already comprehensive examination of a life lived with unabashed independence and homoerotic expression during the sexual rebellion of the pre-Stonewall era . . . A vivid, candid portrait." —Kirkus Reviews
"Justin Spring documents the extraordinary life of one of Kinsey's crucial gay witnesses, and reading Secret Historian is like reading Kinsey dramatized. A cultivated, rather shy professor of English literature, Sam Steward dropped out in midlife to become an eminent tattooist and writer of S&M porn. As the story of a sex-obsessed recovering alcoholic later addicted to barbiturates and to masochistic thrills, this could easily have become a portrait of a failure. Instead, through Steward's copious records, we have a brave, fly-on-the-wall account of American homosexual subculture and persecution." —Martin Stannard, author of Evelyn Waugh and Muriel Spark: The Biography
"A true page-turner—and a memorable act of historical reclamation. Sammy Steward is all but unknown except by a handful of historians, but Justin Spring's lively biography—which is full of important new information about pre-Stonewall gay life—should put Sammy on the map, which is where he decidedly belongs." —Martin Duberman, author of Cures: A Gay Man's Odyssey
"Secret Historian is a startlingly, unforgettably vivid glimpse into a life—and a world—that few of us can imagine." —Terry Teachout, author of Pops: A Life of Louis Armstrong
"Samuel Steward, secret sexual historian, is a secret no longer. From an evangelical Ohio boardinghouse to the gardens of the Villa Borghese, from the lobby of the City Opera to the South Side YMCA, Steward led—and recorded—an improbably revealing, representative life. Bedding Oscar Wilde's Bosie, taking tea with Stein and Toklas, and confessing to (and performing for!) Dr. Kinsey, he seemed determined to leave no corner of twentieth-century American queer culture unexplored and undocumented. Justin Spring has rescued his story from a San Francisco attic and set it before twenty-first-century readers with unflagging patience, authority, and humanity—Secret Historian is a major achievement." —Langdon Hammer, author of Hart Crane and Allen Tate
"Justin Spring has painstakingly and compassionately unearthed the labyrinthine world of a brilliant, multifaceted, and troubled creator. A classically educated and highly talented renegade intellectual, Steward's trajectory was impacted at every turn by his sexual compulsions. This bittersweet story, with its hair-raising and obsessively recorded details, is astonishing. Steward's humor, empathy, and refusal to bow to the repressive status quo are a moving testimonial to honesty, courage, and integrity. His story should resonate with anyone engaged in the ongoing struggle for personal freedom of identity." —Ed Hardy
"This is a rare and important book. Secret Historian is a genuinely captivating combination of clear writing, a clean conscience, and more dirty stories than I ever imagined one life could hold." —Debby Applegate, author of The Most Famous Man in America: The Biography of Henry Ward Beecher
Farrar Straus Giroux, 9780374281342, 478pp.
Publication Date: August 17, 2010
About the Author
Justin Spring is a writer specializing in twentieth-century American art and culture, and the author of many monographs, catalogs, museum publications, and books, including "Fairfield Porter: A Life in Art "and "Paul Cadmus: The Male Nude."
or
Not Currently Available for Direct Purchase