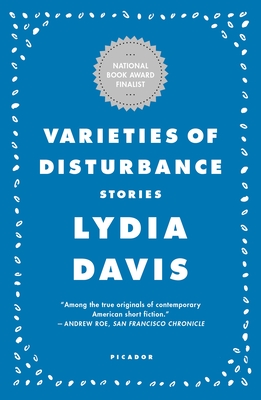 Varieties of Disturbance
Stories
Paperback

* Individual store prices may vary.
Description
Lydia Davis has been called "one of the quiet giants in the world of American fiction" (Los Angeles Times), "an American virtuoso of the short story form" (Salon), an innovator who attempts "to remake the model of the modern short story" (The New York Times Book Review). Her admirers include Grace Paley, Jonathan Franzen, and Zadie Smith; as Time magazine observed, her stories are "moving . . . and somehow inevitable, as if she has written what we were all on the verge of thinking."

In Varieties of Disturbance, her fourth collection, Davis extends her reach as never before in stories that take every form from sociological studies to concise poems. Her subjects include the five senses, fourth-graders, good taste, and tropical storms. She offers a reinterpretation of insomnia and re-creates the ordeals of Kafka in the kitchen. She questions the lengths to which one should go to save the life of a caterpillar, proposes a clear account of the sexual act, rides the bus, probes the limits of marital fidelity, and unlocks the secret to a long and happy life.

No two of these fictions are alike. And yet in each, Davis rearranges our view of the world by looking beyond our preconceptions to a bizarre truth, a source of delight and surprise.

Varieties of Disturbance is a 2007 National Book Award Finalist for Fiction.
Praise For Varieties of Disturbance: Stories…
"An American virtuoso of the short story form." —Salon

"Davis is a magician of self-consciousness. Few writers now working make the words on the page matter more." —Jonathan Franzen

"One of the quiet giants in the world of American fiction." —Los Angeles Times Book Review

"Davis is the kind of writer about whom you say: 'Oh, at last!' " —Grace Paley

"Sharp, deft, ironic, understated, and consistently surprising." —Joyce Carol Oates

"Frequently poetic and, without question, memorable . . . [Davis] tinkers with nearly every convention imaginable." —Liam Callanan, The New York Times Book Review

"Sublime writing-at once a fan­tastical jungle and a real world." —Brian Lennon, The Boston Book Review

"In deadpan prose, Davis turns philosophical snippets into fiction, with moving results . . . inevitable, as if she has written down what we were all on the verge of thinking ourselves." —Ben Marcus, Time

"Davis's distinctive voice has never been easy to fit into conventional categories . . . Engaging, self-mocking, and scrupulously truthful." —Times Literary Supplement (London)

"Brave, wildly unconventional and thought­provoking." —Time Out (London)

"No contemporary writer has so bravely explored . . . The severe elegance of a thinking woman." —Bruce Hainley, The Village Voice

"Witty and insightfully inventive." —Paula Friedman, The Washington Post

"[These stories] are the hearts of stories—thumping, muscular miracles—and they circulate complex emotions with a marvelous efficiency of beats." —Entertainment Weekly

"Will lodge in your mind forever." —Ann Harleman, The Boston Globe

"Elegant and unsentimental. The best prose stylist in America." —Rick Moody

"Extraordinary." —Catherine Texier, Newsday

"Davis is reinventing the short story . . . in our time." —Charles Baxter

"All who know [Davis's] work probably remember their first time reading it. It kind of blows the roof off of so many of our assumptions about what constitutes short fiction. I read it on the F train from 6th Avenue to Park Slope—it's a long ride and that book isn't all that long—and by the end I felt liberated. She'd broken all of the most constraining rules. some of her stories have plots but most don't. Some are in the range of acceptable short story length, most aren't. Many straddle a line between philosophy, poetry and fiction, categories that seem meaningless because her stories just work. There is rarely a plot as we expect from plot the characters in the course of the story don't undergo a fundamental change. The plot, rather, stems from the narrator's trying to get at some truth. [Davis's] stories are as often as not mental exercises, a brain trying to conclude. Because truth is what she's after. There is an unrelenting and merciless truth presented, or at least fumbled for, in everything [she] writes . . . Davis is one of the most precise and economical writers we have." —Dave Eggers, McSweeney's
Picador, 9780374281731, 240pp.
Publication Date: May 15, 2007
About the Author
Lydia Davis is the author of Essays One, a collection of essays on writing, reading, art, memory, and the Bible. She is also the author of The End of the Story: A Novel and many story collections, including Varieties of Disturbance, a finalist for the 2007 National Book Award for Fiction; Can't and Won't (2014); and The Collected Stories of Lydia Davis, described by James Wood in The New Yorker as "a grand cumulative achievement." Davis is also the acclaimed translator of Swann's Way and Madame Bovary, both awarded the French-American Foundation Translation Prize, and of many other works of literature. She has been named both a Chevalier and an Officier of the Order of Arts and Letters by the French government, and in 2020 she received the PEN/Malamud Award for Excellence in the Short Story.