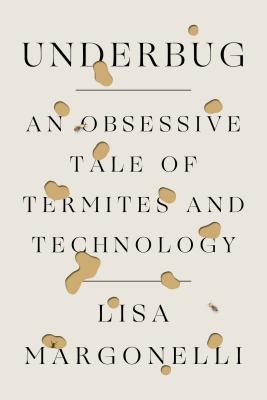 Underbug
An Obsessive Tale of Termites and Technology
Hardcover

* Individual store prices may vary.
Other Editions of This Title:
Paperback (9/3/2019)
Description
The award-winning journalist Lisa Margonelli, national bestselling author of Oil on the Brain: Petroleum's Long, Strange Trip to Your Tank, investigates the environmental and economic impact termites inflict on human societies in this fascinating examination of one of nature's most misunderstood insects.

Are we more like termites than we ever imagined? In Underbug, the award-winning journalist Lisa Margonelli introduces us to the enigmatic creatures that collectively outweigh human beings ten to one and consume $40 billion worth of valuable stuff annually—and yet, in Margonelli's telling, seem weirdly familiar. Over the course of a decade-long obsession with the little bugs, Margonelli pokes around termite mounds and high-tech research facilities, closely watching biologists, roboticists, and geneticists. Her globe-trotting journey veers into uncharted territory, from evolutionary theory to Edwardian science literature to the military industrial complex. What begins as a natural history of the termite becomes a personal exploration of the unnatural future we're building, with darker observations on power, technology, historical trauma, and the limits of human cognition.

Whether in Namibia or Cambridge, Arizona or Australia, Margonelli turns up astounding facts and raises provocative questions. Is a termite an individual or a unit of a superorganism? Can we harness the termite's properties to change the world? If we build termite-like swarming robots, will they inevitably destroy us? Is it possible to think without having a mind? Underbug burrows into these questions and many others—unearthing disquieting answers about the world's most underrated insect and what it means to be human.
Praise For Underbug: An Obsessive Tale of Termites and Technology…
"A timely, thought-provoking exploration of what it means to be human, as much as what it means to be termite, and a penetrating look at the moral challenges of our ongoing technological revolution."
—Lucy Cooke, the New York Times

"Termites are not just the destructive force that homeowners know and hate—'architects of negative space,' as environmental writer Lisa Margonelli wittily puts it. They also comprise a kind of entomological three-ring circus, and this round-up of research on the eusocial insects is a ticket to the show . . . This is a wild ride through a hidden microcosmos stretching from Australia to Namibia." —Barbara Kiser, Nature

"Margonelli uses her 'obsessive' termite tale to open wider discussions about everything from the evolution of superorganisms to the morality of military drones. Her work represents science writing at its most enjoyable and informative best." —Carl Hays, Booklist

"Unlikely but fascinating...[this] far-ranging work touches on the nature of individuality, the use of drones by the military, the applicability of concepts of good and evil to science, and the creation of biofuels created using the termite gut, among other topics. Margonelli brings all of this to light by making complex, cutting-edge science understandable to the general reader, while also conveying the excitement, frustration, and plain drudgery inherent in the scientific endeavor. ...Margonelli has written a book as entertaining as it is informative." —Publishers Weekly

"This book is about termites the way the Bible is about men with beards. Yes, it takes you into the mounds and inside the bugs, but also deep into the strange labs and pulsing, eclectic minds of the roboticists, geneticists, physicists, and ecologists who try to figure them out. Perhaps best of all, it takes you deep into the brain of Lisa Margonelli, one of the finest writers and most original thinkers we have. A surprising, swirling, fantastically unpredictable, thought-provoking, funny, and (depending on your species) delicious book." —Mary Roach, author of Stiff

"In a unique voice that's wry, inventive, and acrobatic, Margonelli takes us on a termite-guided exploration of subterranean tracts of nature, science, and robotics. The book is brimming with flair. Prepare to find yourself absorbed." —Peter Godfrey-Smith, author of Other Minds
Scientific American / Farrar, Straus and Giro, 9780374282073, 320pp.
Publication Date: August 21, 2018
About the Author
Lisa Margonelli is the author of the national bestseller Oil on the Brain: Petroleum's Long, Strange Trip to Your Tank and writes the Small Science column for Zócalo Public Square, where she is a senior editor. From 2006 to 2012, she was a fellow at the New America Foundation. She has written for The Atlantic, Wired, Scientific American, The New York Times, and other publications. She lives in Maine.
or
Not Currently Available for Direct Purchase