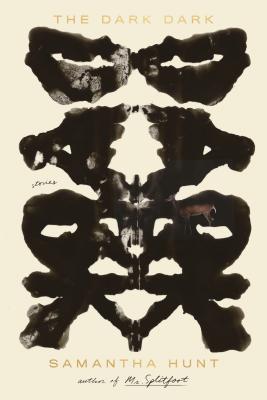 The Dark Dark
Stories
Paperback

* Individual store prices may vary.
Other Editions of This Title:
MP3 CD (7/18/2017)
Compact Disc (7/18/2017)
Description
A Best Book of the Year: NPR, Vogue, The Huffington Post, The Chicago Review of Books, The National Post, Electric Literature, Kirkus

"Wields such a subtle and alien power . . . Wonderfully spooky." —Jia Tolentino, The New Yorker

"A feminist manifesto threaded through imaginative fiction; it's the most evocative, impressive collection I've read this year." —Daniel Johnson, The Paris Review

From the acclaimed author of Mr. Splitfoot, Samantha Hunt's first collection of stories, The Dark Dark, blends the literary and the fantastic and brings us characters on the verge—girls turning into women, women turning into deer, people doubling or becoming ghosts, and more

Step into The Dark Dark, where an award-winning, acclaimed novelist debuts her first collection of short stories and conjures entire universes in just a few pages—conjures, splits in half, mines for humor, destroys with absurdity, and regenerates. In prose that sparkles and haunts, Samantha Hunt playfully pushes the bounds of the expected and fills every corner with vibrant life, imagining numerous ways in which the weird might poke its way through the mundane. Each of these ten haunting, inventive tales brings us to the brink—of creation, mortality and immortality, infidelity and transformation, technological innovation and historical revision, loneliness and communion, and every kind of love.

Laced with lyricism, hope, Hunt's characteristic sly wit, and her unflinching gaze into the ordinary horrors of human existence, The Dark Dark celebrates the mysteries and connections that swirl around us. It's never all the same, Hunt tells us. It changes a tiny bit every time. See for yourself.
Praise For The Dark Dark: Stories…
Winner of the 2019 St. Francis College Literary Prize
A 2018 PEN/Faulkner Award for Fiction Finalist
A 2017 Shirley Jackson Award nominee
An NPR Best Book of 2017
A Vogue Best Book We Read All Year
A Huffington Post Best Fiction Book of 2017
A Kirkus Best Fiction of 2017 pick
A National Post (Canada) Best Book of 2017
A Chicago Review of Books Best Fiction Books of 2017 pick
An Electric Literature Best Short Story Collection of 2017
A Paris Review staff pick
A W Magazine Book by Women Writers to Read This Summer

"The Dark Dark . . . wields such a subtle and alien power that I couldn't read more than a couple of pieces in a sitting without feeling like some witchy substance was working its way through my blood . . . Wonderfully spooky." —Jia Tolentino, The New Yorker

"Beguiling . . . daring . . . Hunt at her best is a lot like the uncle of one character, who is described as 'so good at imagining things' that 'he makes the imagined things real.' Hunt's dreamlike images operate in service to earthbound ideas . . . [She] gets at the myriad ways women work to keep their self-possession in the face of social and interpersonal expectations." —John Williams, The New York Times

"A daring collection in which Hunt gives her imagination free reign, allowing her characters to careen off the rails in their search for something more in the darkness." —Joy Press, Los Angeles Times

"Liminal fantasy with a solid literary sensibility; sure to please fans of Karen Russell and Lidia Yuknavitch . . . The Dark Dark chews on some delicious, evergreen themes in extraordinary ways." —Carmen Maria Machado, NPR

"The Dark Dark, more than anything else, is an example of the sheer force of storytelling, of the power of narrative to elicit understanding and emotional response at an unspeakable, unspoken level." —Robert J. Wiersema, The National Post

"The Dark Dark reads like a feminist manifesto threaded through imaginative fiction; it's the most evocative, impressive collection I've read this year." —Daniel Johnson, The Paris Review

"Hunt, with the publication of her first collection of stories, "The Dark Dark,'' is poised to break through as one of our major fiction writers . . . Hunt is by turns hilarious, wry, wrenching, and lyrical." —Priscilla Gilman, The Boston Globe

"Each of the stories in this collection harbors a surreal twist . . . Hunt lingers over such moments just long enough to suggest that the phantasmagorical can be found in any situation, no matter how banal." —The New Yorker

"Rife with symbolism and feminist subtext, Hunt's prose style and ability to weave together fantastical details and factual research into stunningly original scenes makes for captivating reading." —Bust

"The stories are marked with superbly nuanced writing, a rich sense of visual detail and perhaps a kind of courage on the part of the author, as she dares blending fantasy with naturalism." —David Wiegand, The San Francisco Chronicle

"Samantha Hunt writes about the ordinary through a supernatural kaleidoscope. She holds the mundane and extraordinary up to the light and tries to explain the shadows . . . Hunt's writing does not gloss over the dark, ugly parts of womanhood. Instead, she allows women the space to be wild in ways the real world does not—by writing with empathy and grace." —Carolyn Quimby, Chronogram

"The stories intertwine what's extraordinary and familiar in meaningful ways, taking on density and weight . . . Reading pleasures abound in Hunt's incisive and witty prose and characters who linger in the mind like acquaintances you hope to meet again." —Katie Pelletier, The Portland Mercury

"What makes The Dark Dark so refreshing is Hunt's willingness to work in the unapologetically weird . . . It's a welcome statement of purpose, and a reminder that certain familiar places and themes are ripe for their own fictional revival." —Tobias Carroll, Bookforum

"Like in our best Lynchean dreams, these are stories with talons dipped into the eerie and the supernatural . . . The writing in The Dark Dark is swoon-worthy, and craft-wise, there is not one hair out of place. In fact, if you were standing before me I might push this book immediately into your hands . . . Samantha Hunt has written a perfect story collection." —Ingrid Rojas Contreras, KQED's The Spine

"These short stories are works of dark, dark magic that skitter between worlds both recognizable and wholly new. Fans of Hunt's work will revel in her first story collection, which marries her signature flare for the fantastic with keen observation and sharp prose . . . Grab your comforter and a flashlight for this tour de force collection from one of our most inventive storytellers." —Kirkus, starred review

"Designed to jolt and beguile . . . This excellent, inventive collection . . . is rife with observant asides, sly humor, and surprises." —Publishers Weekly, starred review

"I was enamored with Mr. Splitfoot and didn't think Samantha Hunt could top that book. I was wrong. The stories in The Dark Dark keep getting better as the book goes on, and by the end I was spellbound. You'd be hard-pressed to find another author like Samantha Hunt. These stories explore not only extraneous terrors (the dark night and the unknown horrors it holds), but also the deep-down fears and savagery and strangeness that exist beyond our understanding. Hunt mines the depths of our subconscious inhumanity to reveal what connects us in ways we can't imagine, and in her fantastic stories lie the real and familiar. The darkest dark is not an outside entity, but our own humanity, and nobody but Hunt can illuminate the shadowy corners of the soul so well." —Rachel Kaplan, Avid Bookshop, Athens, GA

"In stories full of doubles and doppelgangers, splitting cells and shadowy figures, Samantha Hunt evokes the uncanny in areas—suburbia, motherhood, marriage—all too often made mundane by lesser writers. In Hunt's singular voice, however, a wife's desire becomes a matter of bodily metamorphosis; a dusty backroad becomes a portal between worlds. Vivid and uncompromising, each story is unsettling—not only to the characters within it, upended by a world gone sideways, but to the reader, who recognizes in those characters her own weird thoughts and longings. There it is, the strangeness at the center of our lives, laid bare and fairly pulsing on the page." —Mairead Small Staid, Literati Bookstore, Ann Arbor, MI
FSG Originals, 9780374282134, 256pp.
Publication Date: July 18, 2017
About the Author
Samantha Hunt's novel about Nikola Tesla, The Invention of Everything Else, was a finalist for the Orange Prize and winner of the Bard Fiction Prize. Her first novel, The Seas, earned her selection as one of the National Book Foundation's 5 Under 35 that year. Her novel, Mr. Splitfoot, was an IndieNext Pick. Her story collection, The Dark Dark, was a best book of the year at NPR and Vogue, as well as a winner of the St. Francis College Literary Prize and a finalist for the PEN/Faulkner Award.Her work has appeared in The New Yorker, the New York Times Magazine, McSweeney's, Tin House, A Public Space, and many others. She lives in upstate New York.