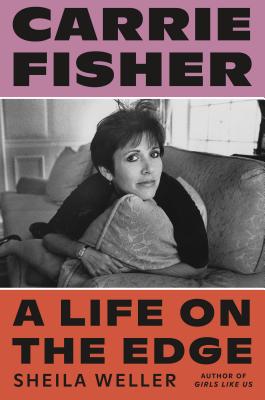 Carrie Fisher
A Life on the Edge
Hardcover

* Individual store prices may vary.
Other Editions of This Title:
Paperback (11/24/2020)
Description
A remarkably candid biography of the remarkably candid—and brilliant—Carrie Fisher

In her 2008 bestseller, Girls Like Us, Sheila Weller—with heart and a profound feeling for the times—gave us a surprisingly intimate portrait of three icons: Carole King, Joni Mitchell, and Carly Simon. Now she turns her focus to one of the most loved, brilliant, and iconoclastic women of our time: the actress, writer, daughter, and mother Carrie Fisher.

Weller traces Fisher's life from her Hollywood royalty roots to her untimely and shattering death after Christmas 2016. Her mother was the spunky and adorable Debbie Reynolds; her father, the heartthrob crooner Eddie Fisher. When Eddie ran off with Elizabeth Taylor, the scandal thrust little Carrie Frances into a bizarre spotlight, gifting her with an irony and an aplomb that would resonate throughout her life.

We follow Fisher's acting career, from her debut in Shampoo, the hit movie that defined mid-1970s Hollywood, to her seizing of the plum female role in Star Wars, which catapulted her to instant fame. We explore her long, complex relationship with Paul Simon and her relatively peaceful years with the talent agent Bryan Lourd. We witness her startling leap—on the heels of a near-fatal overdose—from actress to highly praised, bestselling author, the Dorothy Parker of her place and time.

Weller sympathetically reveals the conditions that Fisher lived with: serious bipolar disorder and an inherited drug addiction. Still, despite crises and overdoses, her life's work—as an actor, a novelist and memoirist, a script doctor, a hostess, and a friend—was prodigious and unique. As one of her best friends said, "I almost wish the expression 'one of a kind' didn't exist, because it applies to Carrie in a deeper way than it applies to others."

Sourced by friends, colleagues, and witnesses to all stages of Fisher's life, Carrie Fisher: A Life on the Edge is an empathic and even-handed portrayal of a woman who—as Princess Leia, but mostly as herself—was a feminist heroine, one who died at a time when we need her blazing, healing honesty more than ever.
Praise For Carrie Fisher: A Life on the Edge…
"Riveting...mesmerizing...expertly probed."—Leigh Haber, O: The Oprah Magazine

"Addictively readable.. Weller embraces her multifaceted subject and illuminates Fisher's life with the same sensitivity and attention to detail she displayed in her previous books" —Hannah Brown, The Jerusalem Post

"Sympathetic and terrifically moving" —Carrie Rickey, The Forward

"Compassionate, engaging...[the book is] as sharp [and] endearing as its subject:"—Douglass K. Daniel, The Associated Press

"This in-depth, insightful, and profoundly sympathetic biography is built around the premise that Carrie Fisher was simply 'famous just for being herself' . . .This is a worthy tribute to a strong, intelligent woman, and readers will appreciate Weller's honest portrayal and thoughtful analysis." —Booklist (Starred Review)

"Bestselling author Weller shares a heartfelt tribute to the late Carrie Fisher—a complex portrait of the actress, her struggles and her extraordinary singularity. A Life on Edge is a fitting and beautiful homage to Fisher." —Juliana Rose Pignataro, Newsweek

"A thoughtful and fast-paced biography . . . [Sheila Weller] is exactly the right showbiz insider-outsider to shepherd Carrie Fisher's story to the masses . . . [Weller] does an excellent job of placing Fisher's life in context, showing that while she may have shifted the culture . . . the culture also shifted her." —Rachel Syme, Bookforum

"Drawing from exhaustive research and interviews, Weller closely analyzes all of [the] interrelated facets of Fisher's story, from her countless accomplishments and vast social network to the disturbing side of her disorders. What emerges is a vivid and honest portrait of a brave, complex woman who had an impact on all who knew her. Extensive notes and a thoughtful introduction complement the absorbing narrative . . . Well written and poignant, this is a must for Fisher's fans." —Library Journal

"Engrossing, gracefully written . . . Carrie Fisher reads as definitive." —Celia Wren, The Washington Post

"Fisher lived a lot, and that is felt in page after page. But like Fisher's life itself, A Life on the Edge runs deep. It is less a long book than a very full one. It's moving, truthful and a fitting tribute to its subject and to her unflappable courage and transparency. Reading Weller's portrait of Fisher, you will miss her, deeply." —Anna Spydell, Bookpage

"A robust, many-faceted portrait of a woman whose longstanding feminism . . . elevated everything she touched and who left a powerful legacy . . . This satisfying biography of Carrie Fisher, the late actress, writer, wit and mental-health advocate, brings to the fore two additional defining attributes: feminist and friend." —Nell Beram, Shelf Awareness

"Sheila Weller has always treated the brilliant, complicated women she writes about with the seriousness, curiosity, and care they deserve. I am so grateful that she has turned her lens on Carrie Fisher, a performer and writer who has meant so much, to so many people, for so many varied reasons. Carrie Fisher: A Life on the Edge considers Fisher in full, with attention to the love, pain, illness, advocacy, humor, generosity, and contradiction that made her so remarkable. I am so sad that Carrie Fisher is dead. I am so glad that Sheila Weller has given the story of her life the space and attention it deserves." —Rebecca Traister, author of Good and Mad

"This book is so good. By the end, I felt like I had lost a friend. Such is its power and the power of Carrie Fisher: Hollywood royalty, intergalactic princess, honest and sassy and smart and straight talking with a vulnerability that breaks your heart. I hope the whole world reads Carrie Fisher: A Life on the Edge, and that everyone follows Carrie Fisher's lead—don't bullshit, tell the truth no matter how painful, and 'love so big, it should have a capital and its own currency.'" —Ann Hood, author of The Book that Matters Most

"Carrie Fisher: A Life On The Edge is a remarkable, moving portrait of a woman seemingly winning the race of life. I was moved to tears at many points as I read Carrie's story in Sheila's book—tender and honest, with clarity about the hard gritty facts, and the tale of beauty and intelligence bound with bipolar disorder, sorrow and addiction. At the same time, my heart was lifted by Carrie's hope against fate. In her book Girls Like Us, Sheila Weller painted intriguing, exciting, telling and provocative portraits of women who are icons: Carole King, Carly Simon and Joni Mitchell. Weller's new book on Carrie Fisher is the graduate course." —Judy Collins, Grammy–nominated singer-songwriter and author of Sweet Judy Blue Eyes

"This is the Carrie Fisher story as it had to be told—with clarity and verve. Sheila Weller has created a brilliant kaleidoscopic portrait of a true original, smack in the center of our celebrity culture: a brassy, vulnerable lady with a searching intelligence rapier wit and a capacity for deep deep friendships. Sweeping in scope and intimate in tone, Weller charts Fisher's evolution with perception, balance, and a keen understanding of Fisher's tragic complexities. Importantly, Weller shows how Fisher kept challenging her dark experiences: she learned. She changed. She sometimes even found joy. Carrie Fisher: A Life on the Edge is a page-turner. I was emotionally hooked from start to finish." —Patricia Bosworth, author of Jane Fonda: The Private Life of a Public Woman


"Carrie Fisher: A Life on the Edge grabs you with its winning combination of unflinching honesty and graceful empathy. Sheila Weller, drawing on her deep understanding of the beauty and trauma of Hollywood, has written a stunning biography of Carrie Fisher."
—David Maraniss, Pulitzer Prize–winning biographer of Bill Clinton and Barack Obama

"Carrie Fisher: A Life on the Edge is a can't-put-it-down, fascinating, deeply compassionate biography of the one and only, indomitable Carrie Fisher. Weller gets at the heart of the feisty, smart, and sometimes conflicted Fisher, who fought the siren song of addiction and unthinkable tragedies in her life, while still being the incredibly loving, supportive friend everyone dreams of, a blazingly original talent, and an absolutely beloved star. Weller's book is special, essential, and wildly entertaining. It will move you to tears . . . and to laughter." —Caroline Leavitt, New York Times bestselling author of Pictures of You and Cruel Beautiful World

"A lively and informative account of the improbable life and times of Carrie Fisher. Fisher was a survivor of a movieland happily-ever-after that went gaudily off the rails (her family became an international scandal when her father, Eddie Fisher, left her mother, Debbie Reynolds, for Elizabeth Taylor), and of one of the most successful franchises in film history (Star Wars, of course), not to mention a hairdo that would've sunk almost anybody else (think sci-fi George Eliot). But she was so much more than that: a curiosity, a sensation, a writer, a wreck, a wit, a flirt, an addict, a sage, a marvel, and, finally, a legend. She was, too, Hollywood's sharpest critic as well as its moral conscience and best friend. Weller's book captures the spirt of this complicated and contradictory figure. Wonderful fun." —Lili Anolik, author of Hollywood's Eve: Eve Babitz and the Secret History of L.A.

"Sheila Weller's lively and insightful biography of actor and writer Carrie Fisher brings a fresh perspective to a life we thought we knew." —Richard Rhodes, Pulitzer Prize–winning author of Hedy's Folly: The Life and Breakthrough Inventions of Hedy Lamarr, the Most Beautiful Woman in the World

"No one gets under the skin of a subject like Sheila Weller. She inhabits Carrie Fisher from somewhere deep inside, providing a tragic, albeit deeply moving portrait of a brilliant and brilliantly flawed Hollywood rebel. Carrie Fisher isn't a postcard from the edge, it's a dispatch from backstage—and beyond." —Bob Spitz, bestselling author of Reagan: An American Journey and The Beatles: The Biography
Sarah Crichton Books, 9780374282233, 416pp.
Publication Date: November 12, 2019
About the Author
Sheila Weller is the author of the acclaimed family memoir Dancing at Ciro's; the New York Times bestseller Girls Like Us: Carole King, Joni Mitchell, Carly Simon—and the Journey of a Generation; and The News Sorority: Diane Sawyer, Katie Couric, Christiane Amanpour—and the Triumph of Women in TV News. Her investigative, human interest, and cultural history journalism has won multiple major magazine awards. She has contributed to Vanity Fair, was a senior contributing editor of Glamour and a contributing editor of New York, and has written for The New York Times Book Review, Elle, Marie Claire, Rolling Stone, The Village Voice, and The Washington Post.