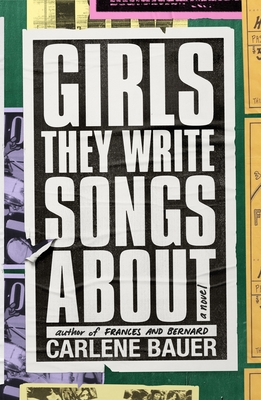 Girls They Write Songs About
A Novel
Hardcover

* Individual store prices may vary.
Description
A power ballad to female friendship, Girls They Write Songs About is a thrumming, searching novel about the bonds that shape us more than any love affair.

We moved to New York to want undisturbed and unchecked. And what did we want?

New York, 1997. As the city's gritty edges are being smoothed into something safer and shinier, two aspiring writers meet at a music magazine. Rose—brash and self-possessed—is a staff writer. Charlotte—hesitant, bookish—is an editor. First wary, then slowly admiring, they recognize in each other an insatiable and previously unmatched ambition. Soon they're inseparable, falling into the kind of friendship that makes every day an adventure, and makes you believe that you will, of course, achieve extraordinary things.

Together, Charlotte and Rose find love and lose it; they hit their strides and stumble; they make choices and live past them. They say to each other, "Don't ever leave me." It's their favorite joke, but they know that they could never say a truer thing. But then the steady beats of their sisterhood fall out of sync. They have seen each other through so much—marriage, motherhood, divorce, career glories and catastrophes, a million small but necessary choices. What will it mean if they have to give up dreaming together? That the friendship that once made them sing out now shuts them down? And even if they can reconcile themselves to the lives they've chosen, can they make peace with the ones they didn't?

As smart and comic as it is gloriously exuberant, Carlene Bauer's Girls They Write Songs About takes a timeless story and turns it into a pulsing, wrecking, clear-eyed tale of two women reckoning with the loss of the friendship that helped define them, and the countless ways all the women they've known have made them who they are.
Praise For Girls They Write Songs About: A Novel…
A Must-Read at People, Entertainment Weekly, Nylon, and LitHub

"[A] heady, intimate tale of two young women who meet in the halcyon days of a New York music-magazine career . . . [then the] coming-of-age glow gives way, inevitably, to the deeper shades and complications of grown adulthood."
—Leah Greenblatt, Entertainment Weekly

"A tender and honest novel about the friendships—and friendship breakups—that shape people just as much as their romantic counterparts."
—Layla Halabian, Nylon

"Razor-sharp . . . With deftness and candor, Bauer tells a moving and thoughtful story of how desire and ambition change over time and how to make sense of the messiness of carving out a path and life of one's own. A smart and beautifully rendered portrait of two women's lives."
—Kirkus Reviews (starred review)

"Gimlet-eyed . . . [Bauer] questions the choices women are forced to make as they age, and the way those decisions unite or divide them. [She] offers no easy answers nor pat conclusions, and her layered tale is all the stronger for it."
—Kristine Huntley, Booklist

"This excellent novel—strange and artful, full of texture and feeling—reads like a Sentimental Education for our time; I am so glad that a talented woman has written it."
—Vivian Gornick, author of Unfinished Business

"Finally, a book that stirs up the fire, hilarity, heartache, and power-plant energy of female friendships. Remember how it felt to be young and invincible in New York City? Remember the friends who showed up at your gorgeously gritty apartment bearing new and sparkling worlds? Girls They Write Songs About carries the giddy, smart, shouted exuberance of free young women right up and into the question that haunts us as we grow: How, oh how, did I get here?"
—Samantha Hunt, author of The Unwritten Book

"Humor and feminist passion power Girls They Write Songs About. A riot grrrl anthem of a novel, one that celebrates female longing, accomplishment, and sisterhood while never forgetting the high stakes of our internal struggle to respect ourselves."
—Darcey Steinke, author of Flash Count Diary

"An instant feminist classic—a profound and perfect book about girls raised to believe they can be anything, but who as women learn the truth: every choice requires sacrifice, and freedom isn't free. Carlene Bauer—a Kate Chopin for the twenty-first century—brings a fiercely funny, exquisitely brave, vibratingly intellectual voice to a world of bar flirtations, I-love-this-song enthusiasms, envy, ambition, and regret."
—Ada Calhoun, author of Also a Poet
Farrar, Straus and Giroux, 9780374282264, 320pp.
Publication Date: June 21, 2022
About the Author
Carlene Bauer is the author of the memoir Not That Kind of Girl and the novel Frances and Bernard. Her work has been published in the Los Angeles Review of Books, the Virginia Quarterly Review, n+1, The New York Times Book Review, Elle, and elsewhere. She lives in Brooklyn.