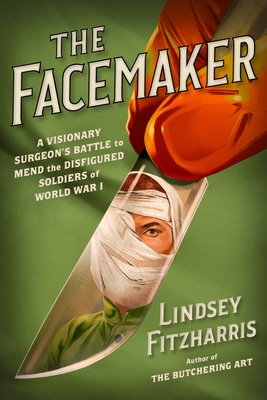 The Facemaker
A Visionary Surgeon's Battle to Mend the Disfigured Soldiers of World War I
Hardcover

* Individual store prices may vary.
Other Editions of This Title:
Digital Audiobook (6/6/2022)
Paperback (6/6/2023)
Description
A New York Times Bestseller
Finalist for the 2022 Kirkus Prize

"Enthralling. Harrowing. Heartbreaking. And utterly redemptive. Lindsey Fitzharris hit this one out of the park." —Erik Larson, author of The Splendid and the Vile

Lindsey Fitzharris, the award-winning author of The Butchering Art, presents the compelling, true story of a visionary surgeon who rebuilt the faces of the First World War's injured heroes, and in the process ushered in the modern era of plastic surgery.

From the moment the first machine gun rang out over the Western Front, one thing was clear: humankind's military technology had wildly surpassed its medical capabilities. Bodies were battered, gouged, hacked, and gassed. The First World War claimed millions of lives and left millions more wounded and disfigured. In the midst of this brutality, however, there were also those who strove to alleviate suffering. The Facemaker tells the extraordinary story of such an individual: the pioneering plastic surgeon Harold Gillies, who dedicated himself to reconstructing the burned and broken faces of the injured soldiers under his care.

Gillies, a Cambridge-educated New Zealander, became interested in the nascent field of plastic surgery after encountering the human wreckage on the front. Returning to Britain, he established one of the world's first hospitals dedicated entirely to facial reconstruction. There, Gillies assembled a unique group of practitioners whose task was to rebuild what had been torn apart, to re-create what had been destroyed. At a time when losing a limb made a soldier a hero, but losing a face made him a monster to a society largely intolerant of disfigurement, Gillies restored not just the faces of the wounded but also their spirits.

The Facemaker places Gillies's ingenious surgical innovations alongside the dramatic stories of soldiers whose lives were wrecked and repaired. The result is a vivid account of how medicine can be an art, and of what courage and imagination can accomplish in the presence of relentless horror.
Praise For The Facemaker: A Visionary Surgeon's Battle to Mend the Disfigured Soldiers of World War I…
"A riveting, old-fashioned, man-meets-the-moment account of [Harold] Gillies' work in the field of plastic surgery, before 'plastic surgery' as a field officially existed . . . [Fitzharris] give[s] vivid immediacy to the patients' ordeals." —Maureen Corrigan, NPR

"Both heartbreaking and inspiring, The Facemaker tells a profound story of survival, resurrection and redemption . . . The Facemaker is not only a stirring tribute to the singular humanity and greatness of one man but a haunting and unforgettable elegy to the sacrifice and suffering of all the soldiers of [WWI]. In the words of that Remembrance Day incantation, Lest we forget." —James L. Swanson, The Wall Street Journal

"[A] scholarly yet deeply moving book . . . Fitzharris has [. . . ] shown herself to be a fine medical historian . . . This is a fascinating book about a remarkable man, and of how teamwork is such an important part of good surgery. Despite the grim subject matter, it is a deeply moving and uplifting story." —Henry Marsh, The New Statesman

"The process of facemaking, Fitzharris captivatingly shows, required both surgical innovation and artistic skill . . . The Facemaker had me gripped; it is elegantly written and endlessly fascinating. Employing just the right balance between diligent research and ingenious reanimation, Fitzharris brings to life a neglected slice of medical history." —Lucy Scholes, Financial Times

"Grisly yet inspiring . . . The suspense of [Fitzharris's] narrative comes not from any interpersonal drama but from the formidable challenges posed by the physical world." —Jennifer Szalai, The New York Times

"In her engrossing book, Lindsey Fitzharris not only tells the story of Gillies's achievements, she immerses us in the world of the men he helped . . . Meticulously clear and detailed . . . Fitzharris presents an intensely moving and hugely enjoyable story about a remarkable medical pioneer and the men he remade." —Wendy Moore, The Guardian

"[Fitzharris] has successfully pieced together the story of a team of doctors, hospital workers and patients "battling" together during the First World War to modernize reconstructive plastic surgery . . . A variegated and tender account of the First World War, its brutality and its narratives of human redemption." —Christine Slobogin, Times Literary Supplement

"An engaging biography of a masterful surgeon as well as a heartening account of medical progress." —The Economist

"Lindsey Fitzharris offers a fascinating medical history... Fitzharris successfully balances the story of plastic surgery's growth with a compassionate attention to those whose wounds made it possible."—Lorraine Berry, Los Angeles Times

"Fitzharris presents vivid depictions of humanity . . . 'The practice of medicine is an art, not a trade' . . . As Fitzharris so elegantly reveals, Harold Gillies embodied this sentiment." —Cathy Newman, Science

"Fascinating … moving … Lindsey Fitzharris shines an important light on the hidden faces of the mutilated. Packed with telling and well-researched detail, her compelling narrative pulls no punches." —Helen Rapaport, Literary Review

"Fitzharris's engrossing biography elegantly weaves together history, innovation and the endurance of those whose battle scars were just the beginning of both their journeys, and it celebrates the medical mind who gave them all a second chance." —Stephen L. Miller, The Spectator

"Fitzharris is committed to her subject, she is fluent and she is a superb user of quotations . . . A warmly engaged book." —Sebastian Faulks, The Sunday Times (London)

"In The Facemaker, Fitzharris rescues another vital yet largely forgotten figure from history. Blending scrupulous research with a novelist's eye, the author charts Gillies's extraordinary contribution to reconstructive surgery and weaves in touching accounts of the soldiers he treated." —Brendan Daly, Business Post

"A skilled storyteller, Fitzharris takes the reader back to the front . . . Properly contextualised, these faces become not objects of horror or surgery, as they have been all too often used, but pathways into understanding what it is to lose a face, and with it, not only the ability to eat, drink and breathe, but also social acceptance and love." —Fay Bound Alberti, The Lancet

"With rich, glossy strokes The Facemaker restores a sense of immediacy to the daily struggles facing Gillies and his colleagues as they improvised under constant pressure." —James Riding, The Times

"Graphic and yet sublimely beautiful, taking the reader from the depths of hellish warfare to hope and redemption." —Inside History

"Absolutely heartbreaking but so inspiring." —Candice Millard

"[An] inspiring, engaging book . . . [Fitzharris] delivers a consistently vivid account of [Harold Gillies's] ingenious techniques . . . An excellent biography of a genuine miracle worker." —Kirkus Reviews (starred review)

"A fascinating portrait... Meticulously researched and compulsively readable, this exceptional history showcases how compassion and innovation can help mitigate the terrible wounds of war." —Publishers Weekly (starred review)

"An engaging, at times moving biography . . . The book chronicles, with considerable pathos and sensitivity, the ethics and moral feelings that drove Gillies' work." —Library Journal

"[A] commendable biography . . . Stirring stories of maimed soldiers and the compassionate hospital staff who cared for them enrich the narrative. Fitzharris vividly details mutilated faces and the savagery, suffering, and slaughter of war." —Booklist

"Wow, what a book. Enthralling. Harrowing. Heartbreaking. And utterly redemptive. Lindsey Fitzharris hit this one out of the park." —Erik Larson, author of The Splendid and the Vile

"Out of war's most awful wounds, out of gore and terror and pain, Lindsey Fitzharris has—like Sir Harold Gillies himself—crafted something inspiring and downright miraculous. I cannot imagine the sweat and sleuthing and doggedness that went into gathering the details and building the narratives of these men's struggles. This book is riveting. It is gruesome but it is also uplifting. For as much as there is blood and bone and pus in these pages, there is heart. As Fitzharris shows us, the scalpel is mightier than the grenade, and the pen is mightiest of all. What a triumph this book is." —Mary Roach, author of Fuzz and Stiff

"Here is that rare thing: a little-known story of the Great War, featuring a pioneering surgeon every bit as daring as the soldiers he saved. Beautifully written, illuminating, and bursting with fascinating detail, The Facemaker is a groundbreaking work that deserves its own genre: medical noir. You won't be able to put it down." —Karen Abbott, author of The Ghosts of Eden Park

"Like Harold Gillies himself, Lindsey Fitzharris has taken something we might think of as grim and transformed it into something beautiful. Gillies will be an unsung hero no more." —Sam Kean, author of The Icepick Surgeon

"Equal parts devastating and inspiring. The horrors of war are laid bare here, but the stories of each of the soldiers, doctors, nurses, and artists are incredibly poignant and fascinating. I couldn't put it down." —Jenny Lawson, author of Broken (in the Best Possible Way)
Farrar, Straus and Giroux, 9780374282301, 336pp.
Publication Date: June 7, 2022
About the Author
Lindsey Fitzharris is the author of The Butchering Art: Joseph Lister's Quest to Transform the Grisly World of Victorian Medicine, which won the PEN/E. O. Wilson Award for Literary Science Writing and has been translated into multiple languages. Her TV series The Curious Life and Death of . . . aired on the Smithsonian Channel. She contributes regularly to The Wall Street Journal, Scientific American, and other notable publications, and holds a doctorate in the History of Science and Medicine from the University of Oxford.