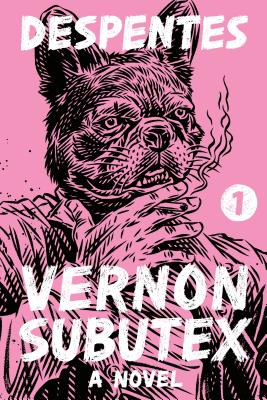 Vernon Subutex 1
A Novel
Paperback

* Individual store prices may vary.
Other Editions of This Title:
Digital Audiobook, Spanish, Castilian (12/1/2021)
Digital Audiobook (11/4/2019)
Description
From the provocative writer and filmmaker Virginie Despentes comes volume one of her acclaimed trilogy of novels, Vernon Subutex—short-listed for the Man Booker International Prize and the basis for the TV series of the same name. But who is Vernon Subutex?

Vernon Subutex was once the proprietor of Revolver, an infamous music shop in Paris, where his name was legend throughout Paris. By the 2000s, however, with the arrival of the internet and the decline in CD and vinyl sales, his shop is struggling, like so many others. When it closes, Subutex finds himself with nowhere to go and nothing to do. Before long, his savings are gone, and when the mysterious rock star who had been covering his rent suddenly drops dead of a drug overdose, Subutex finds himself launched on an epic saga of couch-surfing, boozing, and coke-snorting before finally winding up homeless. Just as he resigns himself to life as a panhandler, a throwaway comment he once made on Facebook takes the internet by storm.

The word is out: Subutex is lugging around a bunch of VHS tapes shot by that same dead rock musician—his last recordings on this earth. Soon a crowd of wild characters, from screen writers to social media groupies, from porn stars to failed musicians to random misfits, are hot on Vernon's trail . . . but Vernon is none the wiser.

"Virginie Despentes's Vernon Subutex trilogy is the zeitgeistiest thing I ever read. Everything about it is contemporary, right down to the fearless woman author who doesn't think of herself as a feminist and gives an impression at least in interviews of habitually killing rapists." —Nell Zink, Bustle, "The Best Books Of The 2010s"
Praise For Vernon Subutex 1: A Novel…
"Virginie Despentes' Vernon Subutex Trilogy is the zeitgeistiest thing I ever read. Everything about it is contemporary, right down to the fearless woman author who doesn't think of herself as a feminist and gives an impression at least in interviews of habitually killing rapists. . . I tore through these books the minute they were published, as if they were one of those TV series everybody loves so much. These novels with their depth and detail kick TV's sorry ass."
—Nell Zink, Bustle

"With Vernon Subutex, a sprawling, scintillating panorama of contemporary Paris, [Despentes] has produced a bona fide magnum opus . . . doing for Paris what Joyce did for Dublin."
—Sam Sacks, The Wall Street Journal

"Despentes's most recent work, The Vernon Subutex trilogy, which began appearing in 2015, catapulted her into the high echelons of the literary establishment . . . The series is a departure from her pulp writing, a sprawling Parisian epic à la Zola, focused as much on class as on sex . . . Taken as a whole, the trilogy is a rather extraordinary act of creation and destruction, a realistic Paris evoked, transformed, and torn apart."
—Nadja Spiegelman, New York Review of Books

"Vernon Subutex 1, written by Virginie Despentes and translated from French by Frank Wynne, is the kind of match that is so great it won't occur to readers that these two entities — author and translator — might have ever been apart. In fact, their prose is so powerful, and so perfect, that we forget we're even reading. Opening up Vernon Subutex 1 is more like stepping inside a thrilling, pulsing party and getting instantly mesmerized by the whirling couple at the center of the crowd."
—Jennifer Croft, The Lost Angeles Review of Books

"Like HBO's Succession, the book revolves around an ensemble of horrible people . . .[Despentes] writes wickedly about people watching their privilege evaporate in real time and reacting with the full range of human ugliness . . . What fun!"
—Molly Young, Vulture

"Virginie Despentes is a true original, a punk-rock George Eliot with a keen taste for the pitiable innards of her characters: no one else has her slyly penetrating eye, her spiky sense of humor, her razor wit that cuts like wire through the accumulated crud of our age's default thought patterns. In her masterful hands,Vernon Subutex becomes a droll, hilarious, insightful record of our unfortunate times."
—Alexandra Kleeman, author of You Too Can Have a Body Like Mine

"[A] searing social satire and biting portrait of contemporary France . . . Despentes's timely novel is both arch and political without being too obvious that it's either. This is a rollicking, brilliant send-up of masculinity, politics, and rock 'n' roll."
—Publishers Weekly

"Masterly . . . Despentes is often described as a 'rock and roll' Balzac . . . She also resembles, by turns, William Gibson, George Eliot and Michel Houellebecq, with a sunnier attitude."
—Chris Kraus, The Times Literary Supplement

"Cool, plentiful, and absolute genius. Virginie Despentes has a license to ill. Vernon Subutex is one of the best books of this decade."
—Alex Gilvarry, author of Eastman Was Here

"A foul-mouthed, drug-fueled, searing satire of modern France . . . this novel is not for the faint of heart. But those who love a good skewering, admire Michel Houellebecq's writing, or wished Jennifer Egan's A Visit from the Goon Squad (2010) was darker and dirtier will love it."
—Kathy Sexton, Booklist

"Despentes effortlessly slips in and out of these various lives, deftly switching styles each time (one chapter is as harsh as Bukowski, another as precise as Ernaux), and in so doing creates a new Comédie humaine depicting the various social milieux of the early twenty-first century."
—Jeffrey Zuckerman, World Literature Today

"[Vernon Subutex 1 is] a fantastic and disconcerting look at the outskirts of the music industry, what happens when society changes for the worst, and the legacies artists leave behind. It's a fascinating, immersive work of fiction — and there's more on the way."
—Vol. 1 Brooklyn

"Reads like Paul Thomas Anderson's Magnolia mashed with Don Quixote and set in contemporary Paris . . . the writing is energetic, delving, and occasionally lovely . . . Despentes has a sharp eye fixed on [society's] transformation, and she transcribes it acutely."
—Katharine Coldiron, The Arts Fuse

"The Vernon Subutex trilogy is about a social and financial drop, the decline of a character into a world of drugs and music, porn stars, disillusionment. A satirical vivid journey rooted in the 90s, the result is funny and tragic, a wild ride."
—largehearted boy

"Like Zola in his day, Despentes critiques the depredations of a gilded age ... Vernon Subutex is a great novel of the failures of neo-liberalism ... It has a hurried, helter-skelter charm ... In the end, Vernon Subutex seems to hold fast to the radical potential of the 1960s and 70s, even as it is alive to the irony that its middle-aged characters, through the world they built, have done so much to undermine these ways of being."
—Dorian Stuber, Three Percent
FSG Originals, 9780374283247, 352pp.
Publication Date: November 5, 2019
About the Author
Virginie Despentes is a writer and filmmaker. She worked in an independent record store in the early '90s, was a sex worker, and published her first novel, Baise Moi, when she was twenty-three. She adapted the novel for the screen in 2000, codirecting with the porn star Coralie Trinh Thi. Upon release, it became the first film to be banned in France in twenty-eight years. Despentes is the author of more than fifteen other works, including the Vernon Subutex Trilogy, Apocalypse Baby, Bye Bye Blondie, Pretty Things, and the essay collection King Kong Theory.

Frank Wynne has translated the work of numerous French and Hispanic authors, including Michel Houellebecq, Patrick Modiano, Javier Cercas, and Virginie Despentes. His work has earned him many prizes, including the Scott Moncrieff Prize, the Premio Valle Inclán, and the IMPAC Dublin Literary Award with Houellebecq for The Elementary Particles. Most recently, his translation of Jean-Baptiste Del Amo's Animalia won the 2020 Republic of Consciousness Prize.