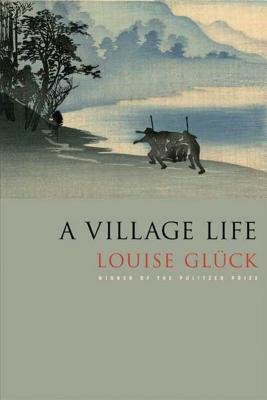 A Village Life
Poems
Hardcover

* Individual store prices may vary.
Other Editions of This Title:
Paperback (9/14/2010)
Description
WINNER OF THE NOBEL PRIZE IN LITERATURE

A dreamlike collection from the Nobel Prize-winning poet

A Village Life, Louise Glück's eleventh collection of poems, begins in the topography of a village, a Mediterranean world of no definite moment or place:

All the roads in the village unite at the fountain.

Avenue of Liberty, Avenue of the Acacia Trees—

The fountain rises at the center of the plaza;

on sunny days, rainbows in the piss of the cherub.

—from "tributaries"

Around the fountain are concentric circles of figures, organized by age and in degrees of distance: fields, a river, and, like the fountain's opposite, a mountain. Human time superimposed on geologic time, all taken in at a glance, without any undue sensation of speed.

Glück has been known as a lyrical and dramatic poet; since Ararat, she has shaped her austere intensities into book-length sequences. Here, for the first time, she speaks as "the type of describing, supervising intelligence found in novels rather than poetry," as Langdon Hammer has written of her long lines—expansive, fluent, and full—manifesting a calm omniscience. While Glück's manner is novelistic, she focuses not on action but on pauses and intervals, moments of suspension (rather than suspense), in a dreamlike present tense in which poetic speculation and reflection are possible.
Praise For A Village Life: Poems…
"Though it resembles her others least, A Village Life may come to be seen as Glück's most beautiful and moving book so far . . . [It] shows a ripening of Glück's genius, her mastery for depicting the things of this earth . . . [and] can be seen as the work of a master poet who has done what many poets long to do: she has written about death immortally." —Adam Fitzgerald, Rain Taxi

"A Village Life magnificently extends the landscapes, the harmonics, and the dramatis personae of Averno . . . More than any of Glück's previous volumes, A Village Life has a generous heart, a large spiritual scope in which to imagine the lives of others." —Rosanna Warren, The New Republic

"Not many poets can be electrifying while keeping the stakes this hypothermically low. Glück is a master, finely calibrating the shocks and their intervals. This collection, her 11th, is frightening the way a living statue would be frightening if it were to smile at you." —Dana Goodyear, Los Angeles Times

"Here is a poet at the unmistakable peak of her expressive power and experience . . . The characters in A Village Life do what the voice tells them. 'It says forget, you forget. / It says begin again, you begin again.' Louise Glück begins again, unforgettably, in this profound new collection of poems." —Carol Muske-Dukes, Huffington Post

"This 11th book of verse by Pulitzer Prize-winning poet Louise Glück offers beautiful language with a sense of loss and disappointment . . . The poems in A Village Life combine the intensity of her early work and the longer lines and insight of more recent books. The writing is often hauntingly beautiful . . . There are stanzas where Glück makes her landscape seem so radiant or exquisite that you don't want to turn the page." —Elizabeth Lund, Christian Science Monitor

"Like Cavafy's persona pieces, the real subject of these poems is often a particular mood, not the transmission of details that distinguish, say, a child's voice from a farmer's . . . Glück lets us hear the silence that follows in the confessional. In my favorite poems in A Village Life, she also shows us what one who has heard that silence can now say." —Zach Savich, Kenyon Review

"Louise Glück is one of America's most famous poets, and one of the best . . . The fictions here are really a pretext for Glück to stage poems that explore, for the first time, material that is neither explicitly her own biography nor that of her mythical stand-ins. Always at the mercy of the Greek gods that inspired her earlier poems, Glück now is playing God herself." —Morgan Teicher, Cleveland Plain Dealer
Farrar, Straus and Giroux, 9780374283742, 80pp.
Publication Date: September 1, 2009
About the Author
Louise Glück is the author of two collections of essays and more than a dozen books of poems. Her many awards include the 2020 Nobel Prize in Literature, the 2015 National Humanities Medal, the 1993 Pulitzer Prize for The Wild Iris, the 2014 National Book Award for Faithful and Virtuous Night, the 1985 National Book Critics Circle Award for The Triumph of Achilles, the 2001 Bollingen Prize, the 2012 Los Angeles Times Book Prize for Poems: 1962-2012, and the 2008 Wallace Stevens Award from the Academy of American Poets. She teaches at Yale University and Stanford University and lives in Cambridge, Massachusetts.