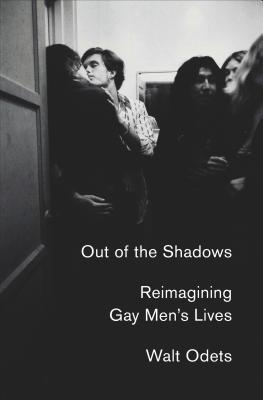 Out of the Shadows
Reimagining Gay Men's Lives
Hardcover

* Individual store prices may vary.
Other Editions of This Title:
Digital Audiobook (6/3/2019)
Paperback (9/22/2020)
Compact Disc (6/4/2019)
MP3 CD (6/4/2019)
Description
A moving exploration of how gay men construct their identities, fight to be themselves, and live authentically

It goes without saying that even today, it's not easy to be gay in America. While young gay men often come out more readily, even those from the most progressive of backgrounds still struggle with the legacy of early-life stigma and a deficit of self-acceptance, which can fuel doubt, regret, and, at worst, self-loathing. And this is to say nothing of the ongoing trauma wrought by AIDS, which is all too often relegated to history. Drawing on his work as a clinical psychologist during and in the aftermath of the epidemic, Walt Odets reflects on what it means to survive and figure out a way to live in a new, uncompromising future, both for the men who endured the upheaval of those years and for the younger men who have come of age since then, at a time when an HIV epidemic is still ravaging the gay community, especially among the most marginalized.

Through moving stories—of friends and patients, and his own—Odets considers how experiences early in life launch men on trajectories aimed at futures that are not authentically theirs. He writes to help reconstruct how we think about gay life by considering everything from the misleading idea of "the homosexual," to the diversity and richness of gay relationships, to the historical role of stigma and shame and the significance of youth and of aging. Crawling out from under the trauma of destructive early-life experience and the two epidemics, and into a century of shifting social values, provides an opportunity to explore possibilities rather than live with limitations imposed by others. Though it is drawn from decades of private practice, activism, and life in the gay community, Odets's work achieves remarkable universality. At its core, Out of the Shadows is driven by his belief that it is time that we act based on who we are and not who others are or who they would want us to be. We—particularly the young—must construct our own paths through life. Out of the Shadows is a necessary, impassioned argument for how and why we must all take hold of our futures.
Praise For Out of the Shadows: Reimagining Gay Men's Lives…
"[Odets's] writing is poignant and achingly beautiful—so much so, in fact, that I occasionally had to put the book down to avoid weeping on the subway. There's sadness in Odets's life story, but there's mostly resilience, tenderness and a willingness to fashion an unapologetic gay life, sometimes against all odds. (The exquisitely told story of Odets's longtime friend and lover, who fled a trailer he shared with a brutally homophobic family and built a life bursting with meaning and intimacy, is the most compelling story of gay self-actualization I've ever encountered.)" —Benoit Denizet-Lewis, The New York Times Book Review

"Odets' trifecta of social commentary, memoir and therapeutic analysis is an astute statement on how to overcome trauma, loss and isolation to live a proud, self-actualized and fulfilling existence as a gay man . . . The final two chapters in which he describes the long road to coming out and his deep love for his lifelong companion, Matthias, and Matthias' partner, Hank, are some of the most on-point and beautifully written thoughts on love, acceptance and family I've read in some time." —Alexis Burling, San Francisco Chronicle

"[A] fascinating exploration of gay male lives . . . Odets's warm and lyrical voice, his inspiring picture of how imaginative gay life can be, has sent me queuing for the couch. I have a feeling that many other readers will follow." —Marcus Field, London Evening Standard

"A book full of heart . . . Impressively sound and based on a wealth of research and experience." —Steven Cordova, Lambda Literary

"[A] soaring combination of social critique, memoir, and manifesto . . . [Odets's] discussions of gay men's sexual expression and relationships are frank, compassionate, and open-minded . . . Odets's greatest strengths are his moving prose and ability to make the psychological material accessible and as fascinating and thought-provoking as the poignant stories. Gay men will find much to ponder here, but any reader can find meaning in this extraordinary, stirring invitation to re-examine assumptions about what it means to be gay and to have a good life." —Publishers Weekly (starred review)

"An insightful and thought-provoking book . . . A luminous humanity shines through, never more so than in the final chapter, the author's highly empathetic, memorable story of the three men he has loved." —Michael Cart, Booklist

"[Walt Odets's] writing is perceptive and honest . . . This is an encouraging and deeply compelling study of how gay men can build meaningful identities." —Kirkus Reviews
Farrar, Straus and Giroux, 9780374285852, 368pp.
Publication Date: June 4, 2019
About the Author
Walt Odets is a clinical psychologist and writer. He is the author of In the Shadow of the Epidemic: Being HIV-Negative in the Age of AIDS. He lives in Berkeley, where he has practiced psychology since 1987.
or
Not Currently Available for Direct Purchase