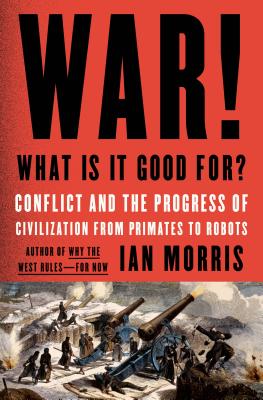 War! What Is It Good For? (Hardcover)
Conflict and the Progress of Civilization from Primates to Robots
Farrar, Straus and Giroux, 9780374286002, 512pp.
Publication Date: April 15, 2014
* Individual store prices may vary.
Description
A powerful and provocative exploration of how war has changed our society—for the better

"War! . . . . / What is it good for? / Absolutely nothing," says the famous song—but archaeology, history, and biology show that war in fact has been good for something. Surprising as it sounds, war has made humanity safer and richer.
In War! What Is It Good For?, the renowned historian and archaeologist Ian Morris tells the gruesome, gripping story of fifteen thousand years of war, going beyond the battles and brutality to reveal what war has really done to and for the world. Stone Age people lived in small, feuding societies and stood a one-in-ten or even one-in-five chance of dying violently. In the twentieth century, by contrast—despite two world wars, Hiroshima, and the Holocaust—fewer than one person in a hundred died violently. The explanation: War, and war alone, has created bigger, more complex societies, ruled by governments that have stamped out internal violence. Strangely enough, killing has made the world safer, and the safety it has produced has allowed people to make the world richer too.
War has been history's greatest paradox, but this searching study of fifteen thousand years of violence suggests that the next half century is going to be the most dangerous of all time. If we can survive it, the age-old dream of ending war may yet come to pass. But, Morris argues, only if we understand what war has been good for can we know where it will take us next.
About the Author
Ian Morris is Willard Professor of Classics and History at Stanford University. He has published books including Why the West Rules--for Now and The Dynamics of Ancient Empires, and has directed excavations in Greece and Italy. He lives in the Santa Cruz Mountains in California.
Praise For War! What Is It Good For?: Conflict and the Progress of Civilization from Primates to Robots…
"[Morris's] pace is perfect, his range dazzling, his phrasemaking fluent, his humor raucous…[A] rattling good book." —Felipe Fernández-Armesto, Wall Street Journal
"[A]n exuberant and wonderfully entertaining tour de force of history, archaeology, anthropology, geography, evolutionary biology and technological and military speculation that improbably combines a hardcore intellectual seriousness with a larky, almost blokeish note that would go down just as well on Top Gear as it clearly does at Stanford." —David Crane, The Spectator
"[Morris's] argument is brilliantly made, argued across a huge sweep . . . It is a magnificent and stimulating read, and should be given to anyone involved in the business of war and peace, or the human fate in any respect--and already a book of the year." —Robert Fox, The Evening Standard
"Morris's effort is in a different league . . . He is a much wittier and more self-deprecating writer than most of his competitors, has a sharper eye for facts and ancedotes, and steers well clear of preening bombast . . . Clear, acute and counterintuitive, his book is a pleasure to read." —Dominic Sandbrook, The Sunday Times
"Big ideas spill out on almost every page of War! This is that rarest of books, one that both entertains and challenges." —Alan Cate, Cleveland.com
"This erudite yet compulsively readable history of war (and actually much more) by archaeologist-historian Morris (Why the West Rules--For Now, 2010) takes the provocative position that, over time, the value of war, despite its horrors, has been to make humanity both safer and richer . . . Throughout this rare mixture of scholarship, stunning insight, and wit, Morris cites the widely divergent opinions of past philosophers and scholars, and, though he makes his case convincingly, future (and, oh yes, the future is projected) students, readers, and critics of this book are likely to continue the fascinating argument Morris raises here. War! What Is it Good For? appeals to (indeed, may broaden) the largeaudience that has made Jared Diamond's Guns, Germs, and Steel (1997), much quoted in it, a modern classic and should join it on personal and library bookshelves." —Mark Levine, Booklist (starred review)
"A disturbing, transformative text that veers toward essential reading." —Kirkus (starred review)
"An ambitious, epoch-spanning study of violence writ large across time and place . . . A fascinating and stimulating work sure to compel readers of anthropology, archaeology, history, and futurity." —Publishers Weekly
"Ian Morris' evidence that war has benefited our species--albeit inadvertently--is provocative, compelling, and fearless. This book is equally horrific and inspiring, detailed and sweeping, light-hearted and deadly serious. For those who think war has been a universal disaster it will change the way they think about the course of history." —Richard Wrangham, author of Demonic Males: Apes and the Origins of Human Violence and Catching Fire: How Cooking Made Us Human
"Perhaps you think that you already know everything about the history of all peoples on all the continents for the last 15,000 years. Even if you do, you'll still get a fresh perspective from this thought-provoking book. With this volume and his previous Why the West Rules--for Now, Ian Morris has established himself as a leader in making big history interesting and understandable." —Jared Diamond, author of Guns, Germs, and Steel: The Fates of Human Societies and Collapse: How Societies Choose to Fail or Succeed
"That war is the antithesis of everything we cherish in our modern civilization is that one rare idea nobody would dare disagree with in polite company. Nobody except Ian Morris that is. This delightful, erudite and thought-provoking book challenges some of our core beliefs. Morris argues, fairly convincingly, that far from being its antithesis, war is the mainspring of our civilization, and we are far from the last chapter of the history that war has made. You will be surprised, informed, entertained and most importantly challenged by this book." —Daron Acemoglu, coauthor of Why Nations Fail: The Origins of Power, Prosperity, and Poverty
"We now live in a far safer, healthier, and more prosperous world than any of our ancestors ever did. Ian Morris has drawn upon a breathtaking array of data from paleography, anthropology, history, psychology, and political science to demonstrate the unpalatable but inescapable truth that we do so thanks to what has for centuries been seen as mankind's greatest scourge: war.Written with all of Morris' habitual narrative flair, this brilliant book will surely change forever the way we think about human conflict and what we should attempt to do about it in the future." —Anthony Pagden, author of Worlds at War: The 2,500-Year Struggle Between East and West
or
Not Currently Available for Direct Purchase