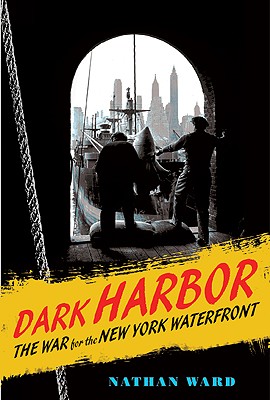 Dark Harbor: The War for the New York Waterfront (Hardcover)
The War for the New York Waterfront
Farrar, Straus and Giroux, 9780374286224, 272pp.
Publication Date: June 8, 2010
* Individual store prices may vary.
or
Not Currently Available for Direct Purchase
Description
What if the world of the old New York waterfront was as violent and mob-controlled as it appears in Hollywood movies? Well, it really was, and the story of its downfall, told here in high style by Nathan Ward, is the original New York mob story.

New York Sun reporter Malcolm "Mike" Johnson was sent to cover the murder of a West Side boss stevedore and discovered a "waterfront jungle, set against a background of New York's magnificent skyscrapers" and providing "rich pickings for criminal gangs." Racketeers ran their territories while doubling as union officers, from the West Side's "Cockeye" Dunn, who'd kill for any amount of dock space, to Jersey City's Charlie Yanowsky, who controlled rackets and hiring until he was ice-picked to death.

Johnson's hard-hitting investigative series won a Pulitzer Prize, inspired a screenplay by Arthur Miller, and prompted Elia Kazan's Oscar-winning film On the Waterfront. And yet J. Edgar Hoover denied the existence of organized crime - even as the government's dramatic hearings into waterfront misdeeds became mustsee television.

Nathan Ward tells this archetypal crime story as if for the first time, taking the reader back to a city, and an era, at once more corrupt and more innocent than our own.
About the Author
Nathan Ward, who was an editor with "American Heritage," has written for "The New""York Times "and other publications. He lives in Brooklyn, New York, not far from the Red Hook piers.
Advertisement