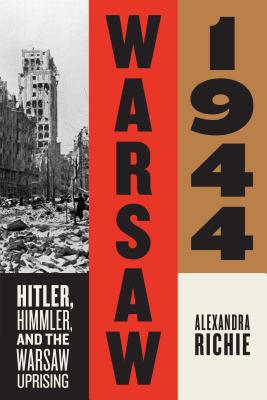 Warsaw 1944
Hitler, Himmler, and the Warsaw Uprising
Hardcover

* Individual store prices may vary.
Other Editions of This Title:
Paperback (10/8/2019)
Description
The full untold story of how one of history's bravest revolts ended in one of its greatest crimes

In 1943, the Nazis liquidated Warsaw's Jewish ghetto. A year later, they threatened to complete the city's destruction by deporting its remaining residents. A sophisticated and cosmopolitan community a thousand years old was facing its final days—and then opportunity struck. As Soviet soldiers turned back the Nazi invasion of Russia and began pressing west, the underground Polish Home Army decided to act. Taking advantage of German disarray and seeking to forestall the absorption of their country into the Soviet empire, they chose to liberate the city of Warsaw for themselves.

Warsaw 1944 tells the story of this brave, and errant, calculation. For more than sixty days, the Polish fighters took over large parts of the city and held off the SS's most brutal forces. But in the end, their efforts were doomed. Scorned by Stalin and unable to win significant support from the Western Allies, the Polish Home Army was left to face the full fury of Hitler, Himmler, and the SS. The crackdown that followed was among the most brutal episodes of history's most brutal war, and the celebrated historian Alexandra Richie depicts this tragedy in riveting detail. Using a rich trove of primary sources, Richie relates the terrible experiences of individuals who fought in the uprising and perished in it. Her clear-eyed narrative reveals the fraught choices and complex legacy of some of World War II's most unsung heroes.
Praise For Warsaw 1944: Hitler, Himmler, and the Warsaw Uprising…
"Deeply moving . . . A detailed narrative of the brutal crushing of the uprising as seen through civilian eyes . . . "Warsaw 1944" is an important contribution to a tragic literature." —The Wall Street Journal

"Engrossing … A massively researched, profoundly unsettling work revealing how the battle for Warsaw exposed the perfidy of East and West alike" —Kirkus

"Richie's detailed and sympathetic history … draws heavily on private archives and recounts many unpublished stories. Such survivors' testimony make it the definitive study of the uprising" —The Economist

"Unusually well-placed to research and rehearse the story of that terrible event … [Richie] offers a comprehensive narrative of the Polish experience" —The Sunday Times (UK)

"Richie is an unrelenting storyteller: Page turns offer little respite for the reader in this grim and chilling book that delivers exhaustive and unforgettable details of this gruesome chapter of World War II." —Publisher's Weekly
Farrar, Straus and Giroux, 9780374286552, 784pp.
Publication Date: December 10, 2013
About the Author
Alexandra Richie is the author of Faust's Metropolis, a comprehensive cultural and political history of Berlin that Publishers Weekly named one of the top ten books of 1999. She currently lives in Warsaw with her husband, Wladyslaw Bartoszewski.