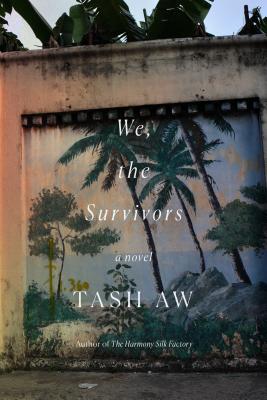 We, the Survivors
A Novel
Hardcover

* Individual store prices may vary.
Other Editions of This Title:
Digital Audiobook (9/2/2019)
Digital Audiobook (9/2/2019)
Paperback (12/22/2020)
Library Binding, Large Print (2/5/2020)
Description
From the author of The Harmony Silk Factory and Five Star Billionaire, a compelling depiction of a man's act of violence, set against the backdrop of Asia in flux

Ah Hock is an ordinary man of simple means. Born and raised in a Malaysian fishing village, he favors stability above all, a preference at odds with his rapidly modernizing surroundings. So what brings him to kill a man?

This question leads a young, privileged journalist to Ah Hock's door. While the victim has been mourned and the killer has served time for the crime, Ah Hock's motive remains unclear, even to himself. His vivid confession unfurls over extensive interviews with the journalist, herself a local whose life has taken a very different course. The process forces both the speaker and his listener to reckon with systems of power, race, and class in a place where success is promised to all yet delivered only to its lucky heirs.

An uncompromising portrait of an outsider navigating a society in transition, Tash Aw's anti-nostalgic tale, We, the Survivors, holds its tension to the very end. In the wake of loss and destruction, hope is among the survivors.
Praise For We, the Survivors: A Novel…
"[Aw's] Asia is neither sentimental nor a stereotype . . . Aw is a precise stylist; with a few, lean images, he evokes a country on the cusp of change: a sofa still sheathed in plastic to protect it from everyday life, the rusting tin for Danish butter cookies now holding a man's life savings, the small-time crook with three rings on each hand and cash held together with a rubber band."
—Hannah Beech, The New York Times Book Review

"Ah Hock is an excellent protagonist, among the best I've encountered in years. He's lovable and empathy-stirring, and his mix of remorse, acceptance, and hope is profoundly moving. Reading him is a pleasure, as is reading Aw's prose. Aw is a beautiful writer who— this is rare— excels at switching beauty off, or dimming it almost to nothing."
—Lily Meyer, NPR

"Aw masterfully conveys his protagonist's specificity while also weaving together a larger picture of the class divisions, racial biases, unjust working conditions, and gender roles that pulse under the surface . . . A raw depiction of one man's troubled life and the web of social forces that worked to shape it." —Kirkus Reviews (Starred Review)

"Aw's captivating novel revolves around a fateful moment of violence set against the backdrop of an ever-changing Malaysia. In an almost stream-of-consciousness work, readers become the proverbial fly on the wall . . . Aw's potent work entraps readers in the slow, fateful descent of its main character, witnessing his life spiral to its inevitable conclusion." —Publishers Weekly (Starred Review)

"[From his] devastating opening line . . . Aw (Five Star Billionaire, 2013) savagely erases any doubt that only the fittest survive in the ruthless world of global capitalism." —Booklist (Starred Review)

"[Aw's] achievement is to make a global story personal . . . [We, the Survivors] can't easily be pushed out of mind." —Anthony Cummins, The Guardian

"Aw skillfully tempts the reader through the book by describing the killing in a fragmented way: the desire to know what happened keeps you engaged." —Sunday Times (UK)

"Brilliantly executed . . . For all the injustice, inequality and unhappiness that We, the Survivors portrays, there is a strange tranquility as it reaches its thorny climax, as if accepting the toxins of modern society is the first step to neutralizing them" —Hilary A. White, Irish Independent

"The ironically-titled We, the Survivors is the story of billions of human beings today—but not one reader. This is the tale of poor people—refugees, day laborers—whose lives are ruled by cruel circumstance and extreme poverty, whose struggles end in defeat, who are not meant to survive. What would be abstract in a report is here given burning, lacerated flesh. In the twenty-first century it is our Everyman, alas."
—Edmund White, author of The Unpunished Vice

"Tash Aw's new novel succeeds in achieving many feats: it is at once the great novel on today's racism that we have been waiting for; a masterly fresco of Southeast Asia, a region of the world that remains underrepresented in literature; and a magnificent story . . . We, The Survivors is one of the most beautiful and powerful books I've read in years." —Édouard Louis, author of History of Violence

"Utterly absorbing to the last word . . . With deep empathy combined with a sharp, unflinching gaze. As with his other books, we end up loving the characters we might otherwise hate, and arguing with those we might have a natural affinity for. [Aw] manages to turn our assumptions inside out, all while creating a world that would, without him, remain out of reach and invisible."—Tahmima Anam, author of A Golden Age
Farrar, Straus and Giroux, 9780374287245, 336pp.
Publication Date: September 3, 2019
About the Author
Tash Aw was born in Taipei and brought up in Malaysia. He is the author of The Harmony Silk Factory, which was the winner of the Whitbread First Novel Award and the Commonwealth Writers' Prize for Best First Novel and was long-listed for the Man Booker Prize; Map of the Invisible World; and Five Star Billionaire, also longlisted for the Man Booker Prize in 2013. He is also the author of a memoir of an immigrant family, The Face: Strangers on a Pier, a finalist for the LA Times Book Prize.