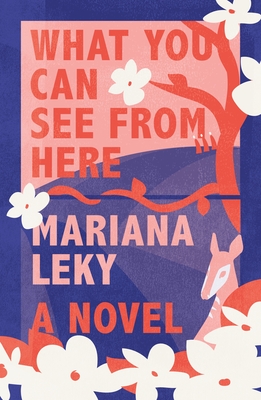 What You Can See from Here
A Novel
Hardcover

* Individual store prices may vary.
Other Editions of This Title:
Paperback (6/21/2022)
Description
"I loved this novel truly, madly, deeply." —Nina George, bestselling author of The Book of Dreams and The Little Paris Bookshop

In this international bestseller by the award-winning novelist Mariana Leky, a heartwarming story unfolds about a small town, a grandmother whose dreams foretell a coming death, and the young woman forever changed by these losses and her loving, endearingly oddball community

On a beautiful spring day, a small village wakes up to an omen: Selma has dreamed of an okapi. Someone is about to die.

Luisa, Selma's ten-year-old granddaughter, looks on as the predictable characters of her small world begin acting strangely. Though they claim not to be superstitious, each of her neighbors newly grapples with buried secrets and deferred decisions that have become urgent in the face of death.

Luisa's mother struggles to decide whether to end her marriage. An old family friend, known only as the optician, tries to find the courage to tell Selma he loves her. Only sad Marlies remains unchanged, still moping around her house and cooking terrible food. But when the prophesied death finally comes, the circumstances fall outside anyone's expectations. The loss forever changes Luisa and shapes her for years to come, as she encounters life's great questions alongside her devoted friends, young and old.

A story about the absurdity of life and death, a bittersweet portrait of small towns and the wider world that beckons beyond, this charmer of a novel is also a thoughtful meditation on the way loss and love shape not just a person but a community. Mariana Leky's What You Can See from Here is a moving tale of grief, first love, reluctant love, late love, and finding one's place in the world, even if that place is right where you started.
Praise For What You Can See from Here: A Novel…
A New York Times Book Review Editors' Choice
A World Literature Today Notable Translation of 2021

"Charming . . . In her optimism and her playfulness, Leky aligns herself with other folklore enthusiasts like Helen Oyeyemi and Ali Smith . . . There is a satisfying spark to her short, declarative sentences; they induce reflection, and maybe even learning."
—Katherine Hill, The New York Times Book Review

"A phenomenon . . . A warm and curious book . . . its drama sprinkled with matter-of-fact magic . . . [It] uncovers sorrow, humor and companionship, a clear-eyed tonic in troubled times."
—James Smart, The Guardian

"Leky's international bestseller—beautifully translated by Tess Lewis—is witty, generous and optimistic. Leky's vision of the world might sound whimsical but there's something bigger, more bittersweet at play here."
—Ben East, The Observer

"[What You Can See from Here] is both funny and intensely moving . . . Leky's novel is about the small phrases, moments, and memories that stick with us throughout our lives, and about finding despair, joy, and love in the smallest moments."
—Leah Rachel von Essen, BookRiot, A Must-Read Book of Summer 2021

"It's impossible to escape [Mariana Leky's] spell . . . Infectious . . . generous and funny . . . We leave [her] world knowing that every ordinary day holds the potential for something wonderful."
—Kirkus Reviews

"The charm of Mariana Leky's novel shines . . . Life and death, love and loss are portrayed with affectionate absurdity . . . [This] bittersweet tale comes into its own, unassumingly captured in this sly, understated translation."
—Steven Carroll and Cameron Woodhead, The Sydney Morning Herald

"A tale of life, loss, and the limitless joy of love. Above all else, this book manages to achieve that rarest of literary feats: it makes you happy . . . A gift to be savored."
—Han Clark, Lunate

"[A] whimsical love story . . . peopled by eccentric-but-endearing characters . . . There is enough candor and humor, along with a handful of bracingly moody characters, to make Leky's vision of perpetual love compelling."
—Melissa Rodman, The Arts Fuse

"Populated by quirky characters who learn there is no way to truly prepare for death or grief, Leky's novel is for those who enjoy laconic, introspective reads."
—Booklist

"I loved this novel truly, madly, deeply. It has been a real darling of a book in Germany for readers across generations. I am jealous of all the new readers who will have the chance to discover Mariana Leky's exciting new voice and the joy of meeting the fabulous ensemble she has conjured in What You Can See from Here."
—Nina George, bestselling author of The Book of Dreams and The Little Paris Bookshop

"As in life, What You Can See from Here reveals its significant players and their startling joys and losses, in patient, unexpected ways. The cumulative effect of this wise storytelling is colossal. A profound and beautiful novel."
—Marie-Helene Bertino, author of Parakeet

"Effervescent, tender, and realistically absurd—an utterly charming depiction of life, death, love, and the people who help us through it all. What You Can See from Here is exactly the kind of novel I am ever hoping to discover."
—Juliet Grames, author of The Seven or Eight Deaths of Stella Fortuna

"A small treasure. This is no ordinary novel. . . [with] highly poetic yet unpretentious language. . . and affectionately depicted, peculiar characters. The final chapter did, in fact, bring tears to my eyes. I strongly recommend this novel to anyone interested in literature."
—Benedict Wells, author of The End of Loneliness

"On finishing What You Can See from Here, I was bereft. I dare you to try to read this book slowly. Central to the story is the idea of how much of the world to let into our lives, how much each of us can actually manage. Well, I implore you to let this book into your life. It's a wonder you won't forget."
—Jessica Francis Kane, author of Rules for Visiting
Farrar, Straus and Giroux, 9780374288822, 336pp.
Publication Date: June 22, 2021
About the Author
Mariana Leky was born in Cologne and currently makes her home in Berlin. After training as a bookseller, she studied cultural journalism at the University of Hildesheim.Though she is one of the very few members of her family who are not psychologists, she still writes a monthly column for the magazine Psychologie Heute. Her books have earned numerous prizes, including the Allegra Prize, the Lower Saxony Literary Advancement Award, and the Advancement Prize for Young Artists from the State of North Rhine-Westphalia. Before being published in twenty-one languages, What You Can See from Here was named the German Booksellers' Favorite Book of the Year and became a runaway bestseller.

Tess Lewis is a writer and translator from the French and German. Her translations include works by Peter Handke, Walter Benjamin, Klaus Merz, Hans Magnus Enzensberger, Christine Angot, Pascal Bruckner, and Jean-Luc Benoziglio.