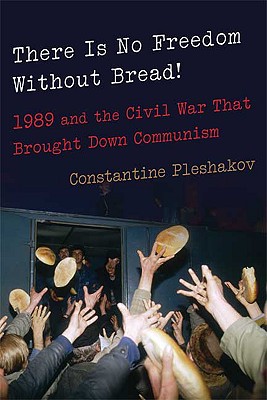 There Is No Freedom Without Bread! (Hardcover)
1989 and the Civil War That Brought Down Communism
Farrar, Straus and Giroux, 9780374289027, 304pp.
Publication Date: October 27, 2009
Other Editions of This Title:
Paperback (9/28/2010)
* Individual store prices may vary.
Description
The conventional story of the end of the cold war focuses on the geopolitical power struggle between the United States and the USSR: Ronald Reagan waged an aggressive campaign against communism, outspent the USSR, and forced Mikhail Gorbachev to "tear down this wall."

In There Is No Freedom Without Bread!, a daring revisionist account of that seminal year, the Russian-born historian Constantine Pleshakov proposes a very different interpretation. The revolutions that took place during this momentous year were infinitely more complex than the archetypal image of the "good" masses overthrowing the "bad" puppet regimes of the Soviet empire. Politicking, tensions between Moscow and local communist governments, compromise between the revolutionary leaders and the communist old-timers, and the will and anger of the people—all had a profound influence in shaping the revolutions as multifaceted movements that brought about one of the greatest transformations in history.

In a dramatic narrative culminating in a close examination of the whirlwind year, Pleshakov challenges the received wisdom and argues that 1989 was as much about national civil wars and internal struggles for power as it was about the Eastern Europeans throwing off the yoke of Moscow.

Praise For There Is No Freedom Without Bread!: 1989 and the Civil War That Brought Down Communism…
Praise for There Is No Freedom Without Bread


"Clear and beautifully lyrical . . . Of all the books that mark this anniversary, [There Is No Freedom Without Bread] is one that must be read. Pleshakov writes history with a human face." —Gerard DeGroot, The Washington Post

"A savvier, richer take than the usual hymns to national liberation." —Publishers Weekly

"Pleshakov embeds original perspectives into a lively narrative . . . The human factor comes out in this readable rendition of the end of communism." —Gilbert Taylor, Booklist
or
Not Currently Available for Direct Purchase