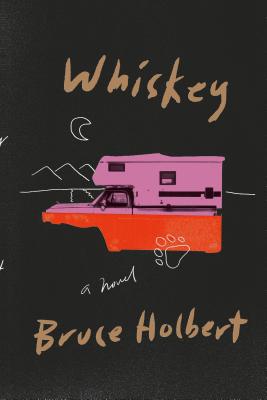 Whiskey
A Novel
Hardcover

* Individual store prices may vary.
Other Editions of This Title:
Digital Audiobook (4/2/2018)
Paperback (3/12/2019)
Description
Whiskey burns pleasantly as it goes down, but has a lasting, powerful effect.
Brothers Andre and Smoker were raised in a cauldron of their parents' failed marriage and appetite for destruction, and find themselves in the same straits as adults—navigating not only their own marriages, but also their parents' frequent collision with the law and one another. The family lives in Electric City, Washington, just a few miles south of the Colville Indian Reservation. Fiercely loyal and just plain fierce, they're bound by a series of darkly comedic and hauntingly violent events: domestic trouble; religious fanaticism; benders punctuated with pauses to dry out that never stick.
When a religious zealot takes off with Smoker's daughter, there's no question that his brother—who continues doggedly to try and put his life in order—will join him in an attempt to return her. Maybe the venture will break them both beyond repair or maybe it will redeem them. Or perhaps both.
Whiskey is the story of two brothers, their parents, and three wrecked marriages, a searching book about family life at its most distressed—about kinship, failure, enough liquor to get through it all, and ultimately a dark and hard-earned grace. With the gruff humor of Cormac McCarthy and a dash of the madcap irony of Charles Portis, and a strong, authentic literary voice all his own, Bruce Holbert traverses the harsh landscape of America's northwestern border and finds a family unlike any you've met before.
Praise For Whiskey: A Novel…
"The manic energy and memorable characters in Whiskey aren't far off from those created by Joseph Heller and Ken Kesey in those classics." —The Inlander
"[A]s cool as a Western and as fundamental as the Bible. Reminiscent of stories by Cormac McCarthy or Annie Proulx . . . Whiskey punches you in the gut, a blow that lands right at your core." —BookPage
"Holbert's prose crosses the coal-black comedy of Charles Portis with hallucinogenic Denis Johnson, a slapstick of grim manners above a howling abyss that is always audible." —Willamette Week
"Holbert returns with a violent, gruesome, and beautiful tale that . . . is perversely winning . . . The violence in this rangy, brilliant narrative is often grotesque, but this excess is tempered by dry humor, wonderful dialogue, and dark wisdom." —Publishers Weekly (starred review)
"[An] impressive novel . . . Like Cormac McCarthy, another bard of the modern West's brutality, Holbert finds beauty and cruelty in the land, in the tease and punch of eloquently elliptical dialogue, and in the way humans struggle for love, self-knowledge, and a grip on life . . . He writes terse prose whittled to essentials and grained with vernacular . . . His characters may well brand a reader's memory. A gut-punch of a bleak family saga that satisfies on many levels." —Kirkus Reviews (starred review)
"[A] bleak yet emotionally authentic chronicle . . . Resplendent descriptions and quick-witted dialogue serve as necessary counterpoint to visceral depictions of violence." —Bill Kelly, Booklist
MCD, 9780374289188, 272pp.
Publication Date: March 13, 2018
About the Author
Bruce Holbert is a graduate of the University of Iowa Writers' Workshop. His work has appeared in The Iowa Review, Hotel Amerika, Other Voices, The Antioch Review, Crab Creek Review, and The New York Times. He grew up on the Columbia River and in the shadow of the Grand Coulee. His great-grandfather was an Indian scout and among the first settlers of the Grand Coulee. Holbert is the author of The Hour of Lead, Winner of the Washington State Book Award and Lonesome Animals.