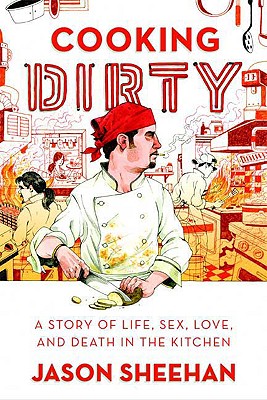 Cooking Dirty (Hardcover)
A Story of Life, Sex, Love and Death in the Kitchen
Farrar, Straus and Giroux, 9780374289218, 368pp.
Publication Date: June 23, 2009
Other Editions of This Title:
Paperback (7/6/2010)
Paperback (2/1/2011)
* Individual store prices may vary.
Description
THE GRIT AND GLORY OF RESTAURANT LIFE, AS TOLD BY A SURVIVOR OF KITCHENS ACROSS AMERICA
Cooking Dirty is a rollicking account of life "on the line" in the restaurants, far from culinary school, cable TV, and the Michelin Guide—where most of us eat out most of the time. It takes the kitchen memoir to a rough and reckless place.

From his first job scraping trays at a pizzeria at age fifteen, Jason Sheehan worked on the line at all kinds of restaurants: a French colonial and an all-night diner, a crab shack just off the interstate and a fusion restaurant in a former hair salon. Restaurant work, as he describes it in exuberant, sparkling prose, is a way of life in which "your whole universe becomes a small, hot steel box filled with knives and meat and fire." The kitchen crew is a fraternity with its own rites: cigarettes in the walk-in freezer, sex in the basement, the wartime urgency of the dinner rush. Cooking is a series of personal challenges, from the first perfectly done mussel to the satisfaction of surgically sliced foie gras. And the kitchen itself, as he tells it, is a place in which life's mysteries are thawed, sliced, broiled, barbecued, and fried—a place where people from the margins find their community and their calling.

With this deeply affecting book, Sheehan (already acclaimed for his reviews) joins the first class of American food writers at a time when books about food have never been better or more popular.
Praise For Cooking Dirty: A Story of Life, Sex, Love and Death in the Kitchen…
"The best of [the new chef memoirs] by a mile . . . by a former chef of no particular distinction named Jason Sheehan, now an extraordinarily good food writer . . . Cooking Dirty is his account of a career spent largely at what he calls 'the low end of the culinary world': late-night shifts at diners, bars and neighborhood joints. Some of it is pure drudgery—like prepping a 'literal ton of corned-beef briskets' at an Irish pub the week before St. Patrick's Day—but when the orders start pouring in, the pace and chaos and heat in even a low-end kitchen somehow fuse into a kind of mass lunatic joy. 'I am God of the box,' he writes, 'the brain-damaged Lord Commander of a kingdom of fifty feet by five and made entirely of stainless steel, industrial tile, knives, sweat and fire.'" --Time
"If chefs are the new rock stars, Jason Sheehan is like a grunge guitarist of the old school. Sheehan cut his teeth in Buffalo and Tampa in the full-contact arena of line prep. The cooking venues were dingy; his hair long and stringy; and his path from the deep fryer to foodie journalist, as described in this hilarious memoir, featured more smoke breaks than your average AA meeting." —John Freeman, NPR.org
"'Cooking Dirty,' a broad, prickly, affecting memoir chronicling his recollections of his first 30-odd years . . . Young and ambitious and in full voice, Sheehan no doubt has many adventures ahead to gather for his next memoir (or three). I'd expect them." —Tucker Shaw, Denver Post
"
Kitchen Confidential
meets gonzo journalism in this memoir of life as a cook.'If you're looking for some four-star confessional, for the cooking secrets of master chefs or some effervescent, champagne-and-twinkle-lights twaddle about bright knives, foie gras and sweaty loe among the white jackets, go find another book,' Sheehan advises readers at the beginning. Far from the behind-the-scenes tell-alls of peons in the country's finest dining establishments, the author offers a gritty, sludge-filled account of his decade in a succession of restaurants. From humble beginnings scraping pizza crust off pans in the local pizzeria as a teenager, to a stint bartending at a Chinese joint that secretly doubled as a swinger's club, to his eventual rise to fame as a James Beard Award-winning food critic, Sheehan recounts the ungarnished truth of millions of restaurant workers--severed digits, delirious nights on the line and easy access to sex, drugs and gourmet food products. Crisp dialogue, vivid descriptions and the urgent pace of the text create the air of a soldier's tale of a long-ago war . . . [an] intriguing account of life behind the kitchen doors."
—
Kirkus Reviews
"It was bound to happen. After the publication of Kitchen Confidential and Anthony Bourdain's meteoric rise from self-described journeyman chef/heroin addict to bestselling author and traveling TV host, it comes as no surprise that a new generation would be inspired to write about following Bourdain's often-dissipated career path. Jason Sheehan is one of those guys. In Cooking Dirty, Sheehan chronicles his alcohol-soaked and drug-fueled journey from dishwasher in a Rochester, N.Y., pizza joint to jobs as line cook, bartender, 'wheel man,' and sous chef at a succession of diners, Waffle Houses, Chinese restaurants, grocery store delis, and other midlevel eateries to his current career as a restaurant critic for Denver alternative weekly Westword . . . [Sheehan] knows how to weave a good story while still being brutally honest about himself—'a blue-collar, rust belt diner kid, a beans-and-weenies, steak-and-potatoes simpleton' at the beginning of his cooking career. The two best laughs I had involved Sheehan's description of surreptitious purchases of Gourmet magazine as a high school kid and his one failed attempt to 'translate the language of baking into cook-ese' ('like trying to teach long division to a hamster')."
—Virginia B. Wood, The Austin Chronicle
or
Not Currently Available for Direct Purchase