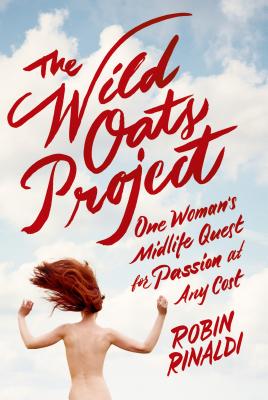 The Wild Oats Project
One Woman's Midlife Quest for Passion at Any Cost
Hardcover

* Individual store prices may vary.
Other Editions of This Title:
Digital Audiobook (3/16/2015)
Paperback (4/5/2016)
Description
What if for just one year you let desire call the shots?
The project was simple: Robin Rinaldi, a successful magazine journalist, would move into a San Francisco apartment, join a dating site, and get laid. Never mind that she already owned a beautiful flat a few blocks away, that she was forty-four, or that she was married to a man she'd been in love with for eighteen years. What followed-a year of abandon, heartbreak, and unexpected revelation-is the topic of this riveting memoir, The Wild Oats Project.
Monogamous and sexually cautious her entire adult life, Rinaldi never planned on an open marriage-her priority as she approached midlife was to start a family. But when her husband insisted on a vasectomy, something snapped. If I'm not going to have children, she told herself, then I'm going to have lovers. During the week, she would live alone, seduce men (and women), attend erotic workshops, and have wall-banging sex. On the weekends, she would go home and be a wife. Her marriage provided safety and love, but she also needed passion, and she was willing to go outside her marriage to find it.
At a time when the bestseller lists are topped by books about eroticism and the shifting roles of women, this brave, brutally honest memoir explores how our sexuality defines us, how it relates to maternal longing, and how we must walk the line between loving others and staying true to ourselves. Like the most searing memoirs, The Wild Oats Project challenges our sensibilities, yielding truths that we all can recognize but that few would dare write down.
Praise For The Wild Oats Project: One Woman's Midlife Quest for Passion at Any Cost…
"Rinaldi yields insights through her willingness to reveal the messy way she muddles through the year... Unlike other recent memoirs in which a woman, finding her life wanting, learns what frightens her and emerges with a stronger sense of self, this one, to its credit, doesn't go for the Hallmark-card ending." —Elle
"Brutally honest and real . . . Refreshing" —The Daily Beast
"A sexual-awakening romp wrapped in a female-empowerment narrative" —The Washington Post
"If you want to read something about somebody who might be a lot like you, somebody who's brave enough to admit that she doesn't always (or even usually) know what she's doing but she does it anyway, somebody who won't preach at you or make you feel like you have it even less together than you do--then you can't NOT read this book." —Sara Nelson, Omnivoracious
"A stunning report . . . Readers will be provoked and fascinated by Rinaldi's forthright memoir of daredevil sexual exploration and self-liberation." —Booklist
"Rinaldi does not hide the dark side to this odyssey . . . her ability to grasp its soul-driving necessity without insisting on winning over her readers renders this a notable work of self-knowledge." —Publishers Weekly
"A sensitive, intimate and bold story." —Kirkus
"Robin Rinaldi's horizontal adventures will make you howl with laughter and cry with recognition--whatever the state of your romantic or sex life. And you'll stay up all night reading to learn how it all turns out. Her bravery and introspection are inspiring to anyone who has taken a moment to wonder: Is there more to life than this?" —Amy Sohn, author of The Actress and Prospect Park West
"Her daring project and avid search for passion is a true page-turner. For anyone who's wondered 'what if' or 'should I?'" —Library Journal
"The Wild Oats Project uniquely chronicles an intelligent woman's exhilarating pilgrimage into the rest of her life, living as she damn well pleases. And why not? Men have been doing so since the beginning of time. Rinaldi's memoir is groundbreaking, sexy, and a joy to read." —Suzanne Finnamore, author of Split: A Memoir of Divorce
"Robin Rinaldi's The Wild Oats Project is a daring and enlightening exploration of sexual identity, marriage, and the search for an authentic self. Rinaldi takes the reader on an enthralling journey, one that will not soon be forgotten. The Wild Oats Project is a rich and essential read." —Laura van den Berg, author of The Isle of Youth
"I loved this brave and inspiring book. Rinaldi rejects middle-aged quiescence in favor of living boldly, sensually, and to the hilt. Would that we all were so brave." —Julia Scheeres, New York Times bestselling author of Jesus Land
"Extraordinarily frank . . . Her book is important because of the way it unashamedly puts the quest for female sexual fulfillment centre stage . . . It is a testament to how far feminism has taken us all that a woman can not only undertake such an adventure but write about it so brazenly. And in a porn-saturated world where, too often, the lens through which we see sex is masculine, her unapologetic account of her search for sexual nirvana is hugely refreshing." —Sunday Times
"[Rinaldi] seduces us with her candor and vulnerability" —Chicago Tribune
Sarah Crichton Books, 9780374290214, 304pp.
Publication Date: March 17, 2015
About the Author
Robin Rinaldi is a journalist and the author of The Wild Oats Project: One Woman's Midlife Quest for Passion at Any Cost. Her bylines appear in The New York Times, Oprah Magazine, Yoga Journal, and elsewhere, and she has been featured on Dr. Oz, The Meredith Vieira Show, Dr. Drew, and BBC Radio.
or
Not Currently Available for Direct Purchase