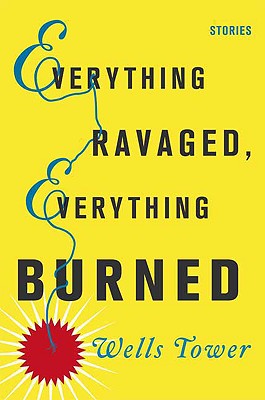 Everything Ravaged, Everything Burned
Stories
Hardcover

* Individual store prices may vary.
Other Editions of This Title:
Paperback (2/2/2010)
Description
Viking marauders descend on a much-plundered island, hoping some mayhem will shake off the winter blahs. A man is booted out of his home after his wife discovers that the print of a bare foot on the inside of his windshield doesn't match her own. Teenage cousins, drugged by summer, meet with a reckoning in the woods. A boy runs off to the carnival after his stepfather bites him in a brawl.

In the stories of Wells Tower, families fall apart and messily try to reassemble themselves. His version of America is touched with the seamy splendor of the dropout, the misfit: failed inventors, boozy dreamers, hapless fathers, wayward sons. Combining electric prose with savage wit, Everything Ravaged, Everything Burned is a major debut, announcing a voice we have not heard before.
Praise For Everything Ravaged, Everything Burned: Stories…
"Remarkable . . . [Tower's] syntax, though always easy to follow, is supple enough to wrap itself around several shades of meaning in the same sentence. His understanding of previously under-recognized feelings . . . is rich in detail and passionate in utterance. And his familiarity with the whole ghastly world of malls and 'cute' commercial culture is serious, even plangent, certainly not merely satirical. Every one of the stories in Everything Ravaged, Everything Burned is polished and distinctive. Though he's intrigued by the painful experiences of men much older than he is, Tower can write with equal power about young women and boys; about hell-­raising, skull-bashing ancient Vikings and an observant housebound old man of the 21st century, even about a cheerful, insouciant pedophile. His range is wide and his language impeccable, never strained or fussy. His grasp of human psychology is fresh and un-Freudianizing . . . Tower's dialogue is as crisp and contemporary and offbeat as Lorrie Moore's and his vision of Ameri­ca as despairing as Joy Williams's (to cite just two of our greatest short story writers)." —Edmund White, The New York Times Book Review

"In Wells Tower's sad-funny-disturbing stories, the world is a precarious place, where the innocent have bad dreams, and even the not-so-innocent worry about 'the things the world will do to them' and their loved ones . . . This arresting debut collection of stories decisively establishes Mr. Tower—a magazine journalist who has also won two Pushcart Prizes—as a writer of uncommon talent, a writer with Sam Shepard's radar for the violent, surreal convolutions of American society; Frederick Barthelme's keen ear for contemporary slang; and David Foster Wallace's eye for the often hilarious absurdities of contemporary life . . . As 'Everything Ravaged, Everything Burned' demonstrates, Mr. Tower has an instinctive gift for creating characters with finely calibrated interior lives and an almost Dickensian physical immediacy. His writing can be darkly hilarious and grotesque and yet simultaneously attuned to his people's sense of loss and bewilderment and frustration . . . We eagerly devour these tales not for their story lines but for Mr. Tower's masterly conjuring of his people's daily existence, his understanding of their emotional dilemmas, his controlled but dazzling language and his effortless ability to turn snapshots of misfits and malcontents into a panoramic cavalcade of American life." —Michiko Kakutani, The New York Times

"[An] incredible talent . . . It sometimes feels as if there's nothing Tower can't render in arresting fashion . . . Tower's prose is a welcome reminder that the first job of the fiction writer is to introduce the reader to worlds both new and familiar in ways they wouldn't have arrived at on their own . . . Tower writes with spellbinding virtuosity . . . One suspects we'll be hearing his name—which invokes prose that is both soaring and deep—for a long time to come." —Jim Ruland, Los Angeles Times Book Review

"Consistently artful and funny and empathetic . . . Tower, who grew up in North Carolina, has been seeding these stories patiently across magazines and literary journals over the last ten years or so, quietly building a reputation as a painstaking stylist devoted to the near-impossible art of highly polished colloquialism. Reading his work piecemeal as it emerged, what stood out most was the lovely warmth of his voice. His sentences are strenuously musical, full of careful detail and surprising metaphors . . . He has a special talent for channeling the idiosyncrasies of lower-middle-class speech, and his plots often weave around bright little bursts of incidental dialogue . . . It also feels like something slightly new in the canon of maleness—a little glade or clearing, where the air is slightly different." —Sam Anderson, New York

"We need books like Everything Ravaged, Everything Burned . . . What [Tower's] portraits lack in grandeur, they compensate for in their accuracy . . . [The characters] live the way we Americans do." —Benjamin Alsup, Esquire

"Everything Ravaged, Everything Burned . . . is a triumph of a debut—not just believably generous, but revelatory in its rendering of all the different kinds of hurt that a human being can sustain in the course of a life." —Leon Neyfakh, The New York Observer

"In his debut collection, Tower writes about raggedy men, neglected boys, and quarrelsome Vikings who are down on their luck (if they ever had any). But the stories are very funny, and surprising, and possess a rugged beauty." —Vendela Vida, Vanity Fair

"Wells Tower is a ferociously talented writer, author of one of the most powerful and entertaining books you're likely to come across this year . . . Tower's families and hapless men are bent and broken in a multitude of surprising and delightful ways." —Justin Taylor, Paste
"Bittersweet, beautiful, and ardently conflicted . . . As evidenced by the emotional punch packed into such brief tales—nine stories in about 250 pages—Tower is almost incapable of overloading a sentence with an unnecessary word. His style is perfectly suited to short fiction: 'Down Through the Valley,' in less than twenty pages, is jammed with more pathos than a four-hundred-page potboiler." —Kevin Canfield, Bookforum

"The stories in Everything Ravaged, Everything Burned are the most arresting I've read in some time. Tower is adept at capturing the many ways men can be unhappy, lonely, stymied or adrift, and his language has the virtuoso inventiveness of Barry Hannah, that magic-trick quality that can make a description of an overcast sky feel new and strange . . . His characters come across like aliens, possessing the kind of maverick weirdness that marks them as real people rather than types . . . He's also got a knack for pacing and a hell of a sense of humor. I so enjoyed 'The Brown Coast,' the collection's first story, I read it twice before proceeding through the rest of the book." —Taylor Antrim, The Daily Beast

"I had fun reading these stories. I laughed out loud eight times during the first one . . . and had a silly smile on my face throughout most of them." —Charles E. May, Milwaukee Journal Sentinel

"[An] outstanding debut collection . . . The strange and magnificent title story, in which Vikings set off again toward an oft-raided island, beautifully ties the collection together in its heartbreaking final paragraph. Tower's uncommon mastery of tone and wide-ranging sympathy creates a fine tension between wry humor and the primal rage that seethes just below the surface of each of his characters." —Publishers Weekly (starred review and Pick of the Week)

"The title barely hints at the scorched-earth, take-no-prisoners power of the stories." —Kirkus Reviews (starred review)

"Tower's debut story collection confirms what readers of Harper's, McSweeney's, The Paris Review, and other major publications have known for some time: Tower is a serious talent . . . Tower's voice is honest and strange, humorous and insightful."—Kevin Clouther, Booklist

"Outstanding . . . Tower has crafted a powerful and assured debut collection." —Lawrence Rungren, Library Journal

"Sharply funny, obliquely devastating." —Grady McFerrin, Best Life

"Wells Tower's stories are written, thrillingly, in authentic American vernacular—violent, funny, bleak, and beautiful. You need to read them, now." —Michael Chabon, author of The Yiddish Policemen's Union and The Amazing Adventures of Kavalier & Clay

"These are lurid, ingenious, beautiful, delicate, and very funny stories. Full of pity and terror, they are also great fun to read. Wells Tower has written a brilliant book." —Benjamin Kunkel, author of Indecision

"Wells Tower is a blindingly brilliant writer who does more than raise the bar for debut fiction: he hurls it into space. With the oversized heart of George Saunders, the demon tongue of Barry Hannah, and his very own conjuring tools that cannot here be named, Tower writes stories of aching beauty that are as crushingly funny and sad as any on the planet." —Ben Marcus, author of Notable American Women and The Age of Wire and String
Farrar, Straus and Giroux, 9780374292195, 256pp.
Publication Date: March 17, 2009
About the Author
Wells Tower's short stories and journalism have appeared in "The New Yorker," "Harper's Magazine," "McSweeney's," "The Paris Review," "The Anchor Book of New American Short Stories," "The""Washington Post Magazine," and elsewhere. He received two Pushcart Prizes and the Plimpton Prize from "The Paris Review." He divides his time between Chapel Hill, North Carolina and Brooklyn, New York.
Book Videos
or
Not Currently Available for Direct Purchase