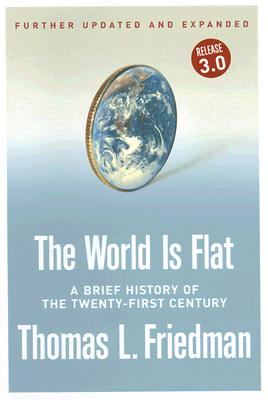 The World Is Flat [Further Updated and Expanded; Release 3.0]
A Brief History of the Twenty-first Century
Hardcover

* Individual store prices may vary.
Other Editions of This Title:
Hardcover (4/18/2006)
Paperback (7/1/2007)
Compact Disc (4/21/2005)
Hardcover (4/5/2005)
Audio Cassette (4/21/2005)
Description
The World Is Flat is Thomas L. Friedman's account of the great changes taking place in our time, as lightning-swift advances in technology and communications put people all over the globe in touch as never before--creating an explosion of wealth in India and China, and challenging the rest of us to run even faster just to stay in place. This updated and expanded edition features more than a hundred pages of fresh reporting and commentary, drawn from Friedman's travels around the world and across the American heartland--from anyplace where the flattening of the world is being felt.
In The World Is Flat, Friedman at once shows "how and why globalization has now shifted into warp drive" (Robert Wright, Slate) and brilliantly demystifies the new flat world for readers, allowing them to make sense of the often bewildering scene unfolding before their eyes. With his inimitable ability to translate complex foreign policy and economic issues, he explains how the flattening of the world happened at the dawn of the twenty-first century; what it means to countries, companies, communities, and individuals; how governments and societies can, and must, adapt; and why terrorists want to stand in the way. More than ever, The World Is Flat is an essential update on globalization, its successes and discontents, powerfully illuminated by one of our most respected journalists.
Farrar, Straus and Giroux, 9780374292782, 672pp.
Publication Date: August 7, 2007
About the Author
Thomas L. Friedman is an internationally renowned author, reporter, and columnist--the recipient of three Pulitzer Prizes and the author of five bestselling books, among them "From Beirut to Jerusalem" and "The World Is Flat." He was born in Minneapolis in 1953, and grew up in the middle-class Minneapolis suburb of St. Louis Park. He graduated from Brandeis University in 1975 with a degree in Mediterranean studies, attended St. Antony's College, Oxford, on a Marshall Scholarship, and received an M.Phil. degree in modern Middle East studies from Oxford. After three years with United Press International, he joined "The New York Times," where he has worked ever since as a reporter, correspondent, bureau chief, and columnist. At the "Times," he has won three Pulitzer Prizes: in 1983 for international reporting (from Lebanon), in 1988 for international reporting (from Israel), and in 2002 for his columns after the September 11th attacks. Friedman's first book, "From Beirut to Jerusalem," won the National Book Award in 1989. His second book, "The Lexus and the Olive Tree: Understanding Globalization" (1999), won the Overseas Press Club Award for best book on foreign policy in 2000. In 2002 FSG published a collection of his Pulitzer Prize-winning columns, along with a diary he kept after 9/11, as "Longitudes and Attitudes: Exploring the World After September 11." His fourth book, "The World Is Flat: A Brief History of the Twenty-first Century" (2005) became a #1 "New York Times" bestseller and received the inaugural Financial Times/Goldman Sachs Business Book of the Year Award in November 2005. A revised and expanded edition was published in hardcover in 2006 and in 2007. "The World Is Flat" has sold more than 4 million copies in thirty-seven languages. In 2008 he brought out "Hot, Flat, and Crowded," which was published in a revised edition a year later. His sixth book, "That Used to Be Us: How American Fell Behind in the World We Invented and How We Can Come Back," co-written with Michael Mandelbaum, will be published in September 2011. Thomas L. Friedman lives in Bethesda, Maryland, with his family.
or
Not Currently Available for Direct Purchase