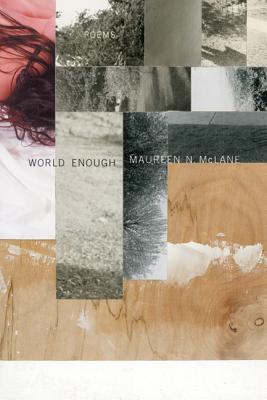 World Enough
Poems
Hardcover

* Individual store prices may vary.
Other Editions of This Title:
Paperback (5/24/2011)
Description
In World Enough, Maureen N. McLane maps a universe of feeling and thought via skyscapes, city strolls, lunar vistas, and passages through environments given and built. These poems explore how we come to know ourselves—sensually, intellectually, politically, biologically, historically, and anthropologically. Moving from the most delicate address to the broadest salutation, World Enough takes us from New England to New York to France to the moon. McLane fuses song and critique, giving us poetry as "musical thought," in Carlyle's phrase. Shuttling between idyll and disaster, between old forms and open experiment, these are restless, probing, exacting poems that aim to take the measure of—and to give a measure for—where we are. McLane moves through many forms and creates her own, invoking the French Revolution alongside convolutions of the heart and revolutions of the moon. Shifting effortlessly between the species and the self, between the sentient surround and the peculiar pulse within, World Enough attests to experience both singular and shared: "not that I was alive / but that we were."
Praise For World Enough: Poems…
"Poet Maureen McLane writes exquisitely without being precious ('The sea's in the dolphin, the sun's/ in the rose. The stars in my lungs/ are breathing"). In one quick turn she'll capture a scene ('Saint-Sulpice/ in sun!/ the coats thrown off the fanfare blasts its horns') or a mood ('Amazing the world/ isn't enshrouded/ in general mourning/ unless that's what we call/ the sky'), and she tells us stories without slipping into mere story ('The woman in the closely cut pink coat/ redeeming pink/ for us all: a wish to have a drink/ at the café/ deferred'). She's often offhandedly witty ('Time to admit/ That misanthropy/ Has a logic to it'), but this wise, light tone never turns snarky, and her deeply grounded observations of moment, place, and relationship can be suddenly arrested by a still, hard thought ('how anyone thought music/ meaningless/ or universal how anyone thought/ thought alone would have everything to do with it'). And do these poems flow. In short, McLane is one of those rare poets whose work is as absorbing as Friday night's escapist fiction yet informed by a high level of craft. So it's fortunate that her second collection, World Enough, follows so quickly after Same Life (2008). Even more than her debut, this second work is marked by a sense of clarity-hardly surprising from a sharp-eyed critic who serves as an associate professor of English at New York University and a contributing editor at Boston Review and in 2003 was honored by the National Book Critics Circle with the Nona Balakian Citation for Excellence in Reviewing. From scene to scene, from Paris to Central Park, from teen comedy ("Fuckwind") to a beautifully referenced Child Ballad ("Haunt," right), McLane gives us 'testimony weaving its own/ shimmering cloth.'" —Barbara Hoffert
"McLane is a professor of English at NYU, a prolific book critic and specialist in British romanticism. Her academic proclivities are readily apparent in her second collection: 'what is called thinking/ is obsessing' she writes, echoing and answering the German philosopher Martin Heidegger. This book has the overall feel of a poetic diary, with meditations on the changing seasons, travel, politics, love affairs, and the mind itself, as McLane (Same Life) ventures to understand, via various methods, what it means to live in a particular epoch: 'The question/ is the ratio of the palpable hurt/ to the general session/ of life in an era.' There, and elsewhere, McLane crosses the streams of academic and accessibly passionate language, creating a kind of emotional, autobiographical criticism in hip free verse: 'rain rain and the trees/ engulfed I am tired/ of reading Russians their suffering/ souls their tribulations.' McLane, armed with a sharp wit, engages in an ambitious poetic project, as she confronts the very meaning of 'the shadowed hours' of time past, present, and future." —Publisher's Weekly (June) (starred review)
"Same Life: Poems is such a tour de force that it's hard to believe it's Maureen N. McLane's first collection. She's an established critic and professor of literature, which explains the confidence that permeates her poems. It takes a combination of hubris and humility to write variations on Sappho, and McLane has both in "After Sappho," a series of poems that is equal parts translation, adulation and transformation … Her range is aptly demonstrated: a lanky free-verse question-and-answer ("Catechism"), spread out across a page in a liberated invocation of William Carlos Williams; a less self-conscious than self-provoking use of rhyme in "After Guston"; genocide as a subject in "Report"; and cultural critique in "Letter From Paris." But McLane's got a razor-sharp and snarky sense of humor, too, and a deft hand at love poems. A case in point (from "Core Samples"):
I was afflicted and afflicted you.
Be careful what you wish for
you warned. I was not careful
nor in the end thank god were you.
These are contemporary, urban poems, but they are also fully imbued with the classical poetic tradition." —Sacramento News and Review on Same Life
"Like Proust, to whom she alludes, the poet makes art of life by remembering the sort of child who later finds herself embroiled in love and love of speech ... I never felt put at a distance by her technique, only drawn closer to her obsession with this particular experience of being swept up in love. Love takes over McLane's experience. . . This erudite, witty poet has been consumed absolutely by the merely human, lost her head to heart like most manically mystical devotees ... Where the mystics could walk through this world to another one, McLane obsesses over this life, these bodies. Occasionally, this attention affects a Hopkins-like transformation of the everyday into the devotional--the whorl of an ear "becomes a night bell," and birds' songs become the speech of saints--but more often desire, like mania, amplifies to distortion even her most basic experiences. Like a religious zealot, McLane inspires first envy and then horror in her reader ... One little "Envoi" then to my reader: do not read this book if you do not want to feel anything. Whether you've had one love or many or none, you will identify with some part of this experience. If you are a poet, you will identify with the impossibility and necessity of putting it on the page." —The Kenyon Review on Same Life
Farrar, Straus and Giroux, 9780374292959, 144pp.
Publication Date: June 8, 2010
About the Author
Maureen N. McLane's essays have appeared in numerous publications. She is the author of Same Life (FSG, 2008), World Enough (FSG, 2010), My Poets (FSG, 2012) and This Blue (FSG, 2014). She received the 2003 National Book Critics Circle Nona Balakian Award for Excellence in Book Reviewing. She teaches at New York University
or
Not Currently Available for Direct Purchase