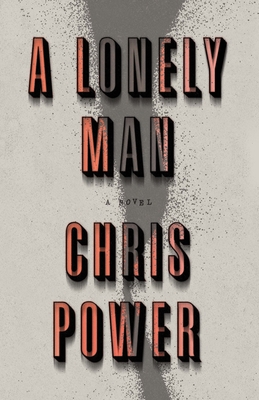 A Lonely Man
A Novel
Hardcover

* Individual store prices may vary.
Description
The author of Mothers delivers an existential mystery that explores the uncertain intersection between fiction and reality, and the disastrous consequences of a chance encounter.

Two British men meet by chance in Berlin. Robert is trying and failing to finish his next book while balancing his responsibilities as a husband and father. Patrick, a recent arrival in the city, is secretive about his past, but eventually reveals that he has been ghostwriting the autobiography of a Russian oligarch. The oligarch has turned up dead, and Patrick claims to be a hunted man himself.

Although Robert doubts the truth of Patrick's story, it fascinates him, and he thinks it might hold the key to his own foundering novel. Working to gain the other man's trust, Robert draws out the details of Patrick's past while ensnaring himself ever more tightly in what might be either a fantasist's creation or a lethal international plot.

Through an elegant existential game of cat and mouse, Chris Power's A Lonely Man depicts an attempt to create art at the cost of empathy. Robert must decide what is his for the taking—and whether some stories are too dangerous to tell.
Praise For A Lonely Man: A Novel…
Named a best book of the year by Financial Times, The Times Literary Supplement, The Times, and Crime Reads

"Elegant . . . Like the best noir fiction, [A Lonely Man] manages to be both suspenseful and cosmically destabilizing. Nothing and no one are what they first appear to be . . . A Lonely Man is a superb suspense novel, imbued with moral and narrative complexity and an omnipresent low cloud cover of dread." —Maureen Corrigan, The Washington Post

"Mr. Power . . . smoothly blend[s] prosaic day-to-day events with Robert's fictionalized renderings of Patrick's disclosures. But gradually the 'le Carré stuff' Robert saw merely as material presses in from the edges, and . . . consolidates for a killer payoff ending." —Sam Sacks, The Wall Street Journal

"A Lonely Man is an existential literary thriller in which writing itself is the lethal weapon. With the precision of Patricia Highsmith, Chris Power takes us into the world of John le Carré as seen through the autofiction of Rachel Cusk . . . A Lonely Man is his first novel and every sentence is packed with, well, power. Postmodern metafiction with an old-school plot, this is the slickest, smartest and most enjoyable novel I've read in years." —Frances Wilson, Spectator

"Power develops a tense and unsettling narrative, part John le Carré's The Spy Who Came in from the Cold and part Janet Malcolm's 1990 study of the ethics of journalism, The Journalist and the Murderer . . . A Lonely Man is a gripping novel that balances political intrigue with personal danger. It is also a melancholy portrayal of male solitude and community. Power gives us not just one lonely man but many, spread out across Europe and offering one another guarded, intermittent, and ultimately insufficient friendship." —Hannah Rosefield, New Statesman

"A Lonely Man is an uncanny novel in the best sense possible. The mystery comes in readers efforts to untangle the many disorienting layers of narrative, asking themselves whether anything in this compelling world is authentic, and whether that's the right question at all." —Dwyer Murphy, Crime Reads

"The first novel by Chris Power is an exhilarating literary thriller about the nature of fiction itself . . . With a deft and subtle hand, Power structures his novel in such a way as to draw out the kind of tantalizing ambiguity that only precise writing can produce . . . Exploring the shifting borders of fiction and reality, A Lonely Man locates peril in the disputed territory between the two." —Theo Henderson, Shelf Awareness

"Rarely have the ethics and craft of fictionalization made for such compelling, thrilling reading . . . [Power] deftly balances his influences to present a suspenseful yet still thoughtful novel of trust and belief and what we, writers or otherwise, owe to the people we spin our stories around." —Doreen Sheridan, Criminal Element

"[A] gritty and intense thriller set in Berlin, with an all-too-believable premise . . . A tightly knitted, sharply paced espionage/crime novel, A Lonely Man is well worth devouring." —Beth Kanell, Kingdom Books

"An elegant, atmospheric story of shadows and half-truths . . . A Lonely Man soon reveals itself as a taut, subtle, postmodern literary thriller written with an exacting command over its form . . . The final 50 pages are so tense, I found myself both too stressed to go on and too stressed to stop, a total captive to the story." —Johanna Thomas-Corr, The Sunday Times

"Chris Power's elegant first novel is a slyly ensnaring literary thriller written in immaculate prose . . . Power's restraint pays off, making for a subtly immersive read, his sentences rippling like clear water even as the story's murkier undertow pulls you out to sea . . . A Lonely Man is a gripping and deftly controlled novel that proves Power is as good at writing books as he is at writing about them." —Louie Conway, Vanity Fair

"Power's talent lies in the narrative blend of psychological struggle and wider international espionage . . . The interweaving of Patrick's investigations and Robert's writing culminates in a gripping finale, but it's the focus on Robert's ruthlessness that emerges as the more interesting theme. 'When you tell someone a story, you give it to them,' he thinks, but to what extent is it right to butcher the lived experiences of another for commercial gain? And who, by the end, is the lonely man, the ghost, the thief of a story that was never his to tell?" —Zoë Apostolides, Financial Times

"The last third of A Lonely Man is so tense, so full of jeopardy, that it makes many thrillers feel underpowered . . . Elegant, accomplished." —Robbie Millen, The Times (London)

"Well-constructed spy stories about lost and lonely men are a rarity these days . . . John le Carré and Roberto Bolaño are acknowledged, but unobtrusive influences on this slippery, ambiguous thriller . . . An all-too-plausible portrait of the lengths to which both states and individuals will go to seize ownership of a story." —Claire Allfree, The Daily Mail

"Power holds in a state of suspension two distinct narrative modes. There is the Le Carré-esque, Russian spy plot centred on Patrick, involving shady figures stealing computer hard drives and stalking street corners; and there is a looser, elegant literary flâneurism, reminiscent of Ben Lerner . . . This balancing act is expertly handled; both styles are refreshed and made strange by their contact with the other . . . Power unsettlingly resurfaces the theme of false memories, and the narratives we construct for ourselves from the truth." —Lamorna Ash, The Times Literary Supplement

"Chris Power's striking debut novel, A Lonely Man is first-rate . . . bursting with potent, beguiling prose." —Martin Chilton, The Independent

"This is an intricate and elegant story, and cleverly metatextual. A Lonely Man is an exploration of the creative process, and the sacrifices that are made in real life in the pursuit of art." —Sarah Gilmartin, Irish Times

"A classy page-turner . . . Unbearably tense, the intricate narrative delivers electric drama as well as thought-provoking reflections on storytelling ethics." —Anthony Cummins, Mail on Sunday

"Thrilling . . . No detail is superfluous, no incident incidental. This makes reading his elegant plot even more of an adventure, each clue an invitation to second-guess the narrative . . . A vodka shot of a read: down in one and savour the afterburn." —Susie Mesure, i

"Power's understated style abets the tension, creating gaps and unanswered questions that pull the reader along, recalling Hermione Lee's description of Penelope Fitzgerald's prose as 'plain, compact, and subtle' . . . An entertaining literary thriller that traces intrigue from the writer's mind to the latest headlines." —Kirkus (starred review)

"In this beguiling literary thriller about the ethics of storytelling, Power (Mothers) examines the plundering tendencies of oligarchs and writers alike . . . Power maintains an elegant sense of intrigue around the lengths writers will go for a good story." —Publishers Weekly

"A Lonely Man left me unnerved and chilled. To read this book is to encounter a mysterious and shapeshifting stranger. Chris Power writes with masterful dexterity, and this novel reveals his genius for subtle misdirection and pulsing tension. A Lonely Man is a delicate snare of a novel, and by the time you realize that the characters are trapped in a lethal game, you are also trapped and powerless to resist its hold. I was breathless and nervous by the end of it. An alluring and seductive novel." —Brandon Taylor, author of Real Life

"A thrilling, unnerving novel following an international conspiracy and domestic solitude—A Lonely Man is one of those rare books that's as entertaining as it is perceptive, a page-turner with exacting syntax and emotional heft." —Catherine Lacey, author of Pew

"Is it possible to spin a thriller, a real thriller, out of the deep and bitter mysteries at the heart of the creative process? With A Lonely Man, Chris Power shows us that it can be done, and done beautifully. This is a thinking person's novel of suspense—and also one of the most vivid and unsparing accounts of the expatriate writer's life that I've encountered. Mr. Power writes with genuine daring." —John Wray, author of Godsend

"I loved this taut, graceful literary thriller, in which domesticity is as riveting as the threat of criminal entanglement. In A Lonely Man, family life—and love—is the beating heart of the story, creating an absorbing, menacing interplay between home, ambition and (self-) deception." —Megan Hunter, author of The Harpy

"A Lonely Man is a remarkable debut; an accomplished and intricately plotted story that manages to be both thrilling and deeply considered. If you're a fan of existential crises, family dramas, Putin-era paranoias, and Bolaño-style multiplicities, and want to see them woven into one taut novel, you're in the right place. A lonely triumph." —Jon McGregor, author of The Reservoir Tapes

"A Lonely Man manages to set an unlikely premise alongside extraordinary events, while speaking honestly about the overwhelming, mundane things of fatherhood and being a friend and husband. A very deft literary act." —Cynan Jones, author of Stillicide

"A Lonely Man entrances with its ingenious structure, haunting mood of paranoia and intrigue, and games of literature and violence played out in a seductively rendered Berlin. I savored every page." —Rob Doyle, author of Threshold

"A portrait of a man and his dawning, imperfect realization that his connections with others have been facile, even superficial, A Lonely Man is an unsettling portrait of contemporary masculinity. The prose has a lambent, hovering quality and the sinewy, clearness of line of a Simenon roman dur—it's a very English, European novel. Power leaves us with a burden of fear and irresolution, something that is in the best of Le Carré or Ambler." —David Hayden, author of Darker With the Lights On

"Such grand themes as wealth, power, greed and truth itself are explored in an impressively deft and discrete way. Here a bottle of beer or an illicit kiss feel as subtly significant as the death of an oligarch or a mysterious man on the run. A Lonely Man is a tense and taut work that's utterly European, and all the better for it." —Ben Myers, author of The Offing
Farrar, Straus and Giroux, 9780374298449, 320pp.
Publication Date: May 4, 2021
About the Author
Chris Power is the author of Mothers, which was longlisted for the Rathbones Folio Prize and shortlisted for the Edge Hill Short Story Prize. He lives in London.