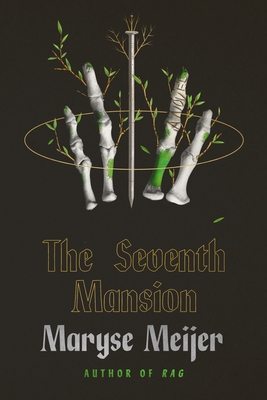 The Seventh Mansion
A Novel
Paperback

* Individual store prices may vary.
Other Editions of This Title:
MP3 CD (10/6/2020)
Compact Disc (10/6/2020)
Description
Nominated for the 2020 Stoker Award for Superior Achievement in a First Novel. One of The Millions's Most Anticipated Books of the Second-Half of 2020, one of Library Journal's 35 Standout Summer/Fall 2020 Debut Novels, and one of Shondaland's 11 New Books That Will Change How You Think About the Climate Crisis

From the author of the story collections Heartbreaker and Rag comes a powerful and propulsive debut novel that examines activism, love, and purpose

When fifteen-year-old Xie moves from California to a rural Southern town to live with his father he makes just two friends, Jo and Leni, both budding environmental and animal activists. One night, the three friends decide to free captive mink from a local farm. But when Xie is the only one caught his small world gets smaller: Kicked out of high school, he becomes increasingly connected with nature, spending his time in the birch woods behind his house, attending extremist activist meetings, and serving as a custodian for what others ignore, abuse, and discard.

Exploring the woods alone one night, Xie discovers the relic of a Catholic saint—the martyred Pancratius—in a nearby church. Regal and dressed in ornate armor, the skeleton captivates him. After weeks of visits, Xie steals the skeleton, hides it in his attic bedroom, and develops a complex and passionate relationship with the bones and spirit of the saint, whom he calls P. As Xie's relationship deepens with P., so too does his relationship with the woods—private property that will soon be overrun with loggers. As Xie enacts a plan to save his beloved woods, he must also find a way to balance his conflicting—and increasingly extreme—ideals of purity, sacrifice, and responsibility in order to live in this world.

Maryse Meijer's The Seventh Mansion is a deeply moving and profoundly original debut novel—both an urgent literary call to arms and an unforgettable coming-of-age story about finding love and selfhood in the face of mass extinction and environmental destruction.
Praise For The Seventh Mansion: A Novel…
"One of the most bizarre, brilliant books I've read this year . . . We often talk about brave, unique fiction, but explaining what it looks like is tough. The Seventh Mansion makes this task easier: unique, bold fiction looks like this." --Gabino Iglesias, Vol. 1 Brooklyn

"This twisty and complicated debut novel from short story writer Meijer is the perfect climate-related fall fiction read . . . This book is slim but packed with complex characters and questions, including what it means to live on a changing planet." --Sarah Neilson, Shondaland

"[A] strange, inventive first novel . . . Meijer spins a contemporary fable of lust, devotion, and transgression that will challenge readers to examine all the ways they move through the world. A sensitive, nuanced meditation on radical politics, queerness, and the responsibility of care." --Kirkus

"Meijer's sharp, enjoyable debut novel is a bildungsroman that develops the themes of loneliness, sexuality, nature, and violence . . . This affecting investigation of ethics in a natural world struggling for survival will appeal to readers of character-driven eco-fiction." --Publishers Weekly

"Reading The Seventh Mansion feels like receiving a divine transmission from a burning bush--I was beguiled by Maryse Meijer's brave and darting sentences and challenged by the questions raised. Can a life be led without doing harm? Or should we forcefully dismantle the machines that act violently on our behalf?" --Catherine Lacey, author of Pew

"With astute empathy and tenderness, The Seventh Mansion brilliantly examines what it means to be human in a diminishing earthly world. Maryse Meijer's exquisite prose captures the beauty and ache of longing, and the desperation to save ourselves and the world around us. In this slim and stunning novel, Meijer beautifully answers the burning human question of what we really need to survive. This is truly the perfect love story." --Crissy Van Meter, author of Creatures

"Maryse Meijer's The Seventh Mansion is one of the best books I've read in years. I feel like I've been waiting all my life for this book, like it was written specifically for me. It does what I treasure most in fiction: it takes the grotesque and makes it gorgeous. It humanizes all of us by humanizing one of us. Meijer makes the unholy holy, turns the grim dark into the blinding light. I don't recall reading a book simultaneously so horrifying and so romantic. This book made me dizzy with writer's envy and did that most wonderful of things: it made me want to try harder, be better. The Seventh Mansion is aflame with passion and I want to burn inside it forever." --Daniel Kraus, coauthor of The Shape of Water, and author of The Death and Life of Zebulon Finch
FSG Originals, 9780374298463, 192pp.
Publication Date: September 8, 2020
About the Author
Maryse Meijer is the author of the story collections Heartbreaker, which was one of Electric Literature's 25 Best Short Story Collections of 2016, and Rag, which was a New York Times Book Review Editors' Pick and a finalist for the Chicago Review of Books Award for Fiction, as well as the novella Northwood. She lives in Chicago.