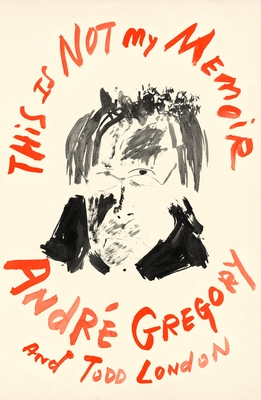 This Is Not My Memoir
Hardcover

* Individual store prices may vary.
Other Editions of This Title:
Paperback (11/16/2021)
Description
The autobiography-of-sorts of André Gregory, an iconic figure in American theater and the star of My Dinner with André

This is Not My Memoir tells the life story of André Gregory, iconic theatre director, writer, and actor. For the first time, Gregory shares memories from a life lived for art, including stories from the making of My Dinner with André. Taking on the dizzying, wondrous nature of a fever dream, This is Not My Memoir includes fantastic and fantastical stories that take the reader from wartime Paris to golden-age Hollywood, from avant-garde theaters to monasteries in India. Along the way we meet Jerzy Grotowski, Helene Weigel, Gregory Peck, Gurumayi Chidvilasananda, Wallace Shawn, and many other larger-than-life personalities.

This is Not My Memoir is a collaboration between Gregory and Todd London who create a portrait of an artist confronting his later years. Here, too, are the reflections of a man who only recently learned how to love. What does it mean to create art in a world that often places little value on the process of creating it? And what does it mean to confront the process of aging when your greatest work of art may well be your own life?
Praise For This Is Not My Memoir…
Praise for This Is Not My Memoir

"Among the revolutionary stage troupes of the 1960s and '70s . . . none was more inventive or exciting than André Gregory's Manhattan Project . . . A candid personal memoir detailing the long career and life experience of the brilliantly accomplished Gregory would certainly be welcome, and this book marvelously fills the bill . . . Gregory is a masterly storyteller and chronicler."
—Phillip Lopate, The New York Times Book Review

"As anyone who has seen the 1981 film classic My Dinner with André knows, avant-garde theater director and actor André Gregory is a wonderful raconteur. His multi-faceted life, full of dramatic ups and downs (and celebrities!), is rich material for memoir."
—Heller McAlpin, NPR.org

"In this perceptive, nonlinear memoir, director Gregory, who wrote and starred in My Dinner with Andre, offers anecdotal reflections on his artistic life . . . Film lovers and theatergoers will delight in Gregory's reminiscences."
—Publishers Weekly (starred review)

"André Gregory is a director, an impresario, a painter, a storyteller, maybe a fabulist, and always an artist. This Is Not My Memoir reveals André's sublime talent, his ability to look, to really see, and ultimately just be. My experiences with André profoundly shaped my growth as an actor; reading this book is a reminder of the urgency of seeking yourself in your life and your art."
—Julianne Moore

"Adventure. Compassion. Hatred. Money. Friendship. Marriage. Theatre. Failure. Beauty. Revelation. Cinema. Success. Death. Creation. And re-creation. This is a remarkable story, of a life so deeply lived."
—Martin Scorsese

"Reading this book was like having André sit by my side and tell me the stories of his life. Heartfelt, honest, insightful and inspiring stories all told by the great story teller himself."
—Jude Law

"André Gregory has lived a life in the theatre filled with wildly uncalculated risks, thrilling successes, dazzling failures (at least as interesting) and endlessly fascinating memories. He is and always has been the boldest hero of our avant-garde."
—Wes Anderson

"André Gregory's art has always rested on a unique mix of avant-garde audacity and aristocratic charm, not to mention anecdotal flair. All of those elements are irresistibly on display in what is not his autobiography."
—Adam Gopnik

"True to the title, André Gregory hasn't written a memoir, but a confession. I never knew brutal honesty could be so romantic and inspiring. It's a testament to a fearless artist and a fascinating man."
—Mikhail Baryshnikov

"[André Gregory is] one of the pioneers of American avant-garde theater. Few artists' lives have been as colorful . . . [This is Not My Memoir is] a witty trip through a unique life in the theater."
—Kirkus Reviews

"André Gregory has made a career of artistic risks: arbitrary, baffling, passionate, and incredibly funny risks. This Is Not My Memoir is a loving scorecard of how those risks played out—and, best of all, when they did not."
—John Mulaney

"[André Gregory] recounts his early life as a spectacular swirl of tragedy and privilege, one that sets the stage for his later, almost comical searches for theatrical inspiration across countless borders of country, class, and culture . . . But this book is more than an account of Gregory's plays, roles, or foibles. Rather, it's an intimate conversation between Gregory and readers (made possible by theater historian London) that asks us to listen to the ideas behind the words and emerge more thoughtful for it."
—Robin Chin Roemer, Library Journal

"As a director, actor, writer, teacher, and painter, Gregory has a lot to say, and he says it with style and no little substance. Readers fascinated by theater, film, and the creative process will want to pull up a chair, pour a glass of wine, and feast on the thoughts of one of the theater's great artists."
—Carolyn Mulac, Booklist
Farrar, Straus and Giroux, 9780374298548, 224pp.
Publication Date: November 17, 2020
About the Author
André Gregory has been directing in New York for more than half a century. He has collaborated on film versions of his theatre productions with Wallace Shawn, Louis Malle, and Jonathan Demme. The now legendary My Dinner with André was created by Gregory, Shawn, and Malle. He is also an actor, writer, teacher, painter, and author of the poetry collection, Bone Songs.

Todd London's books include An Ideal Theater, The Importance of Staying Earnest, and the novel The World's Room. A past winner of the George Jean Nathan Award for Dramatic Criticism, he was the inaugural recipient of the Visionary Leadership Award for contributions to the American Theater.
or
Not Currently Available for Direct Purchase