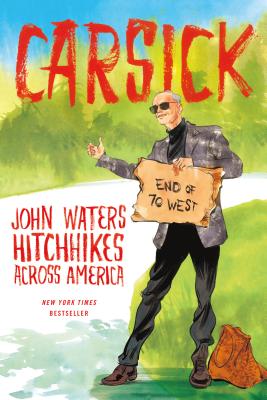 Carsick
John Waters Hitchhikes Across America
Hardcover

* Individual store prices may vary.
Description
Carsick is the New York Times bestselling chronicle of a cross-country hitchhiking journey with America's most beloved weirdo
John Waters is putting his life on the line. Armed with wit, a pencil-thin mustache, and a cardboard sign that reads "I'm Not Psycho," he hitchhikes across America from Baltimore to San Francisco, braving lonely roads and treacherous drivers. But who should we be more worried about, the delicate film director with genteel manners or the unsuspecting travelers transporting the Pope of Trash?
Before he leaves for this bizarre adventure, Waters fantasizes about the best and worst possible scenarios: a friendly drug dealer hands over piles of cash to finance films with no questions asked, a demolition-derby driver makes a filthy sexual request in the middle of a race, a gun-toting drunk terrorizes and holds him hostage, and a Kansas vice squad entraps and throws him in jail. So what really happens when this cult legend sticks out his thumb and faces the open road? His real-life rides include a gentle eighty-one-year-old farmer who is convinced Waters is a hobo, an indie band on tour, and the perverse filmmaker's unexpected hero: a young, sandy-haired Republican in a Corvette.
Laced with subversive humor and warm intelligence, Carsick is an unforgettable vacation with a wickedly funny companion—and a celebration of America's weird, astonishing, and generous citizenry.
Praise For Carsick: John Waters Hitchhikes Across America…
"Fantastical and plush . . . Carsick becomes a portrait not just of America's desolate freeway nodes--though they are brilliantly evoked--but of American fame itself." —Lawrence Osborne, The New York Times Book Review
"In this, the seventh of his books, John Waters--the evil genius of Baltimore, the living, breathing embodiment of camp, the man with the bristling pencil-thin mustache and vocabulary that would make a drill sergeant blush--betrays his deepest and darkest secret. In these pages the apostle of outrage--the actor, writer and director whose contributions to cinematic glory include 'Pink Flamingos,' 'Mondo Trasho,' and 'Hairspray'--reveals himself to be a . . . sentimentalist . . . underlying it all is a highly developed sense of fun, a desire to amuse more than to shock . . . Waters has made a funny engaging and--of course--occasionally outrageous book . . . All in all a cool trip and a delightful book." —Jonathan Yardley, The Washington Post
"Mr. Waters has long been that relative rarity among American film directors. He can write. His memoirish volume Role Models is observant and light on its feet, and his essays and journalism, sure to be collected in their entirety someday, are fond, exotic well groomed, debonair--'natty,' to borrow one of my father's favorite words . . . This writer has proved himself to be good company." —Dwight Garner, The New York Times
"This is all good, dirty subversive fun . . . a good helping of unbridled lewdness is surely to be expected, and no doubt cherished, from the man known as the king of filth and the pope of trash. However, once [Waters] gets on the road and begins his 'real life' adventure, he comes across as a very different, and much more benign and vulnerable, figure. In many ways, he's an innocent . . . He also has to rely on the kindness of strangers, and he finds it everywhere. Quite a few people mistake him for a homeless man and try to give him a handout. Some of this is deeply moving . . . As he says in the book's acknowledgments, 'If I ever hear another elitist jerk use the term flyover people, I'll punch him in the mouth.' I do believe he will." —Geoff Nicholson, San Francisco Chronicle
"*Starred Review* Waters idiosyncratically cuts to the core of American diversity, finding the good (and bad) in any situation with biting wit. The unlikely friendship Waters forms with a young Republican politician is an unexpected twist, and a timely tale of bromance in the midst of hardship. If a dyed-in-the-wool conservative and the pope of Trash can have an adventure in Reno together, aren't all things still possible in this world? But for Waters aficionadoes, the best parts of this enchanting narrative aren't the ones that actually happened. Fans will delight in the two novellas, with Waters at his campiest and most ludicrous, that precede the nonfiction third act . . . Waters devotees take note: this is required reading." —Publishers Weekly
"It's rare to find a book that resembles no other book you've ever read. It's rare to find a book that's both funny and profound. John Waters' Carsick is a doubly rare book." —Michael Cunningham, author of The Snow Queen
"Face it: Wouldn't you rather strike out on the road with John Waters than Jack Kerouac?" —Kirkus Reviews
"*Starred Review* There's nothing cheap--er, ungenerous--about Waters, the Pope of Trash (or Filth, or both). His new book is actually three (clap!), three (clap!), three books in one! All are based on the pitch he sold his publisher about hitchhiking from his home in Baltimore to his home in San Francisco. Oh, he knew it was insane--"I'm sixty-six years old, for chrissake"--and so wrote it up in advance, just in case, once imagining "The Best That Could Happen," then again envisioning "The Worst That Could Happen." Because he is, after all, John "Pink Flamingos" Waters, both fictional trips are rather similar in terms of weirdness and even scabrousness, at least in the eyes of those who aren't J "PF" W . . . Travel--uh, hitchhiking--book of the year?" —Ray Olson, Booklist
"A flavorful book, with the same cheeky sentimentality we experienced in Water's memoir Role Models plus a Divine-sized dose of kitsch. John Waters fans like me will be ecstatic." —Annie Coreno, Publishers Weekly
"John Waters is something of a living stunt, in the best possible way. A hero of both American and Americana, Waters has changed the culture of the country as much as any other living filmmaker--Errol Morris, Wes Anderson, or Paul Verhoeven." —Choire Sicha, Bookforum
Farrar, Straus and Giroux, 9780374298630, 336pp.
Publication Date: June 3, 2014
About the Author
John Waters is an American filmmaker, actor, writer, and visual artist best known for his cult films, including Hairspray, Pink Flamingos, and Cecil B. DeMented. He lives in Baltimore, Maryland.
Coverage from NPR
or
Not Currently Available for Direct Purchase