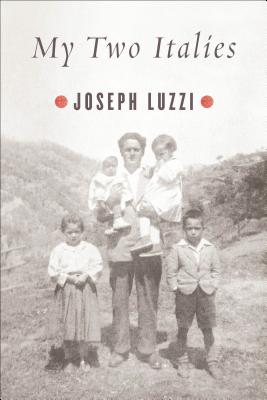 My Two Italies (Hardcover)
Farrar Straus Giroux, 9780374298692, 204pp.
Publication Date: July 15, 2014
* Individual store prices may vary.
or
Not Currently Available for Direct Purchase
Description
A poignant personal account from a child of Calabrian peasants whose lifelong study of Italy unveils the mysteries of this "Bel Paese," "Beautiful Land," where artistic genius and political corruption have gone hand in hand from the time of Michelangelo to "The" "Sopranos"
The child of Italian immigrants and an award-winning scholar of Italian literature, in "My Two Italies" Joseph Luzzi straddles these two perspectives to link his family's dramatic story to Italy's north-south divide, its quest for a unifying language, and its passion for art, food, and family.
From his Calabrian father's time as a military internee in Nazi Germany-where he had a love affair with a local Bavarian woman-to his adventures amid the Renaissance splendor of Florence, Luzzi creates a deeply personal portrait of Italy that leaps past facile cliches about Mafia madness and Tuscan sun therapy. He delves instead into why Italian Americans have such a complicated relationship with the "old country," and how Italy produces some of the world's most astonishing art while suffering from corruption, political fragmentation, and an enfeebled civil society.
With topics ranging from the pervasive force of Dante's poetry to the meteoric rise of Silvio Berlusconi, Luzzi presents the Italians in all their glory and squalor, relating the problems that plague Italy today to the country's ancient roots. He shares how his "two Italies"-the earthy southern Italian world of his immigrant childhood and the refined "northern" Italian realm of his professional life-join and clash in unexpected ways that continue to enchant the many millions who are either connected to Italy by ancestry or bound to it by love.
About the Author
Joseph Luzzi, the first American-born child in his Italian family, holds a doctorate from Yale and is a professor of Italian at Bard. He is the author of Romantic Europe and the Ghost of Italy, which won the Scaglione Prize for Italian Studies from the Modern Language Association, and A Cinema of Poetry: Aesthetics of the Italian Art Film. An active critic, his essays and reviews have appeared in The New York Times, the Los Angeles Times, Bookforum, and The Times Literary Supplement. He is the author of the audio courses In Michelangelo's Shadow: The Mystery of Modern Italy, The Blessed Lens: A History of Italian Film, and The Art of Reading. His honors include an essay award from the Dante Society of America, a teaching prize from Yale, and a fellowship from the National Humanities Center. Luzzi lectures widely on Italy, literature, art, and film.
Praise For My Two Italies…
Praise for My Two Italies:
"
My Two Italies
deals with the enduring disconnect between the ideal Italy that is admired as a center of civilization, and the hardship and hardness of the emigrant experience. Both come vividly alive in Luzzi's heartfelt and illuminating book." —Gay Talese, author of
Unto the Sons
"Joseph Luzzi has written a funny and often moving family history that opens onto wider vistas that he knows and loves equally well—the Italian cultural and political landscape from Dante to Silvio Berlusconi. Full of charm and insight, but admirably frank and unsentimental,
My Two Italies
should be required reading on all flights to Italy." —Ross King, author of
Leonardo and the Last Supper
"This is a delightful, poignant, moving, entertaining but above all illuminating book, which like the best art has many layers—of the Italian-American experience, of Italy's north-south divide, of Italy's strange but fascinating modern history and of the personal journey of its author. I commend it warmly." —Bill Emmott, author of
Good Italy, Bad Italy
"Joseph Luzzi has skillfully woven together a powerful and moving memoir of his Calabrese family and an entertaining, incisive study of an Italy split between north and south, St. Francis and Berlusconi, Botticelli and the Sopranos.
My Two Italies
is sad, funny, and deep—a timely book, packed with searching questions." —Marina Warner, author of
The Lost Father
and
Alone of All Her Sex: The Myth and the Cult of the Virgin Mary
"Luzzi's evocative personal history and incisive cultural critique illuminates the complex forces that have shaped his own identity. Being Italian and American, he comes to realize, has been both a bountiful gift and 'an ethnic cross I had to bear.'" —
Kirkus
Advertisement