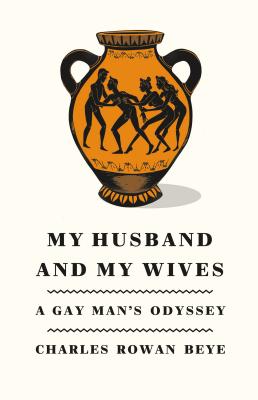 My Husband and My Wives
A Gay Man's Odyssey
Hardcover

* Individual store prices may vary.
Description
My Husband and My Wives: A Gay's Man's Odyssey is the memoir of a man looking back over eight tumultuous decades at the complications of discovering at puberty that he is attracted to other men.
The ordeal of remaining true to what his libido tells him is right, in the midst of a disapproving and sometimes hostile society, is one side of his story. Another is the impulsive decision he made as a young adult to marry a woman who fascinated him. This led him into entirely unanticipated territory. He found himself suddenly a husband, a widower, a groom for a second time, and, finally, the father of four children and grandfather of six, though throughout it all, he never abandoned his erotic involvement with men. Perhaps most extraordinary is the story's happy conclusion: Charles Rowan Beye's wedding four years ago to the man who has been his companion for the last twenty years.
The remarkable journey from pariah to patriarch is told with an eloquence, an honesty, and a sense of humor that are uniquely Beye's own. A personal history that is also a history of evolving social mores, this wonderfully original, challenging, life- and love-affirming account could only have been written by the unconventional man who lived through it all.
Praise For My Husband and My Wives: A Gay Man's Odyssey…
"It's Beye's charming raconteur voice, however, and his refusal to bend anecdotes into the expected 'lessons' that really make this memoir such a knockout. Beye won me over in his introduction when he admitted that, looking back at the long span of his life--he's now over 80--the big question he still asks himself is, 'What was that all about?' . . . Beye's story is a complex, poignant addition to the sexual canon. While he seems to have been blessedly free of the standard sexual guilt growing up, he was also acutely aware of the cost of being different . . . Beye's memoir ends on a joyous note. He and his husband of the title have been married for some four years; together for 20. Bowing to his background in ancient Greek, Beye subtitled his memoir 'A Gay Man's Odyssey,' but he might just as well have availed himself of the affirmative LGBTQ slogan 'It Gets Better.'" —Maureen Corrigan, NPR
"Beye delivers surprising information . . . with a matter-of-factness that puts the complexity of human relationships, not scandal, at the center of the narrative . . . Early in his memoir, Beye tells us that he hopes the reader will finish the book 'with a better understanding of the obstacles and shoals the gay male must navigate just to grow up and assume the responsibilities of adulthood.' In clean, elegant prose, Beye does just that. My Husband and My Wives is an engrossing, moving, and often witty take on one gay man's life." —Ken Harvey, Lambda Literary
"This memoir is moving, thoughtful, and witty--an enormous achievement." —Brenda Maddox, author of Married and Gay: An Intimate Look at a Different Relationship
"Philip Larkin wrote, 'Sexual intercourse began / In nineteen sixty-three.' Not so for the brilliant and charming Charles Rowan Beye. If only Larkin had been in Iowa City in the 1940s! Who knew there was so much action in high school and the heartland in that era? With a deep understanding of the institutions and mores that define us, and with profound self-understanding, Beye shines his light into the complicated, painful, and also beautiful world of a gay man twice married to women." —Jane Hamilton, author of The Book of Ruth
"In this heartfelt, often humorous memoir, retired classics professor Beye tells how a onetime gay teenager ended up marrying two women, fathering four children, and eventually marrying his longtime male partner . . . It's a deftly written personal story that will speak to a range of readers." —Publishers Weekly
"Beye's memoir captures eight decades of a fascinating life, and one that clearly was lived without a rulebook." —Modern Tonic
"With droll wit and the teensiest bit of self-depreciation, author Charles Rowan Beye writes about a time when homosexuality was a subject left on the highest shelf of the deepest closet. Still, despite any former furtiveness, Beye is unrestrained and unafraid to tell tales; in fact, he admits that his graphic remembrances could make readers uncomfortable. He's not far off in that warning, yet this book is such a perfect look into gay life gone by, that you almost can't help but enjoy it. For anyone who craves that step back in time, if just for a peek, My Husband and My Wives is a delightful change of pace." —Terri Schlichenmeyer, The Washington Blade
Farrar, Straus and Giroux, 9780374298715, 272pp.
Publication Date: October 2, 2012
About the Author
Charles Rowan Beye is a retired professor of ancient Greek. Competing sexual and emotional attractions have shaped the drama of his life. Openly gay in his teens, twice married to women, father of four, he is now married to his male partner of the last twenty years. He is the author of My Husband and My Wives: A Gay Man's Odyssey.
or
Not Currently Available for Direct Purchase