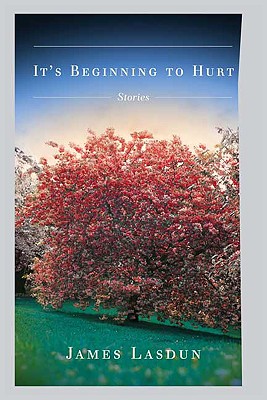 It's Beginning to Hurt
Stories
Hardcover

* Individual store prices may vary.
Other Editions of This Title:
Paperback (8/3/2010)
Paperback (3/1/2010)
Hardcover (4/1/2009)
Description
The stories in this remarkable collection—including "An Anxious Man," winner of the National Short Story Prize (UK)—are vibrant and gripping. James Lasdun's great gift is his unfailing psychological instinct for the vertiginous moments when the essence of a life discloses itself. With forensic skill he exposes his characters' hidden desires and fears, drawing back the folds of their familiar self-delusions, their images of themselves, their habits and routines, to reveal their interior lives with brilliant clarity.
In sharply evoked settings that range from the wilds of Northern Greece to the beaches of
Cape Cod, these intensely dramatic tales chart the metamorphoses of their characters as they fall prey to the full range of human passions. They rise to unexpected heights of decency or stumble into comic or tragic folly. They throw themselves open to lust, longing, and paranoia—always recognizably mirrors of our own conflicted selves.
As James Wood has written, "James Lasdun seems to be one of the secret gardens of English writing . . . When we read him we know what language is for again." This collection of haunting, richly humane pieces is further proof of the powers of an enormously inventive writer.
Praise For It's Beginning to Hurt: Stories…
"Lasdun's novels succeed as efficient entertainments, narrowly focused, linguistically dextrous, coolly presenting their characters' foibles . . . His short stories relinquish none of this gamesmanship, yet they seem to expand where the novels contract . . . Their characters have a complexity and confusion that override the unfolding plot. And the narratives seem opened up to the entire history of ?ction . . . Touching and revelatory . . . Devastating." —Mark Kamine, The Times Literary Supplement
"Reading Lasdun is like reading a sly collaboration between Kafka and Updike: elegant, acutely observed and utterly unflinching . . . This is a collection that examines the most inward mechanisms of rage, fear and desire with astonishing skill and strangely lyric power." —John Burnside, The Times (London)
"Lasdun has a Nabokovian eye. Few exponents of the short form offer such tempting, disturbing pleasures . . . It's Beginning to Hurt is . . . a superlative collection, exhibiting all of Lasdun's familiar talents and a few new ones into the bargain." —Richard T. Kelly, Financial Times
"A gem . . . James Lasdun writes the best sort of English prose." —Colin Greenland, The Guardian
"A story master." —Tim Adams, The Observer (London)
"[Lasdun] create[s] a world of objects and feelings that are rich, recognisable and yet elusive . . . His prose [here] is marked by a ?ne, thoughtful, humane exactness . . . Lasdun uses his dramatic skill to show the most subtle and delicate movements between poles of feeling." —Tom Deveson, The Sunday Times (London)
"[A] marvelous, masterful collection." —Lizzie Skurnick, Los Angeles Times
"Like such masters of dark literature as Edgar Allan Poe and Franz Kafka, Lasdun limns the deep cracks in the soul even as his tales are enlivened by his gift for insight and ear for language. His stories are a fury of elements: skilled dramatic monologues; sketches of fraught emotional states . . . [which] are shot through with crafted verse . . . Masterful." —Susan Comninos, The Miami Herald
"There is much to admire in Lasdun's stories, not least the astonishing beauty and precision of his imagery. In a few perfectly chosen words, Lasdun can distill a character's essence and bring him to life." —David Bezmozgis, author of Natasha
"[This] stellar collection combines a sharp eye for detail, subtle character development and virtuosic command of narrative voice . . . [It's Beginning to Hurt] merits comparison with the understated artistry of William Trevor or Graham Swift." —Kirkus Reviews (starred review)
"As he proved with Seven Lies, Lasdun is an elegant and incisive student of the human mind—an author who can register exactly when, for a character, 'it's beginning to hurt.' This remarkable collection shows what happens when we break through the gauze of everydayness and existential panic hits . . . Affecting, yes; sentimental, no. Hard-edged truths about our predicament poke through this work, which is highly recommended." —Barbara Hoffert, Library Journal (starred review)
"This accomplished poet, novelist, and story writer's collection packs a devastating punch. Lasdun peels back the facades of middle-aged, middle-class types through their run-ins with cancer, infidelity and loss that lead them to deal with unexpectedly large and often ugly recognitions . . . Jewels of resignation and transformative personal disaster, these stories are written so simply and cleanly that the formidable craft looks effortless." —Publishers Weekly (starred review)
"This collection of short stories illuminates the everyday agonies of the mind, its anxieties, obsessions, doubts, and yearnings. Lasdun pins each observation to the page with grace and exactitude." —
The Atlantic
, Top 5 Books of 2009 "James Lasdun proved himself to be a master of the form with the enthralling psychological subtleties of
It's Beginning to Hurt
." —Geoff Dyer,
The Guardian
 "Compulsively readable short story collection that's perfect for summer . . . The most remarkable feat, though, is that Lasdun can pack stories this moving into as little as three pages." —
GQ
blog "More than another look at the mid-life crisis, what emerges from these miniatures of male apprehension is a portrait of the modern man perpetually understudying for a grander, sexier life as he awaits his transcendent moment—one that, if it ever does arrive, is rarely as absolute as he'd like. As nervousness yields to anxiety, and as anxiety gives way to terror, Lasdun's calm orderly prose never falters in tone, steering these stories with a confident, white –knuckled steadiness. To cut this deep, there can't be a single tremor." —Playboy.com "[E]very story is heart-poundingly vivid. Mr. Lasdun's characters live in the here and now—they fret about their stock market losses, they're laid off from their jobs, they feel a lump and know it's cancer. But nothing is simple or direct except Mr. Lasdun's crystalline prose. Much of the action takes place inside their heads, where their hopes, anxieties and terrors contort their sense of ordinary life. Mr. Lasdun instinctively understands human psychology, and it seem as though he can turn anything into a story." —
Wall Street Journal
 "If you listen, you can almost hear it ticking: the time bomb of anxiety, or delayed gratification, or fear, or deflected love, in any one of the artfully told stores in James Lasdun's latest collection,
It's Beginning to Hurt
. . . Intimate, sometimes wryly comforting tales of tenderness and rue." —
O, The Oprah Magazine
 "Lasdun may be the most heralded writer you've never heard of. . . There is something classically enjoyable about Lasdun's stories." —
Time Out Chicago
 "Following his psycho-thriller debut with a collection of stories about extreme anxiety and paranoia, James Lasdun may single-handedly save British short fiction from an untimely demise. . . James Lasdun is a better-known BBC-prize recipient (he got the award in 2006), largely thanks to the critical acclaim won by his unsettling first novel,
The Horned Man
, a psychological thriller about a mild-mannered academic who seems to be losing his mind. His poised and elegant new collection,
It's Beginning to Hurt
, should only add to his reputation—striking a much-needed blow for the health of contemporary British short fiction along the way. . .  Lasdun's stories are ruthlessly focused and machine-like in their efficiency. Many recall Maupassant or O'Henry in the way they conclude with an old-fashioned twist or epiphany. Sometimes this twist feels like the turn of the knife, as in 'Cranley Meadows,' where a younger wife plans to desert her husband, or the two-page title story, a marvel of compressed nastiness . . .
It's Beginning to Hurt
[is] such a spellbinding read—and just what the ailing British short story tradition needs." —Taylor Antrim, The Daily Beast "Meticulously crafted . . . an act of delicate precision and focus. . . The delivery of a revelation, the subtle gesture that shifts the reality of everything that has come before—these are Lasdun's bread and butter, giving his stories their understated luster . . . organic, insightful, empathetic, and wise . . . it's clear that Lasdun is a craftsman with keen radar for moments and gestures that resonate and reflect our humanity with understated clarity. Disguised as a collection of conventional short stories, this book will catch you off guard and lead you down pathways unforeseen."  —The Rumpus "The best stories that anchor this collection are some of the strongest you're likely to read this year." —
The Second Pass
 "James Lasdun's
It's Beginning to Hurt
gets right to the coruscating heart of things." —
The Boston Phoenix
 "Sleek. . . There is something reminiscent of William Trevor in Lasdun's matter-of-fact rendering of the way people are haunted by the choices they make. The cool, dispassionate prose belies an underlying desperation present in Lasdun's characters to do the right thing." —
Time Out New York
Farrar, Straus and Giroux, 9780374299026, 240pp.
Publication Date: July 21, 2009
About the Author
James Lasdun was born in London and now lives in upstate New York. He has published two previous collections of stories, three books of poetry, and two novels, including "The ""Horned Man," which was a "New York Times "Notable Book. His story "The Siege" was the basis for the Bernardo Bertolucci film "Besieged."
or
Not Currently Available for Direct Purchase