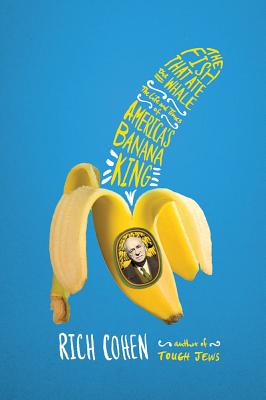 The Fish That Ate the Whale
The Life and Times of America's Banana King
Hardcover

* Individual store prices may vary.
Other Editions of This Title:
Paperback (6/4/2013)
Compact Disc (7/31/2012)
MP3 CD (7/31/2012)
Pre-Recorded Audio Player (9/1/2012)
Description
A legendary tale, both true and astonishing, from the author of Israel is Real and Sweet and Low


When Samuel Zemurray arrived in America in 1891, he was tall, gangly, and penniless. When he died in the grandest house in New Orleans sixty-nine years later, he was among the richest, most powerful men in the world. In between, he worked as a fruit peddler, a banana hauler, a dockside hustler, and a plantation owner. He battled and conquered the United Fruit Company, becoming a symbol of the best and worst of the United States: proof that America is the land of opportunity, but also a classic example of the corporate pirate who treats foreign nations as the backdrop for his adventures. In Latin America, when people shouted "Yankee, go home!" it was men like Zemurray they had in mind.
Rich Cohen's brilliant historical profile The Fish That Ate the Whale unveils Zemurray as a hidden kingmaker and capitalist revolutionary, driven by an indomitable will to succeed. Known as El Amigo, the Gringo, or simply Z, the Banana Man lived one of the great untold stories of the last hundred years. Starting with nothing but a cart of freckled bananas, he built a sprawling empire of banana cowboys, mercenary soldiers, Honduran peasants, CIA agents, and American statesmen. From hustling on the docks of New Orleans to overthrowing Central American governments, from feuding with Huey Long to working with the Dulles brothers, Zemurray emerges as an unforgettable figure, connected to the birth of modern American diplomacy, public relations, business, and war—a monumental life that reads like a parable of the American dream.
Praise For The Fish That Ate the Whale: The Life and Times of America's Banana King…
"This is a rollicking but brilliantly researched book about one of the most fascinating characters of the twentieth century. I grew up in New Orleans enthralled by tales of Sam Zemurray, the banana peddler who built United Fruit. This book recounts, with delightful verve, his military and diplomatic maneuvers in Central America and his colorful life and business practices." —Walter Isaacson, president and CEO of the Aspen Institute and author of Steve Jobs
"Sam 'the Banana Man' Zemurray was a larger-than-life character. Rich Cohen is a superb storyteller. Put them together and you have a startling and often hilarious account of one of the forgotten heroes (and villains) of the American empire." —Zev Chafets
"In Rich Cohen's masterful and enthralling narrative, one man's character is not simply his fate but also that of a nation. With verve, wit, and page-turning excitement, The Fish That Ate the Whale unfolds as compelling story of bold success coupled with reckless ambition. I loved this book." —Howard Blum, author of The Floor of Heaven and American Lightning
"If this book were simply the tale of a charismatic and eccentric banana mogul, that would have been enough for me--especially with the masterful Rich Cohen as narrator. But it's not. It is also the story of capitalism, psychology, immigration, public relations, colonialism, food, O. Henry's shady past, and the meaning of excellence." —A. J. Jacobs, author of The Year of Living Biblically
"What a story, and what a storyteller! You'll never see a banana--and, for that matter, America--the same way again." —Aleksandar Hemon, author of The Lazarus Project
"There's a lot to learn about the seedier side of the 'smile of nature' in this witty tale of the fruit peddler-turned-mogul." —Chloë Schama, Smithsonian
"Cohen ... gives us the fascinating tale of 'Sam the Banana Man,' a poor Russian Jew who emigrated to Alabama as a teenager and ended up controlling much of Central America . . . Rich Cohen books constitute a genre unto themselves: pungent, breezy, vividly written psychodramas about rough-edged, tough-minded Jewish machers who vanquish their rivals, and sometimes change the world in the process. Within this specialized context, Cohen's Zemurray biography admirably fills the bill." —Mark Lewis, The New York Times Book Review
"Cohen's narrative has considerable charm, whether pondering Zemurray's Jewish identity or claiming him as a man 'best understood as a last player in the drama of Manifest Destiny.'" —The New Yorker
"Americans puzzling over the role of today's powerful corporations -- Bain Capital, Goldman Sachs, Google -- may profit from considering the example of the United Fruit Company . . . A new account of United Fruit and one of its leading figures, Samuel Zemurray . . . The Fish That Ate The Whale . . . usefully reminds us of some of the wonderful things about capitalism, and some of the dangers, too . . . The book recounts all the Washington insiders hired by Zemurray as lobbyists, including Tommy "the Cork" Corcoran. A business that lives by Washington is finally at its mercy, as United Fruit learned when the antitrust cops came after it. It's all something to remember the next time you peel a banana." —Ira Stoll, Time
"Cohen's masterful and elegantly written account of Zemurray and the corporation he built is a cautionary tale for the ages: how hubris can destroy even the greatest and most powerful company." —Chris Hartman, The Christian Science Monitor
"[An] engrossing tale of the life of Sam Zemurray . . . With his nimble narrative journalism, Cohen makes a convincing case that the somewhat obscure Sam Zemurray was in fact a major figure in American history. Cohen does so with a prose briskly accented with sights, sounds and smells, and invigorated with offhand wisdom about the human journey through life. What's rarer about Cohen's style is his skill with metaphor. His are apt and concise, but they're also complex . . . There are men of action and there are men of words: The contrast between them is a sort of shadow narrative in The Fish That Ate the Whale . . . At the end of Cohen's story, impetuous doers such as Zemurray not only cede the moral high ground, but also live to witness the terrifying power of the talkers . . . If some level of this book proposes a contest of Cohen vs. Zemurray, then the win goes rather unambiguously to Cohen; to paraphrase Edward Bulwer-Lytton, the pen is mightier than the banana." —Austin Ratner, The Forward
"[A] grippingly readable biography . . . Cohen fleshes out the legend [of Samuel Zemurray] in a 270-page account full of novelistic scene setting and speculative flights--the kind of writing that . . . puts Cohen firmly in the tradition of non-fiction reportage pioneered by Tom Wolfe and Norman Mailer. Based on scores of interviews, four years of archival research and on-the-spot reporting from Central America and New Orleans, the book carries its details easily, sweeping readers on a narrative flood tide that matches the protean energy of Zemurray himself . . . As sketched by Cohen, the big man emerges as a complicated, all-too-human hero, one whose bullish nature sometimes blinded him, but never let him accept defeat." —Chris Waddington, New Orleans Times-Picayune
"Portions of Zemurray's story, after all, are as good an example of the American promise as one could imagine . . . On the other hand, as Cohen acknowledges, Zemurray, especially with regard to his Latin American interests, was 'a pirate, a conquistador who took without asking.' This duality--and Cohen's immensely readable portrait of it--makes for a captivating character." —James McAuley, The Washington Post
"If you are a fan of pulp fiction, of seamy thrillers, of dank and tawdry noirs, of ashcan gutter naturalism, of absurdist caper novels, of whatever-it-takes-to-succeed, rags-to-riches sagas, then put away your books by David Goodis, Jim Thompson, Ross Thomas, George Gissing, Chester Himes, James M. Cain, Sinclair Lewis, Theodore Dreiser, and James Hadley Chase, and instead pick up Rich Cohen's vigorous and gripping The Fish That Ate the Whale: The Life and Times of America's Banana King. This history-embedded, anecdote-rich biography of Sam Zemurray, the bigger-than-life figure behind United Fruit Company at its height of power, is a balls-to-the-wall, panoramic, rocket ride through an acid bath, featuring unbelievable-but-true tales of power-grabbing, ambition, folly, passion, commerce, politics, artistry, and savagery: daydream and nightmare together . . . Cohen gives us this awesome story with a novelist's canny eye for details and pacing--he injects learned disquisitions that are easy to digest whenever necessary--and a fair share of reflection and commentary and psychologizing without undue editorializing or finger-pointing." —Paul Di Filippo, Barnes and Noble Review
"Cohen's biography of 'Banana King' magnate Samuel Zemurray in The Fish That Ate the Whale is really a history of the yellow fruit itself . . . Zemurray exemplified both the best and worst of American capitalism. His saga provides plenty of food for thought next time you grab one off the bunch." —Keith Staskiewicz, Entertainment Weekly
"In The Fish That Ate the Whale Rich Cohen sketches a lively and entertaining portrait of Samuel Zemurray, a banana importer and entrepreneur who rose from immigrant roots to take the helm of the storied United Fruit Co., among other accomplishments . . . Cohen unfurls a rich, colorful history of a man who championed the establishment of the State of Israel by providing arms and ships to the Irgun, the nascent underground army. He gave muscle and capital to Eisenhower's decision to stage Operation PBSuccess, a CIA coup against Jacobo Arbenz's teetering democracy in Guatemala in 1954 . . . Was he a conquistador, pirate, explorer, tycoon, or a man of the people? Cohen's textured history shows that Zemurray played all of these roles, making him the ultimate Zelig-like character of the 20th century." —Judy Bolton-Fasman, The Boston Globe
"Absorbing, nimble and unapologetically affectionate . . . Mr. Cohen is a wonderfully visceral storyteller . . . it's a magnificent, crazy story, engagingly told." —Aaron Gell, New York Observer
"Eminently readable . . . The banana is lovely in its simplicity, but it turns out the man who ruled the banana kingdom for generations was quite the opposite--part conquistador, part pioneering businessman. Zemurray walked the line, and his interlaced legacies make for a fascinating and entertaining tale." —Kevin G. Keane, San Francisco Chronicle
"Lyrical ... This remarkable book . . . is a beautifully written homage to a man whose pioneering life mirrors so much of America's beauty and beastliness. The life of Sam the Banana Man, in Cohen's eloquent hands, is as nourishing and odd as the bendy yellow berry that made him great." —Melissa Katsoulis, The Times (London)
"Documentary veracity counts for less than the dashing energy of Cohen's characterisation, and the moody atmosphere of the landscapes in which he sets this buccaneering life--New Orleans with its malarial damp, the jungle in Panama where an incomplete, unbuildable highway is 'defeated by nature and walks away muttering'. Best of all is his horrified contemplation of the monstrous banana in its native habitat, with its leaves shaped like elephant ears and 'coiled like a roll of dollar bills'. After a tropical downpour you can hear the plants stealthily growing at the rate of an inch an hour as the foliage drips: it is the sound of money being made." —Peter Conrad, The Guardian
"Here's what I'm sure about: You've never thought about reading a book about the banana business and/or Sam Zemurray, the guy perhaps most responsible building it. Here's what I'm also sure about: You absolutely should read The Fish That Ate the Whale: The Life and Times of America's Banana King, by Rich Cohen." —Mark Bazer, WBEZ
"Cohen's piercing portrait is not glossy; it is a gritty, behind-the-scenes look at how Zemurray was able to do what he did. Some of the most moving passages in this fine book are Cohen's own meditations about Zemurray; it feels as if he is always trying to understand what drove him . . . Cohen is a beautifully talented and vibrant writer who seems to effortlessly brings his pages to life. His narrative includes wonderful riffs on the history of bananas and how and where they are grown, the development of the banana trade in Latin America under its various corrupt governments, as well as the state of American politics and business during the early 1900s. Cohen is not an ideologue, and this serves him well as a writer and thinker. He is unafraid to share his gut response with the reader, as well as his uncertainties . . . Cohen's terrifically intuitive biographical portrait of Sam Zemurray allows us to take a very close look." —Elaine Margolin, The Jerusalem Post
"This is a great yarn, the events and personalities leaping off the page." —Alan Moores, The Seattle Times
Farrar, Straus and Giroux, 9780374299279, 288pp.
Publication Date: June 5, 2012
About the Author
New York Times bestselling author Rich Cohen is a contributing editor at Vanity Fair and Rolling Stone and the author of Israel Is Real, Tough Jews and the widely acclaimed memoir Sweet and Low. His work has appeared in The New Yorker, Harper's Magazine and Best American Essays. He lives in Connecticut with his wife, three sons and dog.
or
Not Currently Available for Direct Purchase