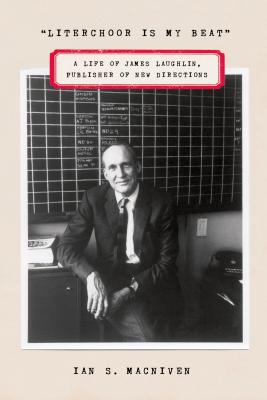 "Literchoor Is My Beat"
A Life of James Laughlin, Publisher of New Directions
Hardcover

* Individual store prices may vary.
Description
A biography—thoughtful and playful—of the man who founded New Directions and transformed American publishing

James Laughlin—poet, publisher, world-class skier—was the man behind some of the most daring, revolutionary works in verse and prose of the twentieth century. As the founder of New Directions, he published Ezra Pound's The Cantos and William Carlos Williams's Paterson; he brought Hermann Hesse and Jorge Luis Borges to an American audience. Throughout his life, this tall, charismatic intellectual, athlete, and entrepreneur preferred to stay hidden. But no longer—in "Literchoor Is My Beat": A Life of James Laughlin, Publisher of New Directions, Ian S. MacNiven has given us a sensitive and revealing portrait of this visionary and the understory of the last century of American letters.
Laughlin—or J, as MacNiven calls him—emerges as an impressive and complex figure: energetic, idealistic, and hardworking, but also plagued by doubts—not about his ability to identify and nurture talent but about his own worth as a writer. Haunted by his father's struggles with bipolar disorder, J threw himself into a flurry of activity, pulling together the first New Directions anthology before he'd graduated from Harvard and purchasing and managing a ski resort in Utah.
MacNiven's portrait is comprehensive and vital, spiced with Ezra Pound's eccentric letters, J's romantic foibles, and anecdotes from a seat-of-your-pants era of publishing now gone by. A story about the struggle to publish only the best, it is itself an example of literary biography at its finest.
Praise For "Literchoor Is My Beat": A Life of James Laughlin, Publisher of New Directions…
"As the storied founder of the publishing house New Directions, James Laughlin caught butterfiles with Vladimir Nabokov, went swimming with Ezra Pound and quarreled with Henry Miller . . . And in the thick of it it all, he published some of the most important books of the twentieth century. In "Literchoor Is My Beat," Ian MacNiven's meticulous and informative biography, the life of this tireless litterateur and athlete resembles nothing so much as a ski trip: a thrilling rush through a rarefied atmosphere." —Abigail Deutsch, The Wall Street Journal

"[An] indispensable major biography of an indispensable figure . . . As the Poundian title of the book suggests, it wouldn't do to write of such a crucial figure in a conventional way. And MacNiven doesn't. He calls him 'J' throughout the book and, in a book piled rather high with excess and eccentricity, you'll still find a chapter that begins 'Even a decade later, J would weep when he read his valedictory poem for Tennessee. 'I loved him—he was my friend.' he said. Not many people saw J let down his guard.' No, this book doesn't replace Laughlin's eccentric The Way it Wasn't but the two books together do something crucial the world desperately needed done" —Jeff Simon, The Buffalo News (Editor's Choice)

"As Ian S. MacNiven . . . ably demonstrates in this impeccable biography, Laughlin was a born publisher, whose work 'shaped English-language modernist poetry.' . . . 'Literchoor Is My Beat' looks at Laughlin's low points, too, such as his failures as a husband and struggles through a number of financial crises. But it's hard to pull focus from the authors he championed: Hermann Hesse, Thomas Merton (his good friend), Allen Ginsberg, Lawrence Ferlinghetti, Gary Snyder, Paul Bowles and Pablo Neruda. It's an amazing story, and MacNiven tells it brilliantly with depth, grace and acuity." —Tom Lavoie, Shelf Awareness

"James Laughlin was one of the heroes of modern publishing and an avatar of the best in small-press Jeffersonianism. "Literchoor Is My Beat," the first life of Laughlin, is written with genuine feeling for the material, with a supple, lucid prose, quite free of the newspeak of academic jargon, and with a scrupulous documentary insistence. And the narrative Ian MacNiven has to work with is remarkable . . . MacNiven's biography is enlivened by reports of Laughlin's encounters with figures vital to 20th-century literature: the arch-elitist Vladimir Nabokov; the sweetly devotional Thomas Merton; the impecunious Dylan Thomas, who complained that his family had no money for food; the irascible and often contentious Kenneth Rexroth, who took him hiking in the High Sierras and reinforced his interest in Asian literature; and the explosive and sometimes delusional Delmore Schwartz, who helped run New Directions for a time." —John Tytell, The American Scholar

"Laughlin, the founder of the publishing imprint New Directions, brought some of the best literature of his era to American audiences--from Ezra Pound to Jorge Luis Borges. But MacNiven shuffles off those immortal names to probe the doubts and complexities of the publisher behind them." —NPR

"Reading MacNiven's book at a time when debates over the nature of publishers and their relationship to writers will find much that resonates. There are echoes of the recently-resolved debate that ranged for a large chunk of this year between Amazon and Hachette, for one thing. (At one point, an angry Henry Miller declares the publisher to be 'the natural enemy of the author.') At the same time, MacNiven's biography also makes the case for New Directions as an iconic publisher, and Laughlin as a particularly idiosyncratic figure. Certain publishers resist easy categorization and help to revise definitions of what's expected from literature (and from the way that it's packaged and sold). And so MacNiven's biography not only makes the case for the importance of Laughlin and the publishing house he created, but also the spirit that moved them both." —Tobias Carroll, Biographile

"[An] absorbing biography." —Steven G. Kellman, The Chronicle of Higher Education

"MacNiven offers a lively and engaging look at Laughlin's life as publisher, poet, and world-class skier, among a pantheon of American literary talent . . . This book is a loving portrait of a man who shaped modern American poetry and literature." —Vanessa Bush, Booklist

"I strongly hope that the simultaneous publication of [Laughlin's] collected poems and of the hugely entertaining biography by MacNiven will not only perpetuate the memory of this extraordinary man and his poetry, but also renew interest in one of the richest periods in American literature." —Charles Simic, The New York Review of Books

"The adventuresome life of a literary maverick . . . MacNiven has drawn upon nearly 1,200 boxes of personal and professional papers at Harvard's Houghton Library, along with sources in other archives, for this sympathetic and thorough chronicle of Laughlin's life and business ventures . . . . MacNiven offers vivid portraits of the irascible Pound, with whom Laughlin had a filial relationship; Laughlin's intimate friend Thomas Merton; and poet Kenneth Rexroth, who often 'played the devil's advocate . . . jabbing ruthlessly wherever he suspected cant, false values, weak art.' . . . Sensitive to Laughlin's strengths and shortcomings, MacNiven offers a comprehensive, prodigiously researched biography of a transformative literary figure." —Kirkus Reviews

"New Directions founder Laughlin (1914-1997) emerges as a perceptive, if distracted, visionary in this meticulously detailed biography. Though he aspired to be a poet, and eventually published verse and fiction, "J" was persuaded by mentor Ezra Pound to channel his creative ambitions into publishing. In 1936, while still an undergrad at Harvard, he rolled out the first New Directions title, the anthology New Directions in Poetry and Prose, and soon became the primary publisher for Pound, William Carlos Williams, Delmore Schwartz, Kenneth Rexroth, and other modernists whose work usually flew below the radar of most trade publishers. Laughlin's patrician heritage, as MacNiven presents it, endowed him with a worldliness that made him receptive to the work of underappreciated literary talents, both here and abroad. MacNiven quotes extensively from Laughlin's vast correspondence with luminaries, capturing their camaraderie and occasional capricious sulks. While working as a publisher, Laughlin was also trying to run a ski lodge in Utah, write, and keep his neglected family together; there is much here to suggest that New Directions succeeded despite, rather than because of, his abundant energies. Laughlin's professional and personal lives were so packed with incident that it's all MacNiven can do to contain the torrents of detail; readers will come away from the book appreciating Laughlin's impact on 20th-century letters." —Publishers Weekly

"Ian S. MacNiven's 'Literchoor Is My Beat': A Life of James Laughlin, Publisher of New Directions presents a lively and revealing portrait of the man, he writes, who 'practiced disappearance' and yet, 'more than any other man of the twentieth century, directed the course of America writing and crested the waves of American passions and preoccupations,' publishing more than 1,500 books by others and writing more than 30 of his own." —Harvard Magazine
Farrar, Straus and Giroux, 9780374299392, 592pp.
Publication Date: November 18, 2014
About the Author
Ian S. MacNiven's authorized biography of Lawrence Durrell was a New York Times Notable Book for 1998. He has edited two collections of Durrell's correspondence (with Richard Aldington and Henry Miller), is the author of numerous articles on literary modernism, and has directed and spoken at conferences on three continents. He is also a past president of the D. H. Lawrence Society of North America and of the International Lawrence Durrell Society. MacNiven resides on the west bank of the Hudson, outside the town of Athens, New York.
or
Not Currently Available for Direct Purchase