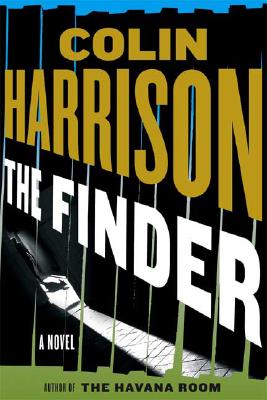 The Finder (Hardcover)
Sarah Crichton Books, 9780374299491, 336pp.
Publication Date: April 1, 2008
Other Editions of This Title:
Digital Audiobook (3/31/2008)
Paperback (5/26/2009)
Compact Disc (4/1/2008)
* Individual store prices may vary.
Description
There's no doubt about it: Colin Harrison is a master storyteller. Critics and readers love his gripping, dark books. It's hard not to get sucked into his world. Entertainment Weekly calls him the "class act of the urban thriller," Michiko Kakutani of The New York Times lauds him as "a master of mood and atmosphere," and Publishers Weekly crows that Harrison writes "like an angel." Now the author of The Havana Room, Afterburn, and Manhattan Nocturne raises the stakes with an electrifying new thriller, The Finder. Harrison spins the story of a young, beautiful, secretive Chinese woman, Jin-Li, who gets involved in a brilliant scheme to steal valuable information from corporations in New York City. When the plan is discovered by powerful New Yorkers who stand to lose enormous sums of money, Jin-Li goes on the run. Meanwhile, her former lover, Ray Grant, a man who was out of the country for years but has recently returned, is caught up in the search for her. Ray has not been forthcoming to Jin-Li about why he left New York or what he was doing overseas, but his training and strengths will be put to the ultimate test against those who are unmerciful in their desire to regain a fortune lost. Ray is going to have to find Jin-Li, and he is going to have to find her fast.
About the Author
Colin Harrison is the author of, most recently, "The Havana Room" (FSG, 2004). He lives in Brooklyn, New York.
Praise For The Finder…
Praise for The Finder:
"Colin Harrison will have you gasping for breath in the eyeball-popping opening chapter of The Finder, his latest New York thriller, one unlikely to be distributed by the Tourism Bureau . . . Once again he's mucking about in the city's greedy underbelly in a pulsating novel that obscenely documents the gritty, ugly intersection of commerce and corruption . . . Harrison (The Havana Room, Afterburn) writes like Rambo on meth and throws in enough black humor to prove he's more brains than brawn." —USA Today
"[Harrison] is an uncommonly astute writer." — The Seattle Times
"In the brutally effective first chapter of The Finder, two Mexican women are locked in their car and asphyxiated with sewage piped through the sunroof. From there, Colin Harrison spins a fast-paced NYC crime novel that incorporates a crabby billionaire financier with prostate problems, a sadistic Italian thug, conniving Chinese businessmen, the Mexican Mafia, a philosophically minded physician, and the titular hero, a former firefighter who just wants to track down his girlfriend, who's gotten caught up in the mess. Start reading this book and prepare to cancel all other plans for the next seven hours or so. A."—Entertainment Weekly
"[An] intelligent New York thriller . . . a complicated tale of the nasty world of today's global capitalism. Here, almost everything, including love, is a lie, a performance, a manipulation designed to keep the big money flowing. In a lying world, hard information is essential, and the men at the top are willing to pay for it, even kill for it . . . Harrison is a wonderful descriptive writer."—New York Times Book Review
"As I plan an upcoming trip to New York, thinking of the show I want to see, the museum I hope to visit, the jazz club I'd like to drop by, I am inhabiting a fantasy world that has nothing at all to do with the profoundly corrupt, endlessly dangerous New York of Colin Harrison's brilliant, deeply cynical new literary thriller. "The Finder" is a panoramic look at the linked lives of perhaps a dozen characters, from billionaire financiers to Mafia thugs, from Mexican teenagers with forged green cards to society matrons who gossip about a "wheelchair gigolo." ("Yes, he only -- you know -- does it with women in wheelchairs.") As a study of a decadent, rapidly declining New York, "The Finder" somewhat recalls Tom Wolfe's 1987 bestseller "The Bonfire of the Vanities," but this is a far darker story and, to my mind, a far more interesting one. Harrison's Big Apple is rotten to the core."—Washington Post,
"Now is definitely the time to thrill to writer Colin Harrison."—New York Daily News,
"Colin Harrison's New York is an-eye-for-an-eye, dog-eat-dog Darwinian world with similar map coordinates to Tom Wolfe's Manhattan and the Los Angeles of Raymond Chandler and James Ellroy. It's a place where glossy corporate offices and glitzy penthouses float upon a nasty, bilge-filled river of power and ambition, where malice and murder and mayhem lurk beneath supposedly civilized exchanges about cool restaurants and expensive shrubbery and hot new investments. It's a place where newly arrived immigrants from China and Mexico cross paths with highflying masters of the universe and mob-connected hooligans, a place where the newly globalized marketplace creates megadeals as well as mistrust, miscommunication and deadly misalliances . . . In "The Finder," as in earlier thrillers like "Manhattan Nocturne" and "The Havana Room," Mr. Harrison combines a Balzacian eye for social detail and a poet's sense of mood with a sleazily sensationalistic plot . . . He succeeds in giving us a chilling, high-speed roller coaster of a ride that doubles as a sardonic sightseeing tour of the seamier side of New York City." — The New York Times
"A cerebral, satisfying, and thoroughly energetic thriller. As one would hope, The Finder never loses momentum, and it offers plenty in the way of fresh dis­illusionment, newfangled greed, and general cynicism for the reader to absorb. With real glee, the Harrison lifts the lid of our shared global economy and plunges us into the dark plumbing underneath." —Bookforum,
"Harrison's (The Havana Room) latest thriller opens with the explosive, rather disgusting murder of two seemingly unimportant Mexican illegals and, from there, pulls readers in on a ride they won't want to end. Harrison manages to connect an assorted group of characters: an ex-fireman almost destroyed by 9/11, a brilliant Chinese woman on the run, a dying police officer working his last case, small-time mafiosi, and an aging multibillionaire who will do whatever it takes to keep his reputation intact . . . Add to the growing list of Harrison thrillers that cannot be put down; highly recommended." — Library Journal (starred review)
"Lawless Chinese capitalists attack lawless American capitalists in a smooth thriller that includes a little sex, the mob and a load of sewage . . . Harrison (The Havana Room, 2004, etc.) keeps it all moving at a breakneck pace . . . Love, lust, money, treachery, death and violence, all in a nice tidy package." —Kirkus Reviews
"Set in New York City, this edgy thriller from Harrison (The Havana Room) showcases his extraordinary storytelling ability. Jin Li has been running a scam on Tom Reilly and his company, Good Pharma, by stealing information under the cover of a paper-shredding operation. She then passes it on to her brother, Chen, who uses it to make stock trades. Under pressure from a ruthless billionaire investor who stands to lose his fortune if Good Pharma fails, Reilly asks a shady underling to deal with the leak, resulting in the horrible murder of two of Li's Mexican employees. Li escapes and goes on the run. Li's former boyfriend, Ray Grant, is caught in the middle, hounded by Chen and the minions of Good Pharma, both of whom believe he knows Li's whereabouts. With the help of his dying father, a former cop, Grant must find Li or face the consequences. The action builds to a deeply satisfying conclusion involving a sadistic kidnapper and a stock market power play across two continents." — Publishers Weekly (starred review)
"Think of Harrison's latest thriller as evidence of the trickle-down effect of crime. In one of the ickiest opening scenes in the genre, two Mexican office cleaners are murdered when men lock them into a car and then pump raw sewage in through the sunroof, literally drowning them in shit. This is actually the second domino to fall in the chain reaction touched off by Jin Li, who uses a document-shredding and office-cleaning operation in New York as a front to funnel corporate secrets to her brother in Shanghai, who in turn uses them to exploit the market to dizzyingly profitable effect. When Jin Li goes missing, the brother immediately extorts her ex-boyfriend, a generally heroic sort, to find her and restore his highly sensitive operation. Harrison throws enough mobsters, crime lords, and insanely wealthy, unscrupulous old bastards to stamp NY all over this package . . . [An] engaging, well-paced saga of money and murder." —Booklist
Praise for books by Colin Harrison:

Havana Room
:
"Harrison's status as the noir poet of New York crime fiction…will surely be enhanced by his latest thriller…Harrison's storytelling hums and his prose shimmers all the way through this fascinating adventure." —
Publishers Weekly
"As sharp and insidery as a Tom Wolfe opus, with the giddyup pacing of an airport-rack paperback." —
Men's Journal
"[Harrison is] the class act of the urban thriller. A." —
Entertainment Weekly
"A consistently entertaining story . . . [Harrison] is a master of mood and atmosphere." — Michiko Kakutani,
The New York Times
"A great read, an elegantly crafted thriller you won't want to put down." — Patrick Anderson,
The Washington PostAfterburn
:
"A practically perfect literary thriller with a bitter lingering "afterburn" indeed. — Kirkus Reviews
"Extraordinary . . . A masterpiece." —
The Washington Post
or
Not Currently Available for Direct Purchase