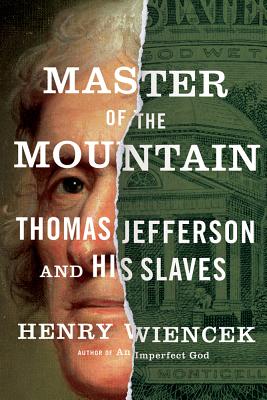 Master of the Mountain
Thomas Jefferson and His Slaves
Hardcover

* Individual store prices may vary.
Other Editions of This Title:
Digital Audiobook (10/15/2012)
CD-Audio (10/16/2012)
Paperback (9/3/2013)
Compact Disc (10/16/2012)
MP3 CD (10/16/2012)
Description
Is there anything new to say about Thomas Jefferson and slavery? The answer is a resounding yes. Master of the Mountain, Henry Wiencek's eloquent, persuasive book based on new information coming from archaeological work at Monticello and on hitherto overlooked or disregarded evidence in Jefferson's papers opens up a huge, poorly understood dimension of Jefferson's world. We must, Wiencek suggests, follow the money.
So far, historians have offered only easy irony or paradox to explain this extraordinary Founding Father who was an emancipationist in his youth and then recoiled from his own inspiring rhetoric and equivocated about slavery; who enjoyed his renown as a revolutionary leader yet kept some of his own children as slaves. But Wiencek's Jefferson is a man of business and public affairs who makes a success of his debt-ridden plantation thanks to what he calls the "silent profits" gained from his slaves and thanks to a skewed moral universe that he and thousands of others readily inhabited. We see Jefferson taking out a slave-equity line of credit with a Dutch bank to finance the building of Monticello and deftly creating smoke screens when visitors are dismayed by his apparent endorsement of a system they thought he'd vowed to overturn. It is not a pretty story. Slave boys are whipped to make them work in the nail factory at Monticello that pays Jefferson's grocery bills. Parents are divided from children in his ledgers they are recast as money while he composes theories that obscure the dynamics of what some of his friends call "a vile commerce."
Many people of Jefferson's time saw a catastrophe coming and tried to stop it, but not Jefferson. The pursuit of happiness had been badly distorted, and an oligarchy was getting very rich. Is this the quintessential American story?
Praise For Master of the Mountain: Thomas Jefferson and His Slaves…
"[A] brilliant examination of the dark side of the man who gave the world the most ringing declarations about human liberty."
—Jonathan Yardley, The Washington Post

"In this deeply provocative and crisply written journey into the dark heart of slavery at Monticello, Henry Wiencek brings into focus a side of Jefferson that Americans have largely failed—or not cared—to see. This book will change forever the way that we think about the author of the Declaration of Independence."
—Fergus M. Bordewich, The Wall Street Journal

"As an engrossing investigation into Jefferson's change of heart and mind, Master of the Mountain is narrative history wrapped around an incendiary device: surely, political pundits and Jeffersonians will be wrestling over Wiencek's explosive interpretations of the historical evidence—some of it newly discovered—for years to come . . . One of the incontestable strengths of Wiencek's book is the way it transports readers deep into the hierarchical world of Jefferson's Monticello."
—Maureen Corrigan, Fresh Air

"[Wiencek's] account of Jefferson's evolving and convoluted position on the subject is all the more damning for his restraint . . . Every American should read it. As depicted by Wiencek, the older Jefferson resembles a modern-day 1-percenter . . . We try to persuade ourselves that the author of some of our most inspiring political works was not a self-serving hypocrite. But given the bountiful evidence offered in Master of the Mountain, it's now impossible to see him any other way."
—Laura Miller, Salon

"Compelling and utterly damning."
—Tina Jordan, Entertainment Weekly

"Wiencek carefully probes the historical record, parsing the enormous body of Jefferson literature. His work is a thoughtful and well-documented contribution, offering a powerful reassessment of our third president."
—Kevin J. Hamilton, The Seattle Times

"[Wiencek] reviews Jefferson's record like a prosecutor, hammering away at the evasions, rationalizations, and lies that have preserved Jefferson's reputation as a profoundly decent man trapped by the conventions of his own times. In Master of the Mountain, Wiencek does not reargue the tawdry details of the Sally Hemings affair. Rather, he invites readers to reflect seriously on one famous man's stunning refusal to provide moral leadership for a nation that desperately needed it."
—T. H. Breen, The American Scholar

"[A] meticulous account . . . Wiencek's vivid, detailed history casts a new slant on a complex man."
—Publishers Weekly (starred review)

"Well-rendered yet deeply unsettling . . . Wiencek scours the primary sources . . . for a thoughtful reexamination of what was really going on behind the harmonious façade of the great house on the mountain . . . Beautifully constructed reflections and careful sifting of Jefferson's thoughts and deeds."
—Kirkus Reviews (starred review)

"Esteemed historian and author Henry Wiencek . . . creates a detailed, poignant analysis from Jefferson's younger years as an emancipationist through his later years as a slave-trade profiteer . . . Master of the Mountain is a well-written, intelligently constructed account that captures years of controversy and debate surrounding one of the most revered founding fathers. Wiencek brilliantly and comprehensively reevaluates the revolutionary-turned-slave-owner's reputation, questioning why America holds Jefferson as a pillar in its moral composition    . . . [Jefferson] is exposed as a beneficiary of America's selective historical memory."
—Anthony Steven Lubetski, Shepherd Express

"Master of the Mountain is a remarkable re-creation of Monticello's economy and culture . . . Whether you agree or not with Wiencek's provocative analysis, it's a book worth taking seriously as we continue to struggle with slavery's legacy."
—Anne Bartlett, BookPage

"Henry Wiencek's Master of the Mountain is the most important challenge to Jefferson on slavery since DNA suggested a link between him and Sally Hemings. Arguably it is even more significant, because it uncovers wider secrets about Monticello than a possible sexual liaison. Not everyone will accept all of Wiencek's arguments, but no one who would understand our history can ignore this pathbreaking exploration of our foundations."
—William W. Freehling, author of The Road to Disunion and The Founding Fathers and Slavery

"Master of the Mountain is bound to cause a firestorm. It completely upends our view of Jefferson and his attitudes on freedom, slavery, and wealth. It's a tough-minded book by a master craftsman, completely convincing and a joy to read."
—Richard Ben Cramer, author of What It Takes: The Way to the White House

"Master of the Mountain is wonderful! Eloquent and carefully researched, this invaluable book takes us behind the curtain of Jefferson's familiar public words and shows us Jefferson the Virginia planter, committed to slavery because he was utterly dependent on it for all his wealth, status, and power. Henry Wiencek's insights help to debunk the whole myth of the 'humane masters.'"
—Bruce Levine, author of The Fall of the House of Dixie: The Civil War and the Social Revolution That Transformed the South
Farrar Straus Giroux, 9780374299569, 352pp.
Publication Date: October 16, 2012
About the Author
Henry Wiencek, a nationally prominent historian and writer, is the author of several books, including The Hairstons: An American Family in Black and White, which won a National Book Critics Circle Award in 1999, and An Imperfect God: George Washington, His Slaves, and the Creation of America (FSG, 2003). He lives with his wife and son in Charlottesville, Virginia.
or
Not Currently Available for Direct Purchase