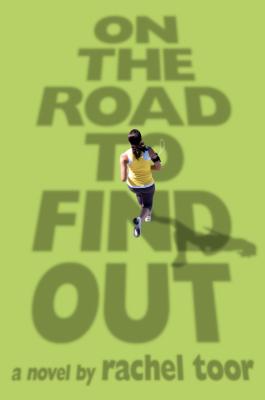 On the Road to Find Out
A Novel
Hardcover

* Individual store prices may vary.
Other Editions of This Title:
Paperback (6/7/2016)
Description
On New Year's Day, Alice Davis goes for a run. Her first ever. It's painful and embarrassing, but so was getting denied by the only college she cares about. Alice knows she has to stop sitting around and complaining to her best friend, Jenni, and her pet rat, Walter, about what a loser she is. But what she doesn't know is that by taking those first steps out the door, she is setting off down a road filled with new challenges—including vicious side stitches, chafing in unmentionable places, and race-paced first love—and strengthening herself to endure when the going suddenly gets tougher than she ever imagined, in On the Road to Find Out by Rachel Toor.
Praise For On the Road to Find Out: A Novel…
"This sweet coming-of-age story is a fun, swift read - not just for runners but for anyone who has had to unwillingly redirect his or her course." —Booklist
"Teens who are feeling the pressure of college applications will relate to this character who finds that she is tougher than she thought she could be." —School Library Journal
"Challenging, upbeat, poignant, funny, and just . . . so cool. I wish I hadn't read this story of running-as-life so I'd still have it to look forward to." —Jacquelyn Mitchard, author of The Deep End of the Ocean
"A smart and beguiling novel about rejection, running, and the way life can recalculate around a roadblock." —Jean Hanff Korelitz, author of Admission
"On the Road to Find Out is entertaining, surprising, and inspiring. I loved spending time inside Alice's bizarre and charming brain. I am definitely not a runner. But reading this book somehow made me feel like, 'I could do that!' which is how I know it is a very convincing work of fiction." —Leila Sales, author of This Song Will Save Your Life
"In a light and gently humorous romance, self-centered Alice learns to run, to cope with disappointment and to consider other people's feelings . . . warm, funny and wise." —Kirkus Reviews
"This is a road worth taking." —Publishers Weekly
"Rachel Toor gets it about running; this is the book I'd like my daughters to read, and I suspect a lot of young people would like their parents to read. Rachel can write like hell--she's got the firepower and understands how the simple act of becoming a runner changes lives for the better." —Bill Rodgers, four-time winner of the Boston and NYC marathons, author of Marathon Man: My 26.2-Mile Journey from Unknown Grad Student to the Top of the Running World
"Rachel Toor has never been afraid of blazing her own trail, and in On the Road to Find Out she does just that. Fresh and imaginative, it hooked me from the first page. Readers of any age, runner or not, are sure to find this book both inspiring and endearing." —Dean Karnazes, endurance athlete and New York Times bestselling author
Farrar, Straus and Giroux (BYR), 9780374300142, 320pp.
Publication Date: June 10, 2014
About the Author
Rachel Toor was an admissions officer at Duke University for three years. She currently writes for The Chronicle of Higher Education and various running magazines.
or
Not Currently Available for Direct Purchase