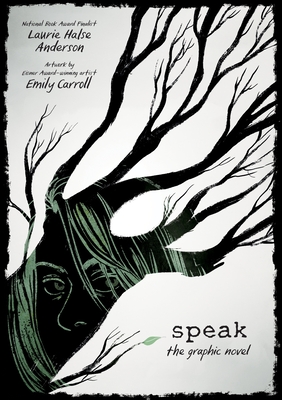 Speak
The Graphic Novel
Hardcover

* Individual store prices may vary.
Description
The critically acclaimed, award-winning, modern classic Speak is now a stunning graphic novel.

"Speak up for yourself—we want to know what you have to say." From the first moment of her freshman year at Merryweather High, Melinda knows this is a big fat lie, part of the nonsense of high school. She is friendless—an outcast—because she busted an end-of-summer party by calling the cops, so now nobody will talk to her, let alone listen to her. Through her work on an art project, she is finally able to face what really happened that night: She was raped by an upperclassman, a guy who still attends Merryweather and is still a threat to her. With powerful illustrations by Emily Carroll, Laurie Halse Anderson's Speak: The Graphic Novel comes alive for new audiences and fans of the classic novel.

This title has Common Core connections.
Praise For Speak: The Graphic Novel…
Praise for SPEAK: THE GRAPHIC NOVEL:

*A School Library Journal Best Book of 2018*
*2018 Booklist Youth Editors' Choice*
*A YALSA Great Graphic Novel Reading List Selection*
*A YALSA Teens' Top Ten List Selection*
*A 2019 Amelia Bloomer Best Feminist Book for Young Readers*
*A 2019 Amelia Bloomer Top Ten Book*
*A Quill & Quire Best Kids' Book of 2018*
*A 2019 Little Maverick Graphic Novel Reading List Selection*
*The EBSCO See-It Award Winner!*
*An ILA Young Adult Reading List Selection*
*A Kids' Comics Award Nominee*
*Eliot Rosewater Indiana High School Book Award Winner*

"Carroll, well-known for her horror comics, does an excellent job of bringing the vignettes of Anderson's novel to the graphic format. With spellbinding artwork, this exceptional adaptation masterfully does justice to its source material while adding new depth and nuance." —Booklist starred review

"This potent retelling of the modern classic Speak blends words and images to create magic: a new representation of a teen whose voice is ripped from her, the battles she must wage to find it again, and the triumph of finally being able to speak out. Carroll's grayscale artwork perfectly depicts the starkness of Melinda's depression through strong ink lines and striking panels that rely on pencil and charcoal textural effects for the backgrounds. The characters are distinct and the action flows naturally; it is amazing how closely this version evokes the style and feeling of the original." —School Library Journal starred review

"Anderson's timeless and important tale of high -school sexual assault and its aftermath undergoes a masterful graphic novel transformation.Carroll's stark black-and-white illustrations are exquisitely rendered, capturing the mood through a perfectly calibrated lens. With the rise of women finding their voices and speaking out about sexual assault in the media, this reworking of the enduring 1999 classic should be on everyone's radar...Powerful, necessary, and essential."—Kirkus starred review

"In this new graphic novel adaptation of Anderson's Speak (rev. 9/99)—a powerful narrative of a freshman's year of self-preservation after a brutal sexual assault—artist Carroll starkly renders protagonist Melinda's pain and healing in black and white, expertly deploying visual perspective and tension to sharpen the emotional impact...Art becomes a means of expression for her, making the graphic novel format especially resonant with the original theme... will give even longtime devotees a new way to experience Melinda's story. —Horn Book starred review

"Strong lines, overlapping panels and clever use of blank space show Carroll's skill in creating Melinda's stifling, near-silent world. Speak: The Graphic Novel is hypnotizing and heart-breaking, with the kind of empowering finish that unshackles protagonist and readers alike." —Shelf Awareness starred review

Praise for the novel SPEAK:

In a stunning first novel, Anderson uses keen observations and vivid imagery to pull readers into the head of an isolated teenager. . . . But the book's overall gritty realism and Melinda's hard-won metamorphosis will leave readers touched and inspired. —Publishers Weekly, Starred Review

An uncannily funny book even as it plumbs the darkness, Speak will hold readers from first word to last. —The Horn Book, Starred Review

The plot is gripping and the characters are powerfully drawn . . . a novel that will be hard for readers to forget. —Kirkus Reviews, Pointer Review

This is a compelling book, with sharp, crisp writing that draws readers in, engulfing them in the story. —School Library Journal

A story told with acute insight, acid wit, and affecting prose. —Library Journal

Melinda's sarcastic wit, honesty, and courage make her a memorable character whose ultimate triumph will inspire and empower readers. —Booklist

-New York Times Bestseller
-Publishers Weekly Bestseller
-Michal L. Printz Honor Book
-National Book Award Finalist
-Edgar Allan Poe Award Finalist
-Los Angeles Times Book Prize Finalist
-ALA Top Ten Best Book for Young Adults
-ALA Quick Pick
-Publishers Weekly Best Book of the Year
-Booklist Top Ten First Novel
-BCCB Blue Ribbon Book
-School Library Journal Best Book of the Year
Farrar, Straus and Giroux (BYR), 9780374300289, 384pp.
Publication Date: February 6, 2018
About the Author
Laurie Halse Anderson is a New York Times-bestselling author whose writing spans young readers, teens, and new adults. Combined, her books have sold more than 8 million copies. She has been nominated three times for the Astrid Lindgren Memorial Award. Two of her books, Speak and Chains, were National Book Award finalists, and Chains was short-listed for the prestigious Carnegie medal. Laurie was selected by the American Library Association for the 2009 Margaret A. Edwards Award and has been honored for her battles for intellectual freedom by the National Coalition Against Censorship and the National Council of Teachers of English.

In addition to combating censorship, Laurie regularly speaks about the need for diversity in publishing. She lives in Philadelphia, where she enjoys cheese steaks while she writes.
Emily Carroll,
an Eisner Award winning illustrator and author of
Through the Woods,
is also the creator of many popular Web comics. She lives in Vancouver, British Columbia.