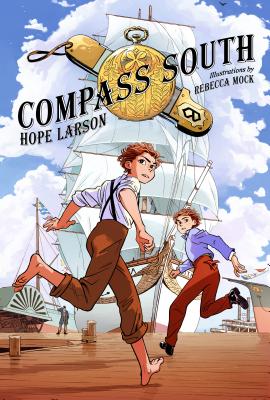 Compass South (Hardcover)
A Graphic Novel (Four Points, Book 1)
Farrar, Straus and Giroux (Byr), 9780374300432, 224pp.
Publication Date: June 28, 2016
Description
It's 1860 in New York City. When 12-year-old twins Alexander and Cleopatra's father disappears, they join the Black Hook Gang and are caught by the police pulling off a heist. They agree to reveal the identity of the gang in exchange for tickets to New Orleans. But once there, Alex is shanghaied to work on a ship that is heading for San Francisco via Cape Horn. Cleo stows away on a steamer to New Granada where she hopes to catch a train to San Francisco to find her brother. Neither Alexander nor Cleo realizes the real danger they are in-they are being followed by pirates who think they hold the key to treasure. How they outwit the pirates and find each other makes for a fast-paced, breathtaking adventure.
A Margaret Ferguson Book
About the Author
Hope Larson adapted and illustrated A Wrinkle in Time: The Graphic Novel, for which she won an Eisner Award. She is also the author and illustrator of Salamander Dream, Gray Horses, Chiggers, and Mercury. She lives in Los Angeles, California.Rebecca Mock is an illustrator and comic artist. Her work has appeared in various publications including the New York Times and The New Yorker. She is co-organizer of the Hana Doki Kira anthology. Compass South is her first book.
Advertisement