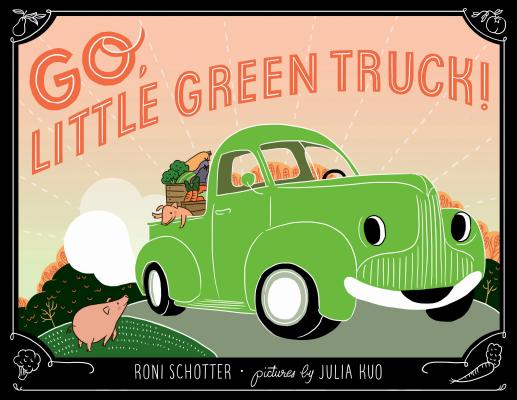 Go, Little Green Truck! (Hardcover)
Farrar, Straus and Giroux (BYR), 9780374300708, 32pp.
Publication Date: February 16, 2016
* Individual store prices may vary.
Description
Ready, set, go!
Little Green is ready to rumble.
He is a happy, busy little pickup truck who loves helping out on the farm.
Until...
He wakes up one morning to find a big new blue truck ready to take his place.
But can Big Blue take on all the jobs? Even the small and gentle ones?
With some love, care, and paint...
Ready, set, go!
Little Green is ready to rumble again, all the way to the farmers' market.
About the Author
Roni Schotter: I was born in New York City and lived in an apartment building called "The House of Joyful Living." On the roof there was an outdoor shower, a goldfish pond, some potted trees, a handball court, and a hawk's eye view of the buildings around us – including the Empire State Building. With a mama and a papa all to myself, it seemed that we lived in paradise. Then my two sisters were born and we moved to an apartment in Brooklyn – no goldfish pond, but from the six-story roof I could see the Statue of Liberty lifting its torch to me and the tall, gray smokestack of the nearby Pilgrim Laundry. When I was nine, my parents brought out a wooden puzzle map of the United States and tried to show my sisters and I where we were moving. They couldn't because the tiniest piece was missing – Rhode Island.
I grew up in Rhode Island, enjoying my new backyard where we grew one of everything – a pea plant, a tomato plant, a gladiolus, etc. I loved being only minutes away from the ocean. Eating "Johnny cakes" and clams.
I was always terribly shy and spent a great deal of time observing people and the beauty around me, storing it up, for I never guessed that I'd end up being a writer.
Now that I'm an adult and a writer, I still feel like a child. In fact, I often feel like someone impersonating a grownup, so it's far easier for me to write for children than to write for adults.
Life is full of so many wonderful things – happy, sad, amazing, puzzling, beautiful and ugly things. Writing helps me to figure out the world. I love the power of words and how powerful I feel when I use them the right way. I intensely value imagination and worry that many children have it knocked out of them as they grow up and are exposed to life, mass culture, and the media. I love using my imagination when I write. I feel I am speaking very directly to my children. To me, children are the best!
Julia Kuo is an illustrator working out of Chicago. She teaches Illustration History at Columbia College Chicago.
Praise For Go, Little Green Truck!…
Go, Little Green Truck!:
"Little Green is sure to be a favorite of farmers market fans." —School Library Journal
"Sure to have wide audience appeal." —Booklist
"Kuo's lush, folk-art meadows roll across the pages to round out the farm, outlined in white instead of black and textured with dotted grass accents. The effect achieves a nostalgic yet trendy feel that works well with Little Green's two incarnations." —Kirkus Reviews