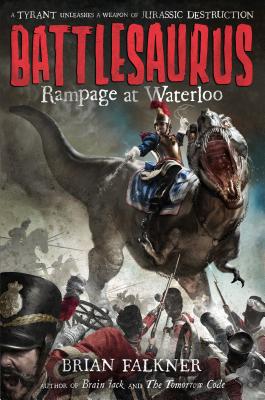 Battlesaurus
Rampage at Waterloo
Hardcover

* Individual store prices may vary.
Other Editions of This Title:
Paperback (7/12/2016)
Description
This riveting alt history reimagines the 1815 Battle of Waterloo as something other than a crushing defeat for the French emperor Napoléon Bonaparte, when he unleashes a terrible secret weapon--giant carnivorous survivors from pre-history--on his unsuspecting British and Prussian adversaries. In this world, smaller "saurs" are an everyday danger in the forests of Europe, and the Americas are a forbidden zone roamed by the largest and most deadly animals ever to walk the earth. But in his quest for power, Napoléon has found a way to turn these giant dinosaurs into nineteenth-century weapons of mass destruction. Only Willem Verheyen, an outsider living in hiding in the tiny village of Gaillemarde, has the power to ruin the tyrant's plans. And Napoléon will stop at nothing to find him.
War is coming, and young Willem is no longer safe, for Gaillemarde is just a stone's throw from the fields of Waterloo--fields which will soon run red with blood.
Praise For Battlesaurus: Rampage at Waterloo…
"Falkner gives Napoléon a toothy secret weapon in this decidedly alternate history." —Kirkus Reviews
"Part historical fiction, part dinosaur fantasy mash-up, this book will appeal to history buffs and dinosaur fanatics alike. The battle scenes between Napoléon's army and the British are depicted in incredible detail, making readers feel as if they are right in the midst of the fight . . . The first of a promising duology that readers will find thrilling and positively addicting." —School Library Journal
"This alternative history asks, what if Napoléon won the battle at Waterloo . . . The novel quickly ramps up to suspense, immersing the reader in the swiftly moving plot. Characters are very well drawn, capturing the reader's sympathy. With an ending wide open for a sequel, complete with a plot-thickening cliff-hanger, one can only hope that Falkner is a swift writer." —Booklist
Farrar, Straus and Giroux (BYR), 9780374300753, 368pp.
Publication Date: July 14, 2015
About the Author
Brian Falkner was born and raised in Auckland, New Zealand, and now lives in Australia. He is the award-winning, best-selling author of several action-adventure novels, including the Recon Team Angel series and Brainjack.
or
Not Currently Available for Direct Purchase