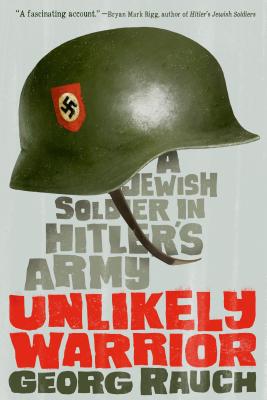 Unlikely Warrior (Hardcover)
A Jewish Soldier in Hitler's Army
Farrar, Straus and Giroux (BYR), 9780374301422, 352pp.
Publication Date: February 24, 2015
Other Editions of This Title:
Digital Audiobook (2/23/2015)
Paperback (3/15/2016)
Compact Disc (2/24/2015)
Compact Disc (2/24/2015)
MP3 CD (2/24/2015)
* Individual store prices may vary.
Description
As a young adult in wartime Vienna, Georg Rauch helped his mother hide dozens of Jews from the Gestapo behind false walls in their top-floor apartment and arrange for their safe transport out of the country. His family was among the few who worked underground to resist Nazi rule. Then came the day he was drafted into Hitler's army and shipped out to fight on the Eastern front as part of the German infantry—in spite of his having confessed his own Jewish ancestry. Thus begins the incredible journey of a nineteen year old thrust unwillingly into an unjust war, who must use his smarts, skills, and bare-knuckled determination to stay alive in the trenches, avoid starvation and exposure during the brutal Russian winter, survive more than one Soviet labor camp, and somehow find his way back home. Unlikely Warrior is Rauch's true account of this extraordinary adventure.
About the Author
After surviving the war, Georg Rauch (1924–2006) spent several years at an alpine TB clinic in Austria. His lifelong love of painting and drawing eventually led him to a successful career in fine art. In 1965, he met his future wife, Phyllis, in Vienna, and in the spring of 1966 they married, eventually settling in Guadalajara, Mexico. In 1984, he began writing his wartime memoir in German and worked with his wife on translating it simultaneously into English. He self-published it in 2006, four months before his death.
Praise For Unlikely Warrior: A Jewish Soldier in Hitler's Army…
"An astonishing rediscovered memoir." —People
"An exceptionally well-written account of unimaginable hardship, it's also an engaging read that serves as powerful testimony to the insanity of war and the human will to survive." —Publishers Weekly, starred review
"A fascinating account of what it was like for a partial Jew to serve in the German military during World War II. Rauch's experiences and hardships dramatically depict the physical and emotional struggles of a 'Mischling' during the Third Reich." —Bryan Mark Rigg, author of Hitler's Jewish Soldiers
"When Rauch was drafted into Hitler's army (though he admitted to having Jewish heritage), he was stationed on the Russian Front, facing the constant threat of death from hunger, the elements, and Soviet soldiers . . . A fascinating and intriguing look at the era." —School Library Journal
"Younger readers with a strong interest in World War II and the Holocaust will be caught up in the details of Rauch's soldiering experiences." —The Bulletin
"Recounts Rauch's time fighting on the front . . . detailing the horror, desperation, utter hunger, and pain he encountered . . . Features photographs and Rauch's drawings throughout . . . A solid and detailed account of a soldier during World War II." —VOYA