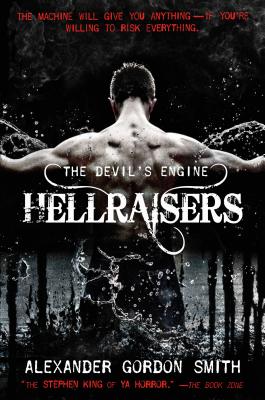 The Devil's Engine (Hardcover)
Hellraisers: (Book 1)
Farrar, Straus and Giroux (BYR), 9780374301699, 352pp.
Publication Date: December 1, 2015
Other Editions of This Title:
Paperback (11/1/2016)
Hardcover (11/1/2016)
Prebound (11/1/2016)
* Individual store prices may vary.
Description
From the author of the Escape from Furnace series, The Devil's Engine: Hellraisers is the opening salvo in an explosive new horror trilogy about an ordinary American kid caught up in an invisible war against the very worst enemy imaginable.
When a sixteen-year-old troublemaker named Marlow Green is trapped in a surreal firefight against nightmarish creatures in the middle of his New York City neighborhood, he unwittingly finds himself amid a squad of secret soldiers dedicated to battling the legions of the devil himself. Powering this army of young misfits is an ancient machine from the darkest parts of history. Known as the devil's engine, it can make any wish come true-as long as you are willing to put your life on the line. Promised powers beyond belief, and facing monstrous apparitions straight out of the netherworld, Marlow must decide if he's going to submit to a demonic deal with the infernal machine that will enable him to join the crusade-if it doesn't kill him first.
About the Author
Alexander Gordon Smith lives in Norwich, England. "The Stephen King of YA horror," he is the author of The Fury; The Inventors; the Escape from Furnace series, which has sold nearly half-a-million copies; and the Devil's Engine series.
Praise For The Devil's Engine: Hellraisers: (Book 1)…
"A YA horror knockout full of nonstop action, populated by broken but beautiful characters, and blisteringly scary." —Emmy Laybourne, author of Sweet and the Monument 14 series
"This Faustian tale is a hit for horror fans looking for a world of mystery, the macabre, and lots of fire and fighting." —Kirkus Reviews, starred review
"Immediately immerses readers into a fast-paced, action-packed, epic good-versus-evil story." —The Bulletin
"An epic conflict between good and evil . . . Full of dark imagery and unsettling descriptions as unstoppable demons face off against superpowered teens." —Publishers Weekly
Praise for Alexander Gordon Smith:
"Smith is an expert at balancing tension and hope, keeping the audience on the edge of their seats." —Publishers Weekly
"The Stephen King of YA horror." —The Book Zone