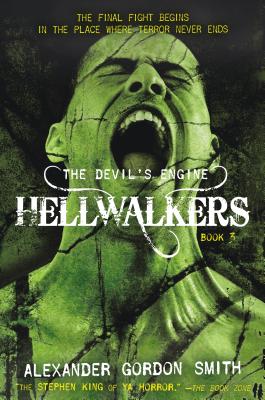 The Devil's Engine (Hardcover)
Hellwalkers: (Book 3)
Farrar, Straus and Giroux (BYR), 9780374301743, 320pp.
Publication Date: November 7, 2017
Other Editions of This Title:
Paperback (11/7/2017)
Prebound (11/7/2017)
Paperback (11/6/2018)
* Individual store prices may vary.
Description
From the author of Fury, The Devil's Engine: Hellwalkers concludes an explosive trilogy about the secret battle for control of an all-powerful ancient machine which can grant you anything you wish for, in exchange for your soul.
In the third and final book of Alexander Gordon Smith's Devil's Engine series, Marlow and Pan are in hell. Literally in hell. Faced with the awful truth of being trapped in the underworld for an eternity—of Pan being trapped—Marlow makes a final deal with the Devil, a deal to go home. But he should have known: there is no real escape from a fight with the ultimate enemy. And when all hell breaks loose, it will be a war to end all wars—with demonic creatures spilling into the streets, monsters emerging from the shadows. Only the Hellraisers stand in their way, and they're not sure this is a battle they can win. They have no powers, they have no weapons. But they have each other, and they have hope, and they know how to kick ass.
About the Author
Alexander Gordon Smith lives in Norwich, England. "The Stephen King of YA horror," he is the author of The Fury; The Inventors; the Escape from Furnace series, which has sold nearly half-a-million copies; and the Devil's Engine series.
Praise For The Devil's Engine: Hellwalkers: (Book 3)…
The Devil's Engine: Hellfighters
"Adventure fans will be thrilled by the fast-paced, wall-to-wall action, and horror readers will delight at the supernatural terror and gore in the Engineers' battle against chaos and pure evil." —Booklist
"Smith takes readers on another twisted, twisting journey and—to paraphrase the narrative—leaves readers with 'images that belong in the sickest of horror movies.' . . . This brings the same fear, fire, and comic relief as its predecessor, and readers will be happy enough with this sequel to the first Faustian tale to look forward to the next one." —Kirkus Reviews
The Devil's Engine: Hellraisers
"A YA horror knockout full of nonstop action, populated by broken but beautiful characters, and blisteringly scary." —Emmy Laybourne, author of Sweet and the Monument 14 series
"This Faustian tale is a hit for horror fans looking for a world of mystery, the macabre, and lots of fire and fighting." —Kirkus Reviews, starred review
"Immediately immerses readers into a fast-paced, action-packed, epic good-versus-evil story." —The Bulletin
"An epic conflict between good and evil . . . Full of dark imagery and unsettling descriptions as unstoppable demons face off against superpowered teens." —Publishers Weekly