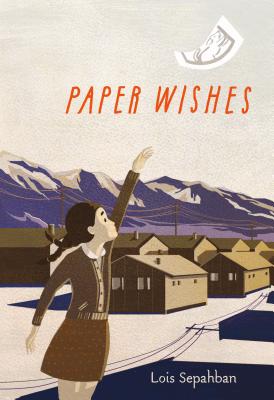 Paper Wishes
Hardcover

* Individual store prices may vary.
Other Editions of This Title:
Digital Audiobook (11/11/2019)
Paperback (5/9/2017)
Prebound (5/9/2017)
Description
Ten-year-old Manami did not realize how peaceful her family's life on Bainbridge Island was until the day it all changed. It's 1942, after the attack on Pearl Harbor, and Manami and her family are Japanese American, which means that the government says they must leave their home by the sea and join other Japanese Americans at a prison camp in the desert. Manami is sad to go, but even worse is that they are going to have to give her and her grandfather's dog, Yujiin, to a neighbor to take care of. Manami decides to sneak Yujiin under her coat and gets as far as the mainland before she is caught and forced to abandon Yujiin. She and her grandfather are devastated, but Manami clings to the hope that somehow Yujiin will find his way to the camp and make her family whole again. It isn't until she finds a way to let go of her guilt that Manami can reclaim the piece of herself that she left behind and accept all that has happened to her family.
Praise For Paper Wishes…
"This historical debut speaks volumes of love and longing." —Kirkus Reviews, starred review

"A superior story of survival and love set during this dark time in American history." —School Library Journal, starred review

"This engaging...book offers a personal perspective on events and reasons to care about the outcome. A fine selection for historical-fiction fans." —Booklist

"Engrossing and heartrending." —Publishers Weekly

"...with the memory of the internment camps being volleyed about in current presidential campaign rhetoric, comes Lois Sepahban's PAPER WISHES, a devastating and brave fiction debut that recounts the plight of Manami, a girl from Bainbridge Island, Wash., who is sent to the Manzanar camp in the California desert...What sets Manami's story apart is the delicate way Sepahban handles her obsession with and guilt about leaving the dog behind. An introvert who is made mute by the trauma she experiences, Manami expresses herself by drawing pictures, , including the images of Yujiin that she throws in the Manzanar winds as prayers or wishes for the dog's return. We watch as she negotiates the unknown through a generous teacher and family members, including a grandfather who is with her at the "prison-village," a stroke of luck, since most nisei did not have that advantage...although the tone is sober and sad, it's also a ­novel in which a mute child finds her voice, ­at last." —The New York Times

"Lois Sepahban presents a somber but emotionally true story of WWII Japanese American internment in Paper Wishes. In 1942, ten-year-old Manami and her family are forced to leave their home on Bainbridge Island, Washington, for Manzanar, an internment camp in the California desert. Grandfather has arranged for their beloved dog Yujiin to stay with their pastor, but Manami hides the pup in her coat instead. On the mainland, a soldier discovers him, and he is left behind in a crate, his fate unknown. Heartbroken, Manami becomes mute. Her emotional trauma is sensitively portrayed, but she recovers her voice when she needs it most, and the story closes on a hopeful note." —The Horn Book
Farrar, Straus and Giroux (BYR), 9780374302160, 192pp.
Publication Date: January 5, 2016
About the Author
Lois Sepahban lives in Herrodsburg, Kentucky, where she writes children's nonfiction books for the school library market. Paper Wishes is her first novel.