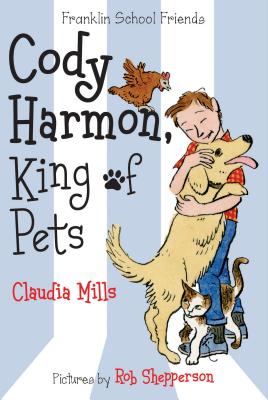 Cody Harmon, King of Pets (Hardcover)
Farrar, Straus and Giroux (Byr), 9780374302238, 144pp.
Publication Date: June 14, 2016
Description
Cody Harmon doesn't love reading, math, spelling, or really any of the subjects that Miss Molina teaches in her third-grade class. But he lives on a farm and he loves animals--he even has nine pets--so when the school holds a pet-show fund-raiser, it should be his time to shine. There's a ten-dollar entrance fee per pet, though, and Cody can't pay it for all nine pets. He'd love to take his pig, but what about the others? In the end, Cody figures out a way to lend out his pets so that every person in the class (and every pet) gets to participate in the show.
A Margaret Ferguson Book
About the Author
Claudia Mills is the acclaimed author of many books for children. She lives in Boulder, Colorado.Rob Shepperson's most recent book is The Memory Bank, a collaboration with Carolyn Coman. He lives in Croton on Hudson, New York.
Advertisement