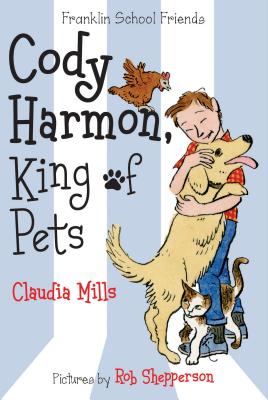 Cody Harmon, King of Pets (Franklin School Friends #5) (Hardcover)
Farrar, Straus and Giroux (BYR), 9780374302238, 144pp.
Publication Date: June 14, 2016
Other Editions of This Title:
Paperback (3/28/2017)
* Individual store prices may vary.
Description
Cody Harmon doesn't love reading, math, spelling, or really any of the subjects that Miss Molina teaches in her third-grade class. But he lives on a farm and he loves animals--he even has nine pets--so when the school holds a pet-show fund-raiser, it should be his time to shine. There's a ten-dollar entrance fee per pet, though, and Cody can't pay it for all nine pets. He'd love to take his pig, but what about the others? In the end, Cody figures out a way to lend out his pets so that every person in the class (and every pet) gets to participate in the show.
A Margaret Ferguson Book
About the Author
Claudia Mills is the acclaimed author of many books for children. She lives in Boulder, Colorado.

Rob Shepperson is a popular editorial artist for many newspapers and magazines. He lives in Croton-on-Hudson, New York.
Praise For Cody Harmon, King of Pets (Franklin School Friends #5)…
"As with other books in this series, the children and adults are believable and well-rounded. Even the dialogue is natural—no small feat for a text easily accessible to intermediate readers...The cheery pencil illustrations show the school's racially diverse population as well as the memorable image of Mr. Boone wearing an elephant costume...Another winner from Mills, equally well suited to reading aloud and independent reading." —Kirkus, starred review
"Another good entry in this realistic fiction series perfect for young readers who have exhausted all of the 'Clementine' and 'Ivy and Bean' books." —School Library Journal, starred review
"This fifth entry in the chapter book series (beginning with Kelsey Green, Reading Queen, rev. 5/13) focuses on third-grader Cody, who loves animals as passionately as he hates school. When Principal Boone announces Franklin School's first-ever pet show, Cody seems like a shoo-in to finally win some kind of an award. He does own nine pets, after all. Unfortunately, the entrance fee is ten dollars per pet, and he has just three dollars—not enough to enter even one of his beloved animals. Luckily, his dad offers him a deal: seven dollars in exchange for doing a good job on his homework for a week. Now Cody's only problem (besides having to do his dreaded homework) is which pet to take to the show: one of his two dogs, one of his two cats, one of his three chickens, his rooster, or his pig. Cody's troubles—with homework, with best friend Tobit, and with a scheme to get all his animals into the show by loaning them out—are presented sympathetically by seasoned author Mills, who portrays elementary-school friendship drama with a skillful hand. As usual, Shepperson's lighthearted illustrations help young readers envision the story, one that will please both newcomers to and longtime fans of this accessible and satisfying series." —The Horn Book
"Like the other titles in the Franklin School Friends series, this outing exudes believability and readability, with Cody a generally easygoing guy who'd rather spend time with his pig than write his overdue report. Mills also tackles a highly sensitive and age-appropriate dilemma as Cody worries about negotiating his friendship with Tobit, who angrily threw a rock at a squirrel; the book clearly backs Cody in his concern but also avoids demonizing Tobit, who acts mostly out of thoughtlessness and comes around after some sage principal intervention. The theme makes this entry in the series particularly suitable for discussion as well as particularly inviting to pet lovers. Shepperson's black and white illustrations evince lively linework and a gift for depicting the casual disarray of young-kid life." —The Bulletin for the Center of Children's Books
"In this delightful addition to a charming series, Mills highlights Cody Harmon, who much prefers his pets to schoolwork. When affable principal Mr. Boone announces the school will hold a pet show to benefit the Humane Society, Cody needs to decide which of his nine animal friends he will enter. Should it be dependable Rex, a regal golden retriever? Or what about porcine Mr. Piggins? While Cody struggles to earn the entrance fee for one pet, some of his petless classmates develop a plan to help, even as Cody's falling out with his best friend, Tobin, complicates things. As usual, Shepperson's illustrations add verve and joy to the book, capturing the ups and downs of third-grade life. A wonderful read for youngsters navigating chapter books." —Booklist