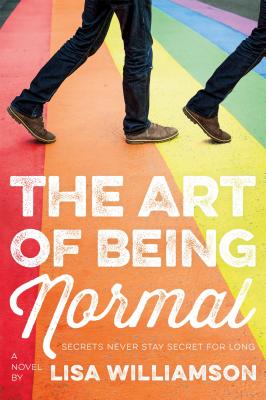 The Art of Being Normal (Hardcover)
A Novel
Farrar, Straus and Giroux (BYR), 9780374302375, 352pp.
Publication Date: May 31, 2016
Other Editions of This Title:
Paperback (4/10/2018)
* Individual store prices may vary.
Description
David Piper has always been an outsider. His parents think he's gay. The school bully thinks he's a freak. Only his two best friends know the real truth: David wants to be a girl.
On the first day at his new school Leo Denton has one goal: to be invisible. Attracting the attention of the most beautiful girl in his class is definitely not part of that plan. When Leo stands up for David in a fight, an unlikely friendship forms. But things are about to get messy. Because at Eden Park School secrets have a funny habit of not staying secret for long, and soon everyone knows that Leo used to be a girl.
As David prepares to come out to his family and transition into life as a girl and Leo wrestles with figuring out how to deal with people who try to define him through his history, they find in each other the friendship and support they need to navigate life as transgender teens as well as the courage to decide for themselves what normal really means.
A Margaret Ferguson Book
About the Author
Lisa Williamson splits her time between acting and writing. She was inspired to write The Art of Being Normal after working in England's national health services in a department dedicated to helping teens who struggle with gender identity issues.
Praise For The Art of Being Normal: A Novel…
"Williamson presents a fresh perspective in contemporary LGBTQ drama by presenting two heroes in different stages of transitioning and further bringing the teens to life through their foibles and family dramas. Leo is the more interesting character: abrasive but sympathetic, battling anger management and his angrier mother. But David is easy to love because of his huge capacity for that emotion. The best part is that it is a friendship tale; romance plays a role in the story, but it is not the focus. This is a wonderful addition to any teen collection." —VOYA, starred review
"'I am fourteen and time is running out.' David is getting taller, and everything that marks the teen as biologically male is growing. Despite having researched gender transitioning, it doesn't seem possible, and while David's two best friends know, parents are another matter. Meanwhile, working-class Leo transfers to David's very middle-class school; when Leo punches the bully who's tormenting David, they become unlikely (and, for Leo, reluctant) friends. The book alternates between Leo and David's viewpoints, but readers don't find out what they have in common until Leo's burgeoning romance gets derailed. For loner Leo, David is a chance to have a real friend; for David, Leo's an example of what's possible if you can speak your truth. Debut author Williamson does a good job of depicting British class realities and David and Leo's struggles with family, bullying, friendship, and bravery. While the book doesn't sugarcoat the difficulty of being a trans teen, it offers hope and the sense that even if you can't get everything you want, you can get what you need." —Publishers Weekly
"Two British transgender teens try to come to terms with their lives while facing serious bullying in their school...David and Leo alternate narration chapter by chapter, the former confiding her discomfort and fear, the latter describing the sexual fireworks he feels when making out with Alicia. Williamson has worked with teens grappling with their gender identities, and she folds practical information, about hormonal therapy to freeze puberty, for instance, as well as empathy into her story. A welcome, needed novel." —Kirkus Reviews
"An important addition to collections for its first-person perspectives on the experiences and inner lives of transgender teens." —School Library Journal