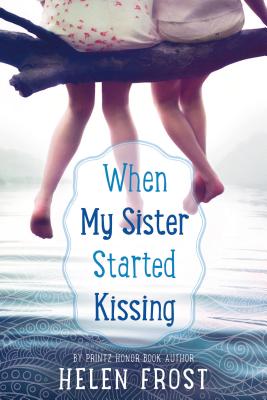 When My Sister Started Kissing (Hardcover)
Farrar, Straus and Giroux (BYR), 9780374303037, 208pp.
Publication Date: March 14, 2017
* Individual store prices may vary.
Description
A Boston Globe Best Children's Book of 2017
A 2017 BCCB Blue Ribbon Book
A 2017 New York Public Library Best Book for Kids
A 2017 VOYA Top Shelf Fiction Pick for Middle School Readers
A 2018 NCTE Notable Verse Novel
A 2018 CCBC Choices Book

Claire and Abi have always loved their summers at the lake house, but this year, everything's different. Dad and Pam, their stepmom, are expecting a new baby, and they've cleared out all of Mom's belongings to make room. And last summer, Abi was looking at boys, but this summer, boys are looking back at her. While Abi sneaks around, Claire is left behind to make excuses and cover up for her. Claire doesn't want her family to change, but there doesn't seem to be a way of stopping it. By the end of their time at the house, the two sisters have learned that growing up doesn't have to mean their family growing apart. WHEN MY SISTER STARTED KISSING is Helen Frost's beautiful novel-in-verse about summertime and coming of age.
A Margaret Ferguson Book
About the Author
Helen Frost is the author of several books for young people, including Hidden, Diamond Willow, Crossing Stones, The Braid, and Keesha's House, selected an Honor Book for the Michael L. Printz Award. Helen Frost was born in 1949 in South Dakota, the fifth of ten children. She recalls the summer her family moved from South Dakota to Oregon, traveling in a big trailer and camping in places like the Badlands and Yellowstone. Her father told the family stories before they went to sleep, and Helen would dream about their travels, her family, and their old house. "That's how I became a writer," she says. "I didn't know it at the time, but all those things were accumulating somewhere inside me." As a child, she loved to travel, think, swim, sing, learn, canoe, write, argue, sew, play the piano, play softball, play with dolls, daydream, read, go fishing, and climb trees. Now, when she sits down to write, her own experiences become the details of her stories. Helen has lived in South Dakota, Oregon, Massachusetts, New York, Vermont, Scotland, Colorado, Alaska, California, and Indiana. She currently lives in Fort Wayne, Indiana, with her family.
Praise For When My Sister Started Kissing…
"Frost deftly shows the value of openness to compassion and personal growth among parent, child, and sibling, using her mastery of poetic form to subtly introduce differences of voice in the poems of Claire, Abi, and the somewhat omniscient perspective of the lake itself. With her signature formalist touch, Frost plays with acrostics and other forms, occasionally embedding well-known lines of famous poems into her own; notes to these are in the backmatter. Frost pulls out all the stops in this heartwarming tale of family in the remaking: everything a novel-in-poems should be." —Kirkus, starred review
"Skilled poet Frost employs several different verse forms (explained in an afterword) in poems from the viewpoints of Claire, Abigail, and the lake itself; the result is a pleasing absence of villains and an understanding of the challenges of family change and individual growth. Both Claire and Abigail are sympathetic despite and because of their flaws, and the book is particularly deft at depicting patterns of growth in one accessible step at a time as Claire negotiates her relationship with her brand new half-brother and Abigail tests the limit of her growing maturity . . . [W]hile the poetic element will give the book a place in curricula, the story of summer change and growth will resonate with any kid negotiating adolescence directly or by proxy." —Bulletin for the Center of Children's Books, starred review
"Frost, the author of Keesha's House and Salt, uses the verse format effectively, showing the development of each of the characters in brief, well-chosen vignettes. . .An insightful portrayal of a family in transition. For tween readers who appreciate lyrical writing and coming-of-age tales." School Library Journal
"As the sisters grow apart, they learn that family is what ties them together. This novel in verse, set entirely at the family cabin, is told from the sisters' points of view, with Claire's in quatrains or verse with cleverly hidden feelings, and Abi's in free verse. The challenges born of the family's disrupted status quo, the peacefulness of kayaking, and the trials of becoming a teenager bring a realistic and insightful quality to the young girls' coming-of-age story." —Booklist
"An intimate portrait of quiet family tumult amidst a rich and tranquil natural landscape. Eager Abi's free-verse poems are brief, with staggered lines that move forward across the page, while hesitant Claire's poems are lengthier, written in sturdy quatrains with patterned rhyme . . . Frost's depiction of these resilient sisters' tentative steps toward maturity is deft, tender, and gently contemplative." —The Horn Book
"Poems from the perspective of the lake the family has visited for years provide calming, ageless counterpart to the girls' emotional and immediate concerns. Frost adeptly uses different poetic forms to differentiate her characters . . . Readers will easily identify with [Claire's] efforts to honor her late mother's memory while accepting her shifting relationships with Abi and her growing affection for the new members of her family." —Publishers Weekly
"Frost uses her poems effectively as each builds upon the other, allowing the characters to grow and open up. Fans of poetry will notice the occasional embedding of well-known lines from famous poems into Frost's writing, which are included in the author's notes in the back of the book . . . An insightful, quiet portrayal of a family in transition and recommended for readers who enjoy coming-of-age stories and novels in verse." —VOYA