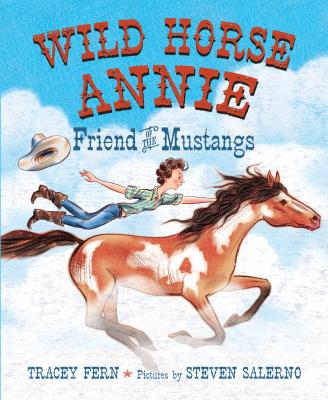 Wild Horse Annie (Hardcover)
Friend of the Mustangs
Farrar, Straus and Giroux (BYR), 9780374303068, 48pp.
Publication Date: February 19, 2019
* Individual store prices may vary.
Description
"Wild Horse Annie" was the nickname of Velma Bronn Johnston (1912–77), who loved mustangs all her life. When she saw mustangs being rounded up and killed to make room for ranchers' livestock, she knew she had to speak up. In 1950, she began writing letters to local newspapers and politicians, defending the horses' right to roam free.
Many people told Annie to hush up, but they couldn't stop her. She soon became a voice for mustangs throughout the state of Nevada, speaking on their behalf at town halls and meetings.
But Annie was only one person, and she wanted to do more. So she got children to speak up, too, by having them write letters to Washington, D.C., officials to ask them to save the mustangs. Finally, with the help of her young "pencil brigade," Annie persuaded Congress to pass nationwide laws protecting wild horses and burros on public land nationwide.
Readers will find inspiration in author Tracey Fern and artist Steven Salerno's portrait of an early animal-rights advocate, who spoke up for what she believed in, and empowered a generation of children to be a voice for the voiceless.
About the Author
Tracey Fern is the author of the picture books Buffalo Music and Pippo the Fool, both Junior Library Guild selections. She lives with her family in West Newton, Massachusetts, where she's always on the lookout for unusual rocks.

Steven Salerno has illustrated more than twenty picture books, including Brothers At Bat, which made the New York Times Book Review's list of notable picture books for 2012, BOOM!, and Coco the Carrot. A graduate of Parsons School of Design, he lives in New York City.
Praise For Wild Horse Annie: Friend of the Mustangs…
"In folksy language matching Annie's quoted quips, Fern recounts Annie's campaigns to protect mustangs. . .Salerno's sun-drenched illustrations capture the equally hardy spirits of the mustangs and Annie herself. . .An uplifting tale of animal rights, perseverance, and kids' power to make a difference." —Kirkus Reviews
"Salerno's full-page mixed-media illustrations exude the expanse of the West and invite intimacy with Annie all while maintaining a playful air of adventure. Readers will root for Annie and the mustangs she fought to protect. Teachers can use the book as a springboard for discussions about activism or the impact of habitat loss on wild animals. . ." —School Library Journal
"Annie's passion and persistence in the face of long odds resonates." —Publishers Weekly
"This look at how one motivated individual and an army of young idealists can effect change may leave readers with the encouragement needed to tackle their own campaigns." —The Horn Book