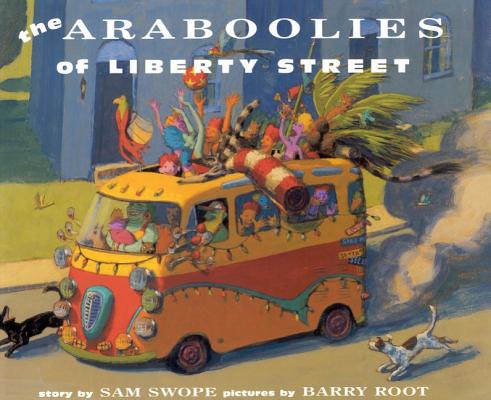 The Araboolies of Liberty Street
Paperback

* Individual store prices may vary.
Description
A "very vivid and entertaining tale of fair play and poetic justice,"* The Araboolies of Liberty Street by writer Sam Swope and illustrator Barry Root is the story of a family overcoming neighborhood prejudice.
The General and Mrs. Pinch have always prided themselves on the character of those living on Liberty Street. But when the Araboolies move in, the rigid conformity stifling the neighbors is shattered by the newcomers' joyous and eccentric behavior.
Now, the General has called in the army to reestablish order—only to find resistance from the children of Liberty Street determined to ensure the freedom of their newfound friends, the Araboolies.
"Even on a street named for freedom itself, people conform and are terrified by bullies, by killjoys…Enter the Araboolies, an irrepressible extended family of multicolored vagabonds [with] rollicking, nonconformist behavior."—*The New York Times Book Review
"The crisp text and autumn-muted, full-color paintings are a triumph of energy, enthusiasm, and design."—Booklist (starred review)
Praise For The Araboolies of Liberty Street…
"The General and Mrs. Pinch rule the residents of Liberty Street, prohibiting all laughter, activity, and games . . . Then the Araboolies move in . . . Life becomes chaotic, exciting, wonderul, and fun -- until the General calls in the army . . . Thought-provoking." —Starred, Booklist
Square Fish, 9780374303907, 32pp.
Publication Date: April 9, 2001
About the Author
Sam Swope is the author of The Araboolies of Liberty Street, Gotta Go! Gotta Go! and I Am a Pencil. He lives in New York City.

Barry Root is the illustrator of many books for children. He lives in Quarryville, Pennsylvania.