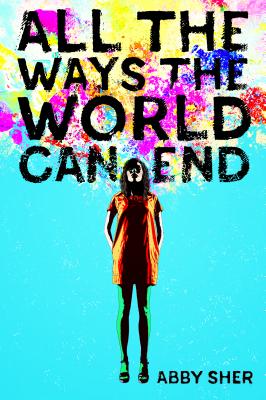 All the Ways the World Can End (Hardcover)
Farrar, Straus and Giroux (BYR), 9780374304256, 320pp.
Publication Date: July 11, 2017
Other Editions of This Title:
Paperback (2/18/2020)
MP3 CD (2/27/2018)
* Individual store prices may vary.
Description
All the Ways the World can End by Abby Sher is a "laughing through the tears" young adult novel about a teen girl dealing—or not—with a host of problems.
Lenny (short for Eleanor) feels like the world is about to end. Her best friend is moving to San Francisco and her dad is dying. To cope with her stress Lenny is making a list of all the ways the world can end—designer pathogens, blood moon prophecies, alien invasion—and stockpiling supplies in a bunker in the backyard. Then she starts to develop feelings for her dad's very nice young doctor—and she thinks he may have feelings for her too. Spoiler alert: he doesn't. But a more age-appropriate love interest might.
In a time of complete uncertainty, one thing's for sure: Lenny's about to see how everything is ending and beginning. All at the same time.
About the Author
Abby Sher is a writer and performer whose work has appeared in The New York Times, The New Yorker, The Washington Post, The Los Angeles Times, Self, Jane, Elle, and more. She is also the author of All the Ways the World Can End (Farrar Straus Giroux Books for Young Readers), Breaking Free: True Stories of Girls Who Escaped Modern Slavery, Amen, Amen, Amen: Memoir of a Girl Who Couldn't Stop Praying, and Kissing Snowflakes. One of her essays has recently been optioned by Amazon for a television series. Abby has written and performed for The Second City, Upright Citizen's Brigade, HBO and NPR. She is currently a co-producer of the Chucklepatch Comedy Show and she lives in New Jersey with her family.
Praise For All the Ways the World Can End…
"Soon not even Lenny's clever and wryly funny observations can hide the fact that she's teetering on the edge of disaster, especially when she begins finding comfort in self-harming behaviors, compellingly portrayed...Lenny's grief feels palpable and honest." —Kirkus

"The supporting characters lean towards the wacky-but-good-hearted type, supplying that witty banter so loved by John Green's fans...Lenny's story is both poignant and hilarious, reminiscent of the dark humor in Jesse Andrew's Me and Earl and the Dying Girl (2012)." —Booklist

"Expressing the same type of magical thinking explored in Sher's memoir, Amen, Amen, Amen, the novel delineates destructive and healthy responses to loss, and shows that beauty and continuity can exist amid tragedy." —Publishers Weekly

"...refreshingly light treatment of a dark subject...Sher's worst-case-scenario glimpse into Lenny's mind and heart is tender, quirky, and believable...The author humorously depicts the delicate, awkward interactions surrounding terminal illness and all of those affected by it. VERDICT a strong choice for fans of relationship fiction, who may appreciate a lovingly irreverent approach to grief." —School Library Journal

"Full of emotion and armed with a viper tongue, Lenny comes across in this smoothly told tale as hard, even angry, but honest; her no-holds-barred attitude makes her relatable, and it's an asset given the tough situations she faces...The journey remains emotionally turbulent, but Lenny displays courage when it counts." —BCCB (Bulletin of the Center for Children's Books)