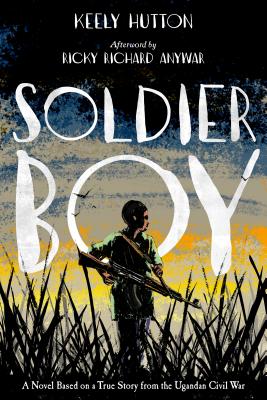 Soldier Boy
Hardcover

* Individual store prices may vary.
Other Editions of This Title:
Paperback (6/12/2018)
CD-Audio (6/20/2017)
Description
An unforgettable novel based on the life of Ricky Richard Anywar, who at age fourteen was forced to fight as a soldier in the guerrilla army of notorious Ugandan warlord Joseph Kony

Soldier Boy begins with the story of Ricky Richard Anywar, abducted in 1989 to fight with Joseph Kony's rebel army in the Ugandan civil war (one of Africa's longest running conflicts). Ricky is trained, armed, and forced to fight government soldiers alongside his brutal kidnappers, but never stops dreaming of escape.

The story continues twenty years later, with a fictionalized character named Samuel, a boy deathly afraid of trusting anyone ever again. Samuel is representative of the thousands of child soldiers Ricky eventually helped rehabilitate as founder of the internationally acclaimed charity Friends of Orphans.

Working closely with Ricky himself, debut author Keely Hutton has written an eye-opening book about a boy's unbreakable spirit and indomitable courage in the face of unimaginable horror.

This title has Common Core connections.
Praise For Soldier Boy…
"A visceral indictment of man's inhumanity to man, while also celebrating human beings' ability to empathize and to rescue those who desperately need saving." —Booklist, starred review

"Hutton approaches the setting, conflict, and characters with unremitting honesty, drawing from Anywar's own life (he contributes an afterword) while using the fictional Samuel as a stand-in for the current generation of unwilling soldiers . . . Eye-opening and relevant." —Publishers Weekly, starred review

"A compelling tale . . . with a message of hope . . . A must-purchase for teen collections." —School Library Journal, starred review

"Hutton's debut novel seamlessly blends the biographical account of Anywar's experiences with the fictional story of Samuel . . . Anywar will inspire a multitude of readers with his phenomenal ability to make peace with his past and his desire to help others like him . . . A must-have for every library with a teen collection." —VOYA

"A story that stands up for the unrelenting power of the human spirit to reject evil, the nigh-impossible odds that must be conquered to escape enslavement, and the deep scars that remain for a lifetime . . . Unapologetically searing and catastrophically truthful." —Kirkus Reviews

"Over the years I have read many novels and memoirs about children and warfare in modern Africa, but Soldier Boy stands out as one of the very best. Based on actual historical events, this compelling novel is a story of great violence and pain, but it is also one of tremendous strength, courage, and resilience. I will definitely be assigning it to my students for many years to come." —Alicia Catharine Decker, Associate Professor, Pennsylvania State University, author of In Idi Amin's Shadow: Women, Gender, and Militarism in Uganda
Farrar, Straus and Giroux (BYR), 9780374305635, 336pp.
Publication Date: June 13, 2017
About the Author
Keely Hutton is a novelist, educational journalist, and former teacher. She is the recipient of the Highlights Foundation Writers Workshop scholarship at Chautauqua. She has worked closely with Ricky Richard Anywar to tell his story in her first novel, Soldier Boy.
1. Describe Ricky's life at the beginning of the story. Who are the members of his family and what roles do they play in his life?
2.  This book is told from two different perspectives. Who are the two main characters? How are their points of view alike? How are they different?
3. Analyze the dream that Ricky had on page 37. Why do you think the author uses this imagery? Think of a vivid dream you had. What do you think prompted the dream?
4. Describe what Samuel is thinking about his current situation at the beginning of the book. Why is he suspicious and planning his escape? Do you think his concerns are valid? Why or why not?
5. Who is the smiling man on the bicycle? Why is this character important? How are we reminded of this man at the end of the story?
6. One of the most heartbreaking parts of this story is the description of the violence that Ricky and Patrick's family endured during the attack. Discuss each character's experience and point of view during this attack. What might each person have been thinking and feeling? How might their family roles have affected their feelings? What are the differences between the mother's perspective and the child's perspective?
7. How did Joseph Kony command his army? What were the abductees told? How did this make a strong army?
8. How did Ricky survive, physically and mentally, throughout the two and a half years he was forced to fight for the LRA? What things kept him alive?
9. Read the following passage from pages 237–238:"Sometimes," the man said, "the harsh realities of life can blind us to the beauty and promise in our world." He motioned to Amina and her baby. "When we see a child mother, we see only shame. We must look closer and see courage." Amina rocked her baby and spoke to a mother whose toddler sat at her feet, patting on a drum. The man pointed to an older boy, who was speaking with the elderly villager with the milky eyes. A jagged scar carved a line from the boy's forehead to his chin, and a gaping hole occupied the spot where his right eye should have been. "When we look at a face scarred by war, we see only pain. We must look deeper and see strength." The elderly villager reached out and took the boy's hand in his. "And when the world looks at the former abductees and child soldiers of the LRA," the man said, "they must look past the crimes they were forced to commit and see them for who they truly are."After closely reading the passage above, discuss the issues related to the rehabilitation and acceptance of the abductees when they return to their villages. What factors need to be considered when a former soldier begins a new life? How does the author bring a positive message to this horrific story?
10. This book has a unique structure. Why do you think the author chose to switch back and forth between Ricky's and Samuel's perspectives? Do you think the structure helped or hurt the flow of the story? Find evidence in the text that leads the reader to discover how the stories are going to connect.
11. Mango trees are mentioned several times throughout the book. Discuss possible reasons the author might have included the trees at different points of the story. Research the symbolism of mango trees and find specific references to them in the text (i.e., they are described as an important part of the family's homestead; the boys planted a tree that served as a meeting place for them; it is a source of sweet, thirst-quenching fruit; a tree was damaged by lightning; the tree the boys had planted was where Patrick took his own life). Discuss how these references may all be tied together and how this image affects the movement and mood of the story.
or
Not Currently Available for Direct Purchase